THINNING STENTIFORD ALGORITHM FOR KINTAMANI INSCRIPTION IMAGE SEGMENTATION
Algoritma Thinning Stentiford Untuk Segmentasi Citra Prasasti Tembaga Kintamani
Christina Purnama Yanti (1*)

Teknik Informatika STMIK STIKOM Indonesia

I Gede Andika (2)

Sistem Komputer STMIK STIKOM Indonesia


(*) Corresponding Author

Keywords:
Thinning Stentiford, Segmentation, Copper Inscription
Abstract
In the copper, inscription contained writing strokes that have high historical value. Age and environmental factors cause damage to the inscription surface and also reduce the appearance of images and letters. One way to preserve it is to carry out the process of converting it into digital format. The use of the morphological operation method is very suitable to be used to improve the shape of the letters in the copper inscription. The morphological operations performed in this study were the Thinning Stentiford algorithm. Based on research that has been done, it was concluded that the Thinning Stentiford algorithm has succeeded in segmenting the letters that exist in the Kintamani copper inscription. However, there are some letters are not well segmented. This is due to the inscription background color and carved letter colors that don't have significant differences. Testing the time it was concluded that the greater the size of the image and the more letters will be segmented, the longer the processing computing.
References
Arifianto, T. (2016). SEGMENTASI AKSARA PADA TULISAN AKSARA JAWA MENGGUNAKAN ADAPTIVE THRESHOLD SEGMENTATION CHARACTER OF CHARACTER. Institut Teknologi Sepuluh Nopember. Surabaya. Retrieved from http://repository.its.ac.id/41389/
Chudasama, D., Patel, T., & Joshi, S. (2015). Image Segmentation using Morphological Operations. International Journal of Computer Applications, 117(18), 16–19. Retrieved from http://citeseerx.ist.psu.edu/viewdoc/download?doi=10.1.1.695.7913&rep=rep1&type=pdf
Fakhrina, F. A., Rahmadwati, R., & Wijono, W. (2016). Thinning Zhang-Suen dan Stentiford untuk Menentukan Ekstraksi Ciri (Minutiae) Sebagai Identifikasi Pola Sidik Jari. MAJALAH ILMIAH TEKNOLOGI ELEKTRO /, 15(2), 127–133.
Kuswandi, E. R., & Fadillah, N. (2019). Perbandingan Metode Robert dan Metode Prewitt untuk Deteksi Tepi pada Citra Tanda Tangan. InfoTekJar, 3(2), 155–158. https://doi.org/https://doi.org/10.30743/infotekjar.v3i2.997
Novarimawan, F. K. (2018). SEGMENTASI CITRA AKSARA JAWA PADA DAUN LONTAR DENGAN PROJECTION PROFILE. Sanata Dharma University, Yogyakarta. Retrieved from https://repository.usd.ac.id/21023/
Prabangkoro, L. B. A. (2008). ALGORITMA THINNING STENTIFORD UNTUK MENDAPATKAN BENTUK DASAR HURUF. Universitas Sanata Dharma, Yogyakarta.
Priandini, D. A., Nangi, J., Muchtar, M., & Sari, J. Y. (2018). DETEKSI AREA PLAT MOBIL MENGGUNAKAN OPERASI MORFOLOGI CITRA. In SEMINAR NASIONAL TEKNOLOGI TERAPAN BERBASIS KEARIFAN LOKAL (SNT2BKL) (pp. 294–302). Kendari: Universitas Haluoleo. Retrieved from http://ojs.uho.ac.id/index.php/snt2bkl/article/view/5269
Raid, A. M., Khedr, W. M., El-dosuky, M. A., & Aoud, M. (2014). IMAGE RESTORATION BASED ON MORPHOLOGICAL OPERATIONS. International Journal of Computer Science, Engineering and Information Technology (IJCSEIT), 4(3), 9–21. Retrieved from https://s3.amazonaws.com/academia.edu.documents/35697999/4314ijcseit02.pdf?response-content-disposition=inline%3B filename%3DIMAGE_RESTORATION_BASED_ON_MORPHOLOGICAL.pdf&X-Amz-Algorithm=AWS4-HMAC-SHA256&X-Amz-Credential=AKIAIWOWYYGZ2Y53UL3A%2F20200220%2Fu
Rasmana, S. T., Suprapto, Y. K., Purnama, I. K. E., Uchimura, K., & Koutaki, G. (2017). Texture Detection for Letter Carving Segmentation of Ancient Copper Inscriptions. International Journal of Pattern Recognition and Artificial Intelligence, 31(2), 1755002-1-1755002–1755017. https://doi.org/https://doi.org/10.1142/S0218001417550023
Sihombing, O., Buulolo, E., & Siburian, H. K. (2018). IMPLEMENTASI METODE OPERASI MORFOLOGIS DALAM PERBAIKAN HASIL SEGMENTASI CITRA DIGITAL GORGA BATAK. KOMIK (Konferensi Nasional Teknologi Informasi Dan Komputer), 2(1), 485–490. https://doi.org/http://dx.doi.org/10.30865/komik.v2i1.906
Yanti, C. P., & Andika, I. G. (2019). Final Report of Independent Research: Algoritma Thinning Stentiford Untuk Segmentasi Citra Prasasti Tembaga Kintamani. Bali.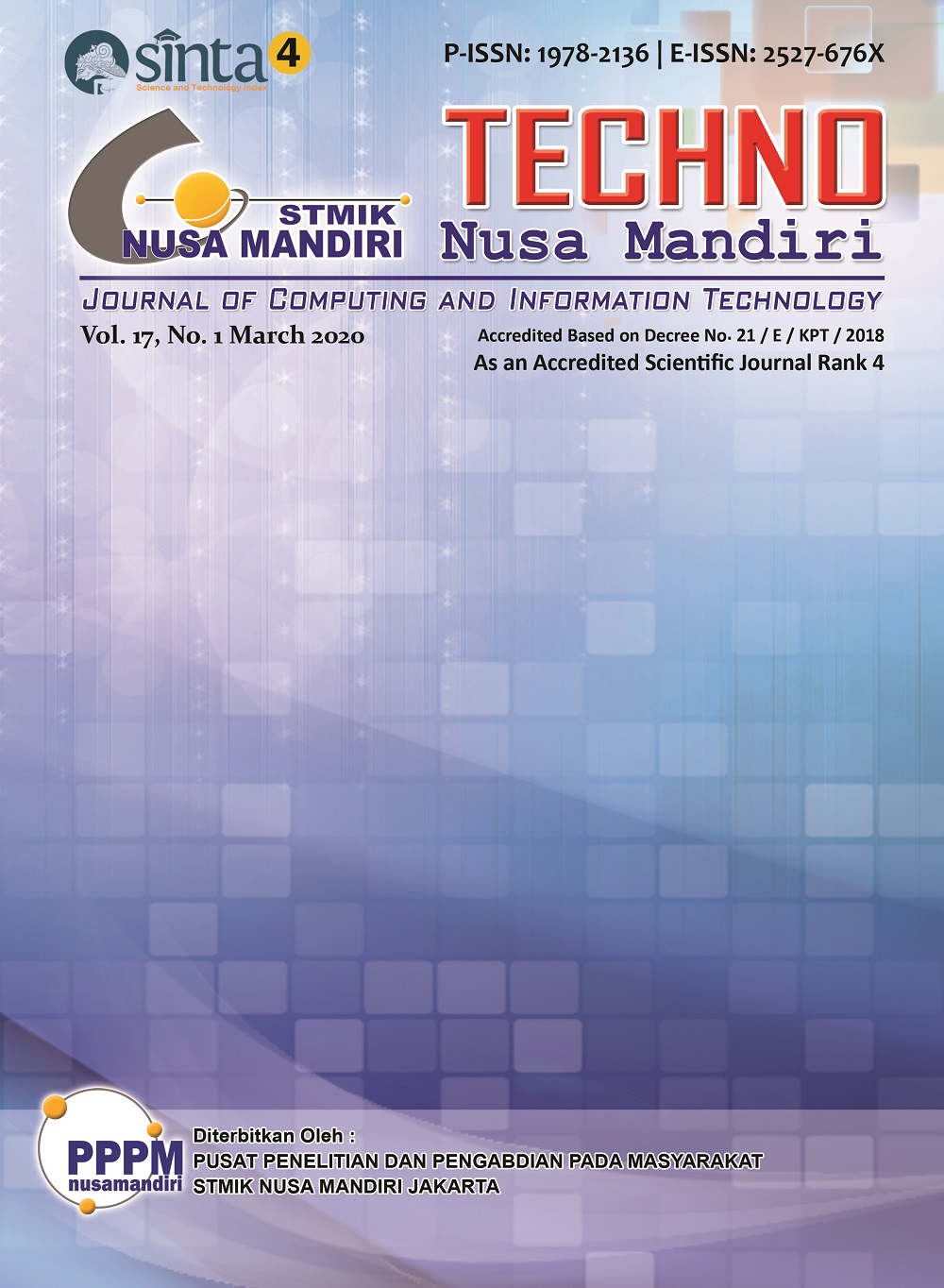 How to Cite
Purnama Yanti, C., & Andika, I. G. (2020). THINNING STENTIFORD ALGORITHM FOR KINTAMANI INSCRIPTION IMAGE SEGMENTATION. Jurnal Techno Nusa Mandiri, 17(1), 17-22. https://doi.org/10.33480/techno.v17i1.1203
Article Metrics

Abstract viewed = 216 times

PDF downloaded = 230 times
The copyright of any article in the TECHNO Nusa Mandiri Journal is fully held by the author under the Creative Commons CC BY-NC license.
The copyright in each article belongs to the author.
Authors retain all their rights to published works, not limited to the rights set out on this page.
The author acknowledges that Techno Nusa Mandiri: Journal of Computing and Information Technology (TECHNO Nusa Mandiri) is the first to publish with a Creative Commons Attribution 4.0 International license (CC BY-NC).
Authors can enter articles separately, manage non-exclusive distribution, from manuscripts that have been published in this journal into another version (for example: sent to author affiliation respository, publication into books, etc.), by acknowledging that the manuscript was published for the first time in Techno Nusa Mandiri: Journal of Computing and Information Technology (TECHNO Nusa Mandiri);
The author guarantees that the original article, written by the stated author, has never been published before, does not contain any statements that violate the law, does not violate the rights of others, is subject to the copyright which is exclusively held by the author.
If an article was prepared jointly by more than one author, each author submitting the manuscript warrants that he has been authorized by all co-authors to agree to copyright and license notices (agreements) on their behalf, and agrees to notify the co-authors of the terms of this policy. Techno Nusa Mandiri: Journal of Computing and Information Technology (TECHNO Nusa Mandiri) will not be held responsible for anything that may have occurred due to the author's internal disputes.