PERANCANGAN SISTEM PAKAR DIAGNOSA PENYAKIT KEHAMILAN BERBASIS WEB
Ari Abdillah (1*)

AMIK BSI Pontianak

Nurajijah Nurajijah (2)

Program Pascasarjana Magister Ilmu Komputer STMIK Nusa Mandiri

Imam Nawawi (3)

AMIK BSI Pontianak


(*) Corresponding Author

Keywords:
Expert System, Hiperemesis Gravidarum, Diagnosis Of Pregnancy
Abstract
One of the problems faced by pregnant women is lack of obstetric and antenatal care in pregnancy. Currently also computer technology has
evolved as a data processing tool and producing information. An expert system is one solution to bring obstetric and antenatal care for pregnant women to diagnose the illness. In the application of this expert system using the forward chaining method which can diagnose the 13 types of diseases that are often experienced by pregnant women are : Hiperemesis Gravidarum Tingkat 1, Hiperemesis Gravidarum Tingkat 2, Hiperemesis Gravidarum Tingkat 3, Kehamilan Ektopik Terganggu (KET), Mola Hidatidosa, Plasenta Previa, Solutio Plasenta Ringan, Solutio Plasenta Sedang, Solutio Plasenta Berat, Preeklampsia Ringan, Preeklampsia Berat, Eklampsia dan Abortus. The system can help
women receive the diagnosis of diseases associated pregnancy health with rapid and relatively inexpensive, and get a solution to the disease by
observing symptoms perceived. With this web-based system, the system user can do it anywhere and anytime.
References
Abdillah, A., Nurajijah, & Nawawi, I. (2016). Laporan Penelitian.

Frieyadie, F., & Aryanti, H. (2013). Sistem Pakar Diagnosa Gangguan Kehamilan Berbasis Web Dengan Menggunakan Metode Forward Chaining. Pilar Nusa Mandiri, 9(1), 62–68. Retrieved from http://ejournal.nusamandiri.ac.id/ejurnal/index.php/pilar/article/view/9

Pangestika, M. W., Irawan, B., & Brianorman, Y. (2013). SISTEM PAKAR UNTUK DIAGNOSA PENYAKIT IBU HAMIL BERBASIS MOBILE. Think Ecosystem Act Convergence, 1–10.

Pressman, R. S. (2001). Software Engineering (5th ed.). McGraw-Hill Higher Education.

Ratnasari, D. D., & Sutariyani. (2015). SISTEM PAKAR DIAGNOSA GANGGUAN KEHAMILAN DENGAN METODE FORWARD CHAINING. JURNAL ILMIAH GO INFOTECH, 21(2), 25–31.

Setiyaningsih, W. (2010). Sistem Pakar Diagnosa Penyulit Kehamilan Menggunakan Metode Forward Chaining Certainly Faktor Berbasis web. Telkomnika, 1(Sistem Pakar).

Whenty, H., & Rosa, I. (2010). Program Bantu Diagnosa Gangguan Kesehatan Kehamilan dengan Metode Forward Chainillg.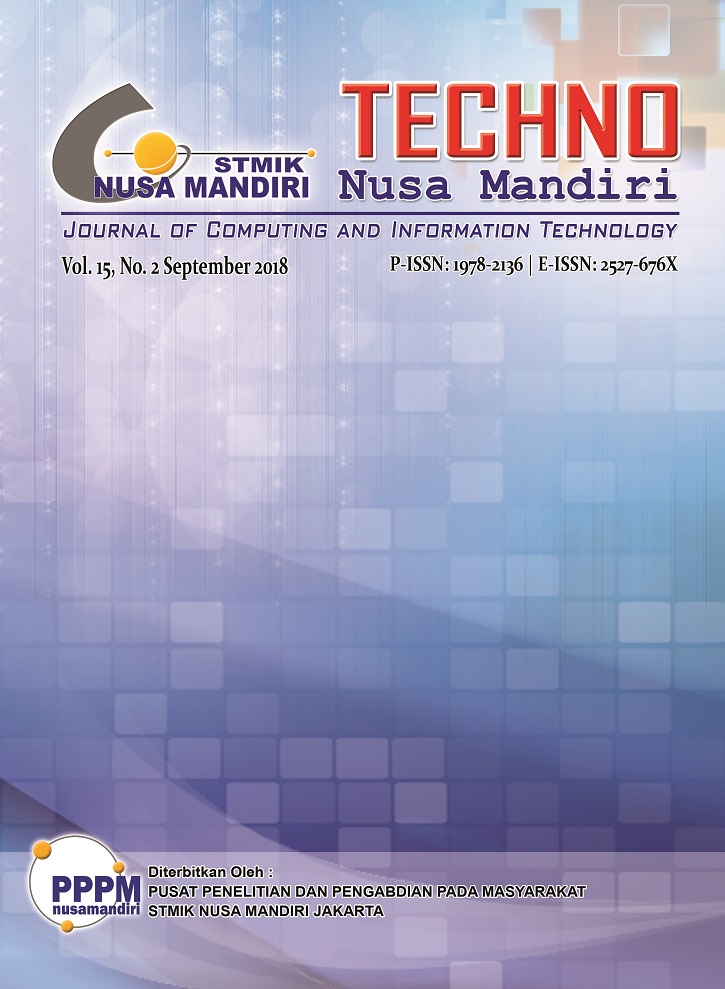 How to Cite
Abdillah, A., Nurajijah, N., & Nawawi, I. (2018). PERANCANGAN SISTEM PAKAR DIAGNOSA PENYAKIT KEHAMILAN BERBASIS WEB. Techno Nusa Mandiri, 15(2), 115-120. https://doi.org/10.33480/techno.v15i2.20
Article Metrics

Abstract viewed = 1231 times

PDF downloaded = 1702 times
The copyright of any article in the TECHNO Nusa Mandiri Journal is fully held by the author under the Creative Commons CC BY-NC license.
The copyright in each article belongs to the author.
Authors retain all their rights to published works, not limited to the rights set out on this page.
The author acknowledges that Techno Nusa Mandiri: Journal of Computing and Information Technology (TECHNO Nusa Mandiri) is the first to publish with a Creative Commons Attribution 4.0 International license (CC BY-NC).
Authors can enter articles separately, manage non-exclusive distribution, from manuscripts that have been published in this journal into another version (for example: sent to author affiliation respository, publication into books, etc.), by acknowledging that the manuscript was published for the first time in Techno Nusa Mandiri: Journal of Computing and Information Technology (TECHNO Nusa Mandiri);
The author guarantees that the original article, written by the stated author, has never been published before, does not contain any statements that violate the law, does not violate the rights of others, is subject to the copyright which is exclusively held by the author.
If an article was prepared jointly by more than one author, each author submitting the manuscript warrants that he has been authorized by all co-authors to agree to copyright and license notices (agreements) on their behalf, and agrees to notify the co-authors of the terms of this policy. Techno Nusa Mandiri: Journal of Computing and Information Technology (TECHNO Nusa Mandiri) will not be held responsible for anything that may have occurred due to the author's internal disputes.