COMPARATIVE CLASSIFICATION OF LUNG X-RAY IMAGES WITH CONVOLUTIONAL NEURAL NETWORK, VGG16, DENSENET121
Muhammad Ilham Prasetya (1*)

Universitas Nusa Mandiri

Yuris Alkhalifi (2)
Rifki Sadikin (3)

Universitas Nusa Mandiri

Yan Rianto (4)

Universitas Nusa Mandiri


(*) Corresponding Author

Abstract
Lungs are one of the organs of the human body, and lung tissue will ultimately affect human abilities. The respiratory system exchanges oxygen and carbon dioxide in the blood. Problems that often occur are polluted air quality, many bacteria that attack the lungs, and lung disease can cause shortness of breath, mobility difficulties, and hypoxia, so that if not detected immediately it can cause death. In this regard, the aim of this study is to compare the classification of normal lungs with those of those suffering from Cardiomegaly. The preparation of this dataset is a form of contribution in improving the quality of the disease classification system on X-ray images. CNN, VGG 16 and DenseNet methods were chosen as classification methods to ensure performance and which method is the best for classifying Lung Diseases. It can be concluded that by using the DenseNet121 model, X-Ray images in this research dataset get an accuracy of 67.06%, for the VGG16 model it gets an accuracy of 68.94% and for the CNN model it gets the highest accuracy of 80.54%.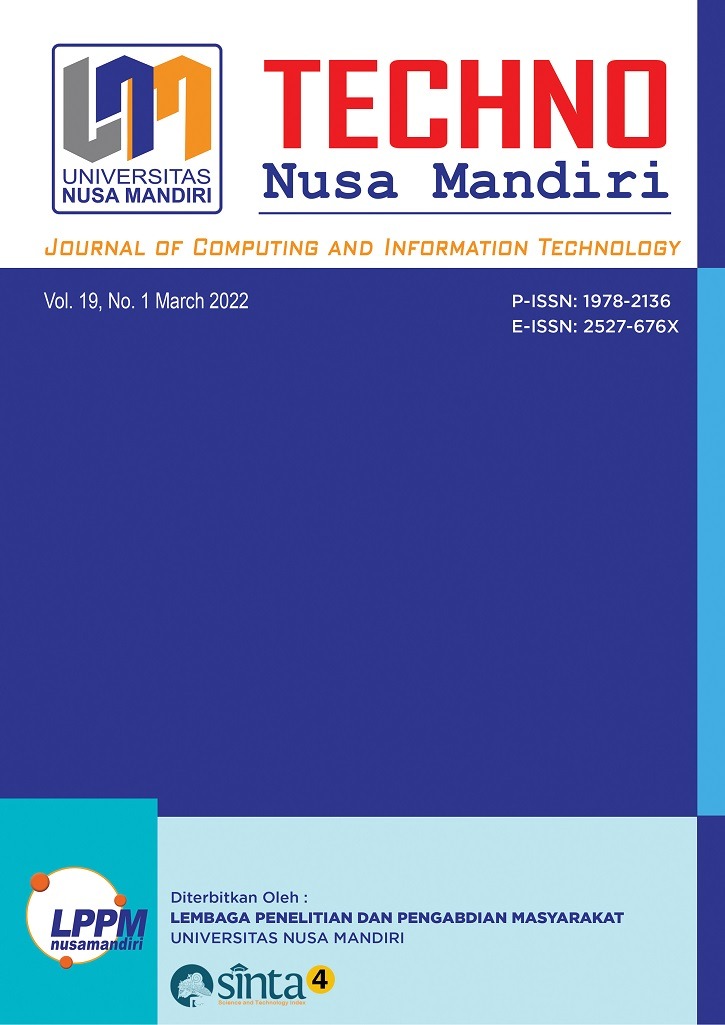 How to Cite
Prasetya, M., Alkhalifi, Y., Sadikin, R., & Rianto, Y. (2022). COMPARATIVE CLASSIFICATION OF LUNG X-RAY IMAGES WITH CONVOLUTIONAL NEURAL NETWORK, VGG16, DENSENET121. Jurnal Techno Nusa Mandiri, 19(1), 55 - 60. https://doi.org/10.33480/techno.v19i1.3010
Article Metrics

Abstract viewed = 160 times

PDF downloaded = 114 times
Copyright (c) 2022 Muhammad Ilham Prasetya, Yuris Alkhalifi, Rifki Sadikin, Yan Rianto
This work is licensed under a Creative Commons Attribution-NonCommercial 4.0 International License.
The copyright of any article in the TECHNO Nusa Mandiri Journal is fully held by the author under the Creative Commons CC BY-NC license.
The copyright in each article belongs to the author.
Authors retain all their rights to published works, not limited to the rights set out on this page.
The author acknowledges that Techno Nusa Mandiri: Journal of Computing and Information Technology (TECHNO Nusa Mandiri) is the first to publish with a Creative Commons Attribution 4.0 International license (CC BY-NC).
Authors can enter articles separately, manage non-exclusive distribution, from manuscripts that have been published in this journal into another version (for example: sent to author affiliation respository, publication into books, etc.), by acknowledging that the manuscript was published for the first time in Techno Nusa Mandiri: Journal of Computing and Information Technology (TECHNO Nusa Mandiri);
The author guarantees that the original article, written by the stated author, has never been published before, does not contain any statements that violate the law, does not violate the rights of others, is subject to the copyright which is exclusively held by the author.
If an article was prepared jointly by more than one author, each author submitting the manuscript warrants that he has been authorized by all co-authors to agree to copyright and license notices (agreements) on their behalf, and agrees to notify the co-authors of the terms of this policy. Techno Nusa Mandiri: Journal of Computing and Information Technology (TECHNO Nusa Mandiri) will not be held responsible for anything that may have occurred due to the author's internal disputes.