COMPARING ALGORITHM FOR SENTIMENT ANALYSIS IN HEALTHCARE AND SOCIAL SECURITY AGENCY (BPJS KESEHATAN)
ASYHARUDIN ASYHARUDIN (1*)

UNIVERSITAS NUSA MANDIRI

Novi Kusumawati (2)
Ulfah Maspupah (3)
Destia Sari R.F. (4)
Amir Hamzah (5)
Duwik Lukito (6)
Dedi Dwi Saputra (7)

(*) Corresponding Author

Keywords:
Text Mining, Naïve Bayes, Adaboost, Classification, Sentiment Analysis
Abstract
Twitter is a social media that can be used to express opinions and exchange information quickly with individuals and institutions such as the Healthcare and Social Security Agency (BPJS Kesehatan). Every word that a Twitter user utters has meaning and stellar emotion. This meaning can be reached through the process of sentiment analysis. Sentiment analysis is the process of understanding and classifying emotions such as positive or negative or complaining or not complaining. This study classifies tweet data related to BPJS Health services into two classifications, namely complain and no complain. Using 1,000 data from Twitter written on the BPJS Kesehatan Twitter account. In text mining, to build a classification, the transform case, tokenize, token filter by length, stemming and stopword techniques are used. Gataframework is used to assist the preprocessing and cleansing process. Rapidminer was used to create sentiment analysis in comparing three different classification methods of the Twitter data. The method used is the Nave Bayes algorithm and the Naïve Bayes algorithm with the addition of a Synthetic Minority Over-sampling Technique (SMOTE) feature and the Naïve Bayes algorithm with an SMOTE feature that is optimized with Adaboost. The Naïve Bayes algorithm is added with the SMOTE feature which is optimized with Adaboost to get the best value with an accuracy value of 69.11%, precision 69.93%, recall 68.89% and AUC 0.770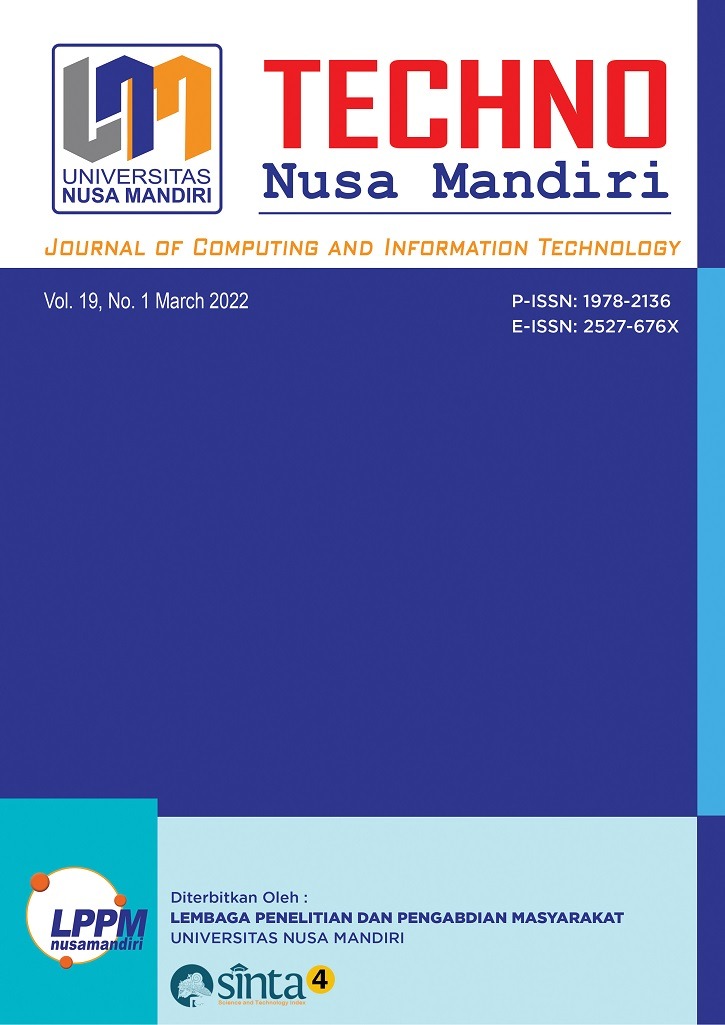 How to Cite
ASYHARUDIN, A., Kusumawati, N., Maspupah, U., Sari R.F., D., Hamzah, A., Lukito, D., & Saputra, D. (2022). COMPARING ALGORITHM FOR SENTIMENT ANALYSIS IN HEALTHCARE AND SOCIAL SECURITY AGENCY (BPJS KESEHATAN). Techno Nusa Mandiri, 19(1), 31 - 37. https://doi.org/10.33480/techno.v19i1.3167
Article Metrics

Abstract viewed = 202 times

PDF downloaded = 108 times
Copyright (c) 2022 ASYHARUDIN ASYHARUDIN
This work is licensed under a Creative Commons Attribution-NonCommercial 4.0 International License.
The copyright of any article in the TECHNO Nusa Mandiri Journal is fully held by the author under the Creative Commons CC BY-NC license.
The copyright in each article belongs to the author.
Authors retain all their rights to published works, not limited to the rights set out on this page.
The author acknowledges that Techno Nusa Mandiri: Journal of Computing and Information Technology (TECHNO Nusa Mandiri) is the first to publish with a Creative Commons Attribution 4.0 International license (CC BY-NC).
Authors can enter articles separately, manage non-exclusive distribution, from manuscripts that have been published in this journal into another version (for example: sent to author affiliation respository, publication into books, etc.), by acknowledging that the manuscript was published for the first time in Techno Nusa Mandiri: Journal of Computing and Information Technology (TECHNO Nusa Mandiri);
The author guarantees that the original article, written by the stated author, has never been published before, does not contain any statements that violate the law, does not violate the rights of others, is subject to the copyright which is exclusively held by the author.
If an article was prepared jointly by more than one author, each author submitting the manuscript warrants that he has been authorized by all co-authors to agree to copyright and license notices (agreements) on their behalf, and agrees to notify the co-authors of the terms of this policy. Techno Nusa Mandiri: Journal of Computing and Information Technology (TECHNO Nusa Mandiri) will not be held responsible for anything that may have occurred due to the author's internal disputes.