IMPLEMENTASI INFORMATION RETRIVALS UNTUK MENINGKATKAN PEMASARAN PRODUK
Hasan Basri (1)

Program Pascasarjana Magister Ilmu Komputer STMIK Nusa Mandiri

Richardius Eko Indrajit (2*)

ABFI Institute Perbanas Jakarta


(*) Corresponding Author

Keywords:
Vektor Space Model, Information Retrivals, Pemasaran Produk
Abstract
Brosur marketing adalah alat yang digunakan oleh seorang developer perumahan untuk menawarkan produknya. Namun kendala yang dihadapi pada saat ini brosur marketing  tidak begitu efektif digunakan karena hasil pencapaian penjualan dari produk tidak memenuhi target. Hal tersebut dibuktikan dengan hasil observasi dibeberapa perumahan yang ada di kota karawang. Data yang didapat dari hasil observasi diklasifikasi dengan metode naïve bayes untuk melihat sejauh mana peluang yang didapatkan dari pemanfaatan brosur itu sendiri. Berdasarkan permasalahan itu maka perlu digunakan metode yang lain. information retrivals merupakan suatu mesin pencarian materil koleksi dalam jumlah besar yang tersimpan dalam komputer. Elemen penting yang mendasar dari sebuah system  temu kembali informasi adalah inverted index yang dapat menyimpan informasi semua kata yang ada dalam sekumpulan dokumen yang digunakan untuk membangun sistem temu kembali informasi tersebut. metode yang digunakan dalam kesempatan ini adalah  Vektor Space Model. Metode atau algoritma vector space model merupakan sebuah algoritma pencarian informasi dalam ruang lingkup dokumen yang berjumlah besar menggunakan ruang vector. Dengan metode Vektor Space Model ini diharapkan dapat membantu pencarian informasi secara cepat dan tepat dalam pemilihan perumahan.
Downloads
Download data is not yet available.
References
Basri, H., & Indrajid, (2017). Laporan Akhir Penelitian Mandiri. Jakarta: STMIK Nusa Mandiri Pascasarjana

Herliana, A. (2016). Optimasi Klasifikasi Sel Tunggal Pap Smear Menggunakan Correlation Based Features Selection ( CFS) Berbasis C4 . 5 Dan Naive BAYES, 3 (September), 148–155.

Informatika, T., Malikussaleh, U., & Utara, A. (2014). PENERAPAN ALGORITMA NAIVE BAYES, 8(1), 884–898.

Sailendra, S., & Latar, P. (2014). Strategi pemasaran barang dan jasa perusahaan melalui media iklan, 2.

Sulaehani, R. (2016). Prediksi Keputusan Klien Telemarketing Untuk Deposito Pada Bank Menggunakan Algoritma Naive, 8 (Desember), 182–189.

Zuniargoprabowo, A., Satoto, K. I., Martono, K. T., Studi, P., Komputer, S., Teknik, F., … Reality, A. (2015). Perancangan Dan Implementasi Augmented Reality Sebagai, 3 (1), 161–170.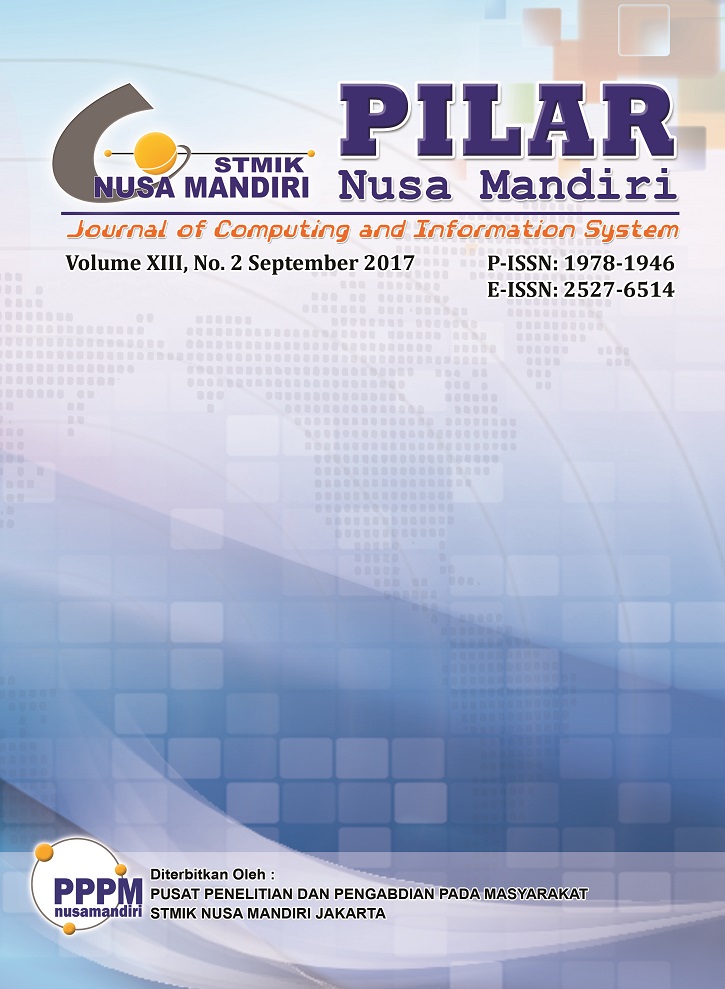 How to Cite
Basri, H., & Indrajit, R. (2017). IMPLEMENTASI INFORMATION RETRIVALS UNTUK MENINGKATKAN PEMASARAN PRODUK. Jurnal Pilar Nusa Mandiri, 13(2), 249-254. Retrieved from http://ejournal.nusamandiri.ac.id/index.php/pilar/article/view/243
Article Metrics

Abstract viewed = 124 times

PDF downloaded = 93 times
The Authors submitting a manuscript do so on the understanding that if accepted for publication, copyright of the article shall be assigned to the PILAR Nusa Mandiri journal as the publisher of the journal, and the author also holds the copyright without restriction.
Copyright encompasses exclusive rights to reproduce and deliver the article in all form and media, including reprints, photographs, microfilms, and any other similar reproductions, as well as translations. The reproduction of any part of this journal, its storage in databases, and its transmission by any form or media, such as electronic, electrostatic and mechanical copies, photocopies, recordings, magnetic media, etc. , are allowed with written permission from the PILAR Nusa Mandiri journal.
PILAR Nusa Mandiri journal, the Editors and the Advisory International Editorial Board make every effort to ensure that no wrong or misleading data, opinions, or statements be published in the journal. In any way, the contents of the articles and advertisements published in the PILAR Nusa Mandiri journal are the sole and exclusive responsibility of their respective authors and advertisers.