PERANCANGAN SISTEM INFORMASI BOOKING PEREKAMAN E-KTP (SI MBOK) BERBASIS WEB
Hasan Basri (1*)

Sistem Informasi Universitas Bina Sarana Informatika

Salman Alfarizi (2)

Sistem Informasi Universitas Bina Sarana Informatika

Alif Rizqi Mulyawan (3)

Sistem Informasi Universitas Bina Sarana Informatika

Aldi Wiguna (4)

Sistem Informasi Universitas Bina Sarana Informatika

Izmi Habiba (5)

Sistem Informasi Universitas Bina Sarana Informatika


(*) Corresponding Author

Keywords:
Recording E-ID CARD, SI MBOK, Sistem Informasi, Berbasis Web
Abstract
A based information system is a system that can be used for the dissemination of information through internet services. In this case, the internet is becoming the provider of a set of information that is posted or uploaded, so that the public can see it every time. Therefore the presence of the internet makes it easier for people to be able to implement the results of the analysis of a system so that the formation of web-based information systems. Government services were supposed to use web-based information systems, it is used in order to obtain maximum work achievement. As an example, a case study a Government Ministry was having some complaints from the community is a service of recording E-ID CARD that is experiencing such a long queue. Therefore this web-based information systems within the scope of the reservation Recording E-ID CARD can reduce prolonged queue numbers so that people feel not satisfied against the Government. On this research produced a design of web-based information systems that can be implemented on the Booking process of recording E-ID CARDS in each Government Ministry offices.
Downloads
Download data is not yet available.
References
Basri, H., Jeni, A., & Jamilah, J. (2016). Rancang Bangun Program Aplikasi Administrasi Rawat. PROSIDING SNIPTEK 2016, 236–241.

Dahmiri, D. (2016). PENGARUH KUALITAS PELAYANAN TERHADAP KEPUASAN MASYARAKAT PADA DINAS KEPENDUDUKAN DAN PENCATATAN SIPIL KABUPATEN SAROLANGUN | Jurnal Manajemen Terapan dan Keuangan. Jurnal Manajemen Terapan Dan Keuangan, 5(3), 176–185. Retrieved from https://online-journal.unja.ac.id/mankeu/article/view/3605

Febriharini, Mahmuda, P. (2016). Pelaksanaan Program e KTP Dalam Rangka Tertib Administrasi Kependudukan Latar Belakang, 17–30.

Fefkhiatin, A., Purwoko, & Astrika, L. (2013). Jurnal ilmu pemerintahan. Ilmu Pemerintahan, 2(3), 1–15.

Fitriani, I. (2017). EVALUASI KEBIJAKAN E-KTP DALAM MEWUJUDKAN KOTA ADMINISTRASI JAKARTA SELATAN. Renaissance, 2(01), 115–124.

Gea, D. (2014). PENGUJIAN KUALITAS WEBSITE DITINJAU DARI PERSPEKTIF ACCESSIBILITY , EXPERIENCE , MARKETING DAN TECHNOLOGY. ComTech, 5(9), 35–45.

Gunawan, & Imam. (2013). Metode Penelitian Kualitatif. Jakarta: PT. Bumi Aksara.

Hermawan, W., Hakim, D. B., & Hutagaol, M. P. (2016). Analisis Kepuasan Masyarakat terhadap Kualitas Pelayanan dalam Pendaftaran Tanah Pertama kali Pada Kantor Pertanahan Kabupaten Bogor. Jurnal Ilmu Keluarga Dan Konsumen, 9(1), 65–75. https://doi.org/10.24156/jikk.2015.9.1.65

Mustafa, W. (2015). Kinerja Aparat Kantor Camat Memberikan Pelayanan Administrasi Kepada Masyarakat Di Kecamatan Blangpidie Aceh Barat Daya, 3(1), 40–53.

Nurfaizal, Y., & Berlilana. (2013). Importance Performance Analisys pada Kantor Kecamatan Purwokerto Utara Kabupaten Banyumas (Studi Kasus : Pelayanan E-KTP), 6(1), 58–69.

Rezha, F., Rochmah, S., & Siswidiyanto. (2013). Analisis Pengaruh Kualitas Pelayanan Publik Terhadap Kepuasan Masyarakat (Studi tentang Pelayanan Perekaman Kartu Tanda Penduduk Elektronik (e-KTP) di Kota Depok). Administrasi Publik, 1(5), 981–990.

Sartini, U., Minarsih, M. M., & Wulan, H. S. (2016). FAKTOR-FAKTOR YANG MEMPENGARUHI KEPUASAN MASYARAKAT DALAM PENGURUSAN KARTU IDENTITAS PENDUDUK (KTP-EL) DAN DOKUMEN KEPENDUDUKAN DI KANTOR DINAS KEPENDUDUKAN DAN PENCATATAN SIPIL KOTA SEMARANG. Journal of Management, 2(2), 110. Retrieved from http://jurnal.unpand.ac.id/index.php/MS/article/view/504

Sukamto, R. A., & Shalahuddin, M. (2014). Rekayasa Perangkat Lunak Terstruktur dan Berbasis Objek. Bandung: Informatika.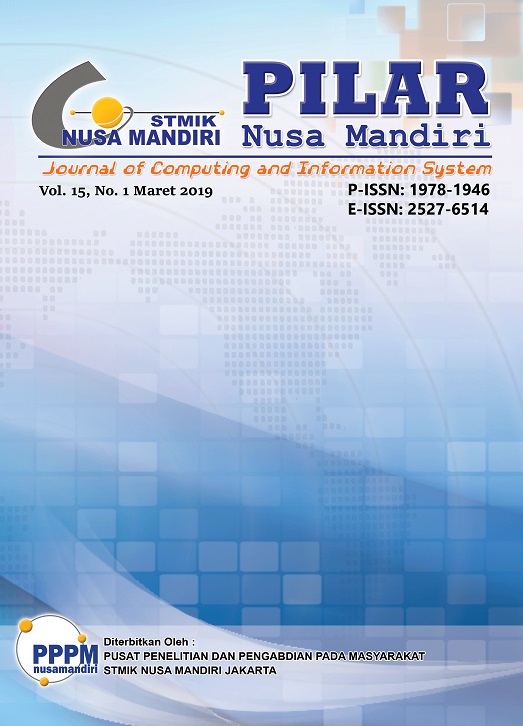 How to Cite
Basri, H., Alfarizi, S., Mulyawan, A., Wiguna, A., & Habiba, I. (2019). PERANCANGAN SISTEM INFORMASI BOOKING PEREKAMAN E-KTP (SI MBOK) BERBASIS WEB. Jurnal Pilar Nusa Mandiri, 15(1), 69-76. https://doi.org/10.33480/pilar.v15i1.103
Article Metrics

Abstract viewed = 2807 times

PDF downloaded = 3065 times
An author who publishes in the Pilar Nusa Mandiri: Journal of Computing and Information System agrees to the following terms:
Author retains the copyright and grants the journal the right of first publication of the work simultaneously licensed under the Creative Commons Attribution-NonCommercial 4.0 License that allows others to share the work with an acknowledgement of the work's authorship and initial publication in this journal
Author is able to enter into separate, additional contractual arrangements for the non-exclusive distribution of the journal's published version of the work (e.g., post it to an institutional repository or publish it in a book) with the acknowledgement of its initial publication in this journal.
Author is permitted and encouraged to post his/her work online (e.g., in institutional repositories or on their website) prior to and during the submission process, as it can lead to productive exchanges, as well as earlier and greater citation of the published work (See The Effect of Open Access).
Read more about the Creative Commons Attribution-NonCommercial 4.0 Licence here: https://creativecommons.org/licenses/by-nc/4.0/.