KOMPARASI ALGORITMA NEURAL NETWORK DAN NAÏVE BAYES UNTUK MEMPREDIKSI PENYAKIT JANTUNG
Hendri Mahmud Nawawi (1*)

STMIK Nusa Mandiri

Jajang Jaya Purnama (2)

Ilmu Komputer STMIK Nusa Mandiri

Agung Baitul Hikmah (3)

Sistem Informasi Universitas Bina Sarana Informatika


(*) Corresponding Author

Keywords:
Heart Disease, Neural Network Algorithm, Naïve Bayes Algorithm
Abstract
Heart disease is one of the types of deadly diseases whose treatment must be dealt with as soon as possible because it can occur suddenly to the sufferer.  Factors of heart disease that are recognized based on the condition of the body of a sufferer need to be known from an early age so that the risk of possible instant attacks can be minimized or can be overcome in various ways such as a healthy lifestyle and regular exercise that can regulate heart health in the body.  By looking at the condition of a person's body based on sex, blood pressure, age, whether or not a smoker and some indicators that become a person's characteristics of heart disease are described in a study using the Neural Network and Naïve Bayes algorithm with the aim of comparing the level of accuracy to attributes influential to predict heart disease, so the results of this study can be used as a reference to predict whether a person has heart disease or not.
Downloads
Download data is not yet available.
References
dedaunan.com. (2019). Ciri-Ciri Penyakit Jantung yang Wajib Anda Ketahui. Retrieved from https://dedaunan.com/ciri-ciri-penyakit-jantung-yang-wajib-anda-ketahui/
Effendy, N., Subagja, & Faisal, A. (2008). Prediksi penyakit jantung koroner ( PJK ) berdasarkan faktor risiko menggunakan jaringan syaraf tiruan backpropagation. Seminar Nasional Aplikasi Teknologi Informasi 2008 (SNATI 2008), (January), E19–E24.
Habibi, M. Y. (Institut S. M., & Riksakomara, E. I. S. M. (2017). Peramalan Harga Garam Konsumsi Menggunakan Artificial Neural Network Feedforward-Backpropagation ( Studi Kasus : 6(2), A306–A310.
Kusumodestoni, R. H., & Zyen, A. K. (2015). PREDIKSI KECEPATAN ANGIN MENGGUNAKAN MODEL NEURAL NETWORK UNTUK MENGHETAHUI BESAR DAYA LISTRIK YANG DIHASILKAN. Jurnal DISPROTEK, 6(1), 53–39.
Lestari, M. E. I. (2014). PENERAPAN ALGORITMA KLASIFIKASI NEAREST NEIGHBOR ( K-NN ) UNTUK MENDETEKSI PENYAKIT JANTUNG. Faktor Exacta, 7(September 2010), 366–371.
Muhamad, H., Prasojo, C. A., Sugianto, N. A., Surtiningsih, L., Cholissodin, I., Ilmu, F., … Optimization, P. S. (2017). OPTIMASI NAÏVE BAYES CLASSIFIER DENGAN MENGGUNAKAN PARTICLE. Jurnal Teknologi Informasi Dan Ilmu Komputer (JTIIK), 4(3), 180–184.
Nawawi, H. M., Purnama, J. J., & Hikmah, A. B. (2019). KOMPARASI ALGORITMA NEURAL NETWORK DAN NAÏVE BAYES UNTUK MEMPREDIKSI PENYAKIT JANTUNG. Jurnal PILAR Nusa Mandiri.
Supriyatna, A., & Mustika, W. P. (2018). Komparasi Algoritma Naive bayes dan SVM Untuk Memprediksi Keberhasilan Imunoterapi Pada Penyakit Kutil. Jurnal Sains Komputer & Informatika (J-SAKTI), Volume (2)(2), 152–161.
Widiastuti, N. A., Santosa, S., & Supriyanto, C. (2014). ALGORITMA KLASIFIKASI DATA MINING NAÏVE BAYES BERBASIS PARTICLE SWARM. Jurnal Pseudocode, Volme 1 No, 11–14.
Yunita. (2015). Prediksi Cuaca Menggunakan Metode Neural Network. PARADIGMA VOL. XVII NO. 2 MARET 2015, XVII(2), 47–53.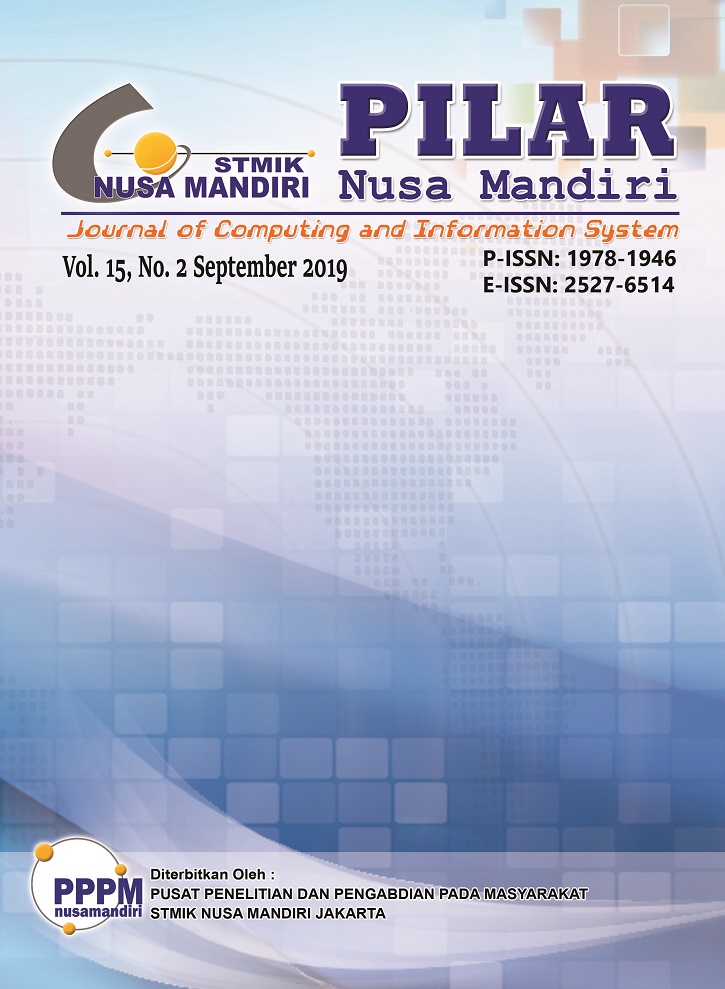 How to Cite
Nawawi, H., Purnama, J., & Hikmah, A. (2019). KOMPARASI ALGORITMA NEURAL NETWORK DAN NAÏVE BAYES UNTUK MEMPREDIKSI PENYAKIT JANTUNG. Jurnal Pilar Nusa Mandiri, 15(2), 189-194. https://doi.org/10.33480/pilar.v15i2.669
Article Metrics

Abstract viewed = 385 times

PDF downloaded = 723 times
Copyright (c) 2019 Hendri Mahmud Nawawi, Jajang Jaya Purnama, Agung Baitul Hikmah
This work is licensed under a Creative Commons Attribution-NonCommercial 4.0 International License.
The Authors submitting a manuscript do so on the understanding that if accepted for publication, copyright of the article shall be assigned to the PILAR Nusa Mandiri journal as the publisher of the journal, and the author also holds the copyright without restriction.
Copyright encompasses exclusive rights to reproduce and deliver the article in all form and media, including reprints, photographs, microfilms, and any other similar reproductions, as well as translations. The reproduction of any part of this journal, its storage in databases, and its transmission by any form or media, such as electronic, electrostatic and mechanical copies, photocopies, recordings, magnetic media, etc. , are allowed with written permission from the PILAR Nusa Mandiri journal.
PILAR Nusa Mandiri journal, the Editors and the Advisory International Editorial Board make every effort to ensure that no wrong or misleading data, opinions, or statements be published in the journal. In any way, the contents of the articles and advertisements published in the PILAR Nusa Mandiri journal are the sole and exclusive responsibility of their respective authors and advertisers.