ANDROID-BASED MOSQUITO LARVA RECORDING SYSTEM DESIGN USING CERTAINTY FACTOR METHOD FOR DBD ENDEMIC CONTROL
Perancangan Sistem Catatan Jentik Berbasis Android Dengan Metode Certainty Factor Untuk Pengendalian Endemik DBD
Sukmawati Anggraeni Putri

STMIK Nusa Mandiri

Sita Anggraeni

Teknik Informatika STMIK Nusa Mandiri
Keywords:
Angka Bebas Jentik, Certainty Factor, Demam Berdarah, Mobile Application, Dengue Fever
Abstract
Dengue Fever (DHF) or Demam Berdarah (DBD)  is an endemic disease in Indonesia. In 2015, there were 126,675 dengue cases occurred in Indonesia. This extraordinary event of DHF can be avoided if the early alert system is carried out well, such as counseling about dengue fever, periodic eradication of mosquito nests or pemberantasan sarang nyamuk (PSN) by the community, administration of abate drugs in water reservoirs and fogging (Fogging). The success of an early alert system can be measured by the larva free rate (ABJ). The use of the certainty factor method in determining the certainty presentation of ABJ and the endemic DHF early alert system, due to the certainty factor method shows good accuracy results of a certainty level of up to 92%. So that when applied to the larva note system (SICANTIK) mobile application. it is expected to be able to predict accurate and fast ABJ and early alert systems. So that through the larva note system (SICANTIK) mobile application, health workers can quickly find out the value of ABJ in a residential area of ​​citizens. Based on this, health workers can take quick action by fogging in areas with low ABJ values. Where the act of fumigation is an act of controlling dengue outbreaks
References
Kementerian Kesehatan Indonesia. (2016). Situasi Demam Berdaha di Indonesia Tahun 2015. Jakarta: Pusat data dan Informasi.
Kementerian Kesehatan RI. (2010). Demam Berdarah Dengue. In Buletin Jendela Epidemiologi (Vol. 2). Jak.
Mariana, N., Gernowo, R., & Noranita, B. (2012). Penerapan Model Certainty Factor Untuk Mendeteksi Gejala Kanker Mulut Rahim. Sistem Informasi Bisnis, 03, 152–159.
Pressman, R. S. (2010). Software Engineering : A Practitioner's Approach (Seventh Ed). New York: MCGraw-Hill.
Putri, C. R. L., & Laksono, B. (2017). Keefektifan Petugas Surveilans Kesehatan Demam Berdarah Dengue Dalam Menentukan Angka Bebas Jentik. Unnes Journal of Public Health, 6(1).
Putri, S. A., & Anggraeni, S. (2019). Laporan Akhir Penelitian: Perancangan Sistem Catatan Jentik Berbasis Android Dengan Metode Certainty Factor Untuk Pengendalian Endemik DBD. Jakarta.
Sari, N. A. (2013). Sistem Pakar Mendiagnosa Penyakit Demam Berdarah Menggunakan Metode Certainty Factor. Pelita Informatika Budi Darma, 4(3), 100–103.
Susanti, Y. (2014). FUNGSI MANAJEMEN, PENYELIDIKAN EPIDEMIOLOGI DEMAM BERDARAH DENGUE DI PUSKESMAS KOTA SEMARANG. In Skripsi. Semarang.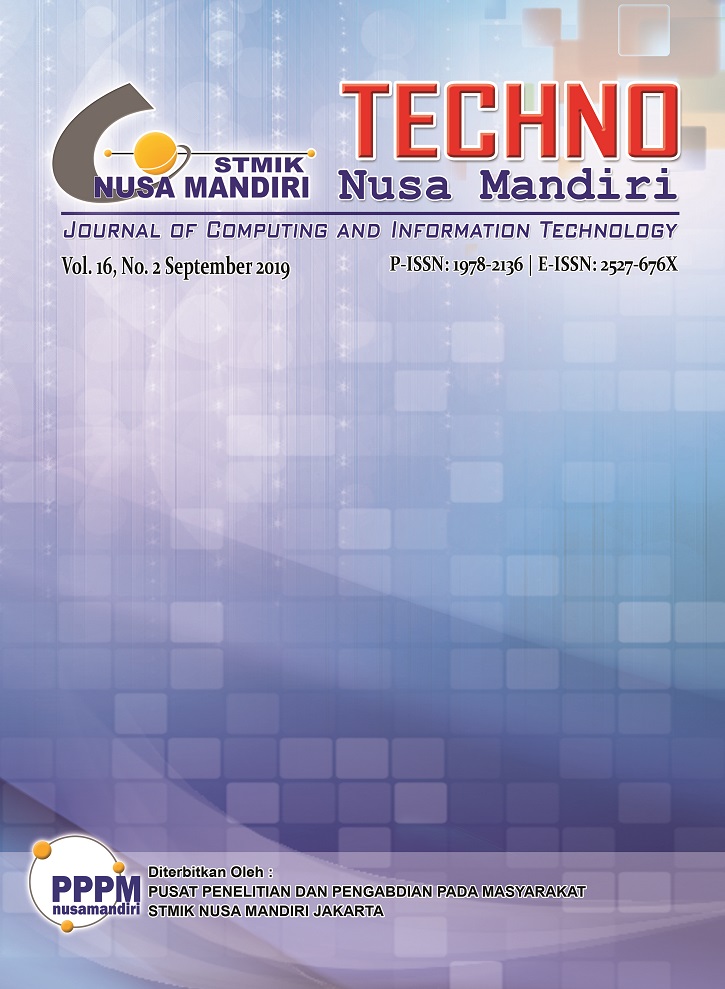 How to Cite
Putri, S., & Anggraeni, S. (2019). ANDROID-BASED MOSQUITO LARVA RECORDING SYSTEM DESIGN USING CERTAINTY FACTOR METHOD FOR DBD ENDEMIC CONTROL. Jurnal Techno Nusa Mandiri, 16(2), 147-154. https://doi.org/10.33480/techno.v16i2.788
Article Metrics

Abstract viewed = 186 times

PDF downloaded = 142 times