RANCANG BANGUN SISTEM INFORMASI KEARSIPAN PADA BAGIAN KEARSIPAN DAN DOKUMENTASI MAHKAMAH AGUNG RI
Ade Suryanto (1*)

Universitas Bina Sarana Informatika

Rizqy Pratama Putra (2)

Universitas Bina Sarana Informatika


(*) Corresponding Author

Keywords:
Information System, Filling System, Waterfall Model
Abstract
The Indonesian Supreme Court Archives and Documentation Sub-Section requires an information system that supports and provides satisfactory services for archivists, because the current system is still operated conventionally and has not been computerized. The Supreme Court of the Republic of Indonesia as a judicial institution that applies a modern judicial body, currently records management is still using the manual method, namely by using paper. This can cause several problems including corrupted or lost archive data and spending a lot of time in the process of collecting new records. The best solution is to design a web-based archiving information system using the waterfall method, using several web-based application processing software. Hopefully this is the Supreme Court Archives and Documentation Sub Division of the Republic of Indonesia Supreme Court that is easier to collect data on archives and prevent lost or damaged data. Archive staff also benefit from this system because it will reduce the time to find the required records.
References
A.S, R., & Shalahuddin, M. (2015). Rekayasa Perangkat Lunak Terstruktur dan Berorientasi Objek. Bandung : Informatika. In Jurnal Pilar Nusa Mandiri.
Agus, P., & Safitri, Y. (2015). Pemanfaatan Sistem Informasi Perpustakaan Digital Berbasis Website Untuk. Indonesian Journal on Software Engineering.
Anggraeni, E. Y., & Irviani, R. (2017). PENGANTAR SISTEM INFORMA. In CV. ANDI OFFSET.
Anhar. (2016). Panduan Belajar Internet untuk Anak. In Panduan Belajar Internet untuk Anak.
Asmara, R. (2016). Sistem Informasi Pengolahan Data Penanggulangan Bencana Pada Kantor Badan Penanggulangan Bencana Daerah (Bpbd) Kabupaten Padang Pariaman. Jurnal J-Click.
Atmoko, Y. D., & Arizona, N. D. (2016). Aplikasi Penjualan dan Pembelian Secara Tunai dan Non Tunai Pada PD Istana Gypsum Pontianak. Simposium Nasional Ilmu Pengetahuan Dan Teknologi (SIMNASIPTEK).
Basri, & Devitra, J. (2017). Analisis Dan Perancangan Sistem Informasi Pengelolaan Arsip Berbasis Web (Studi Kasus: Pada Komisi Pemilihan Umum (Kpu) Kabupaten Tebo. Jurnal Manajemen SistemInformasi.https://doi.org/http://dx.doi.org/10.1159
Firmansyah, R., & Saidah, I. (2016). Perancangan Web Based Learning Sebagai Media Pembelajaran Berbasis Ict. Informatika, 3(September), 176–182.
Hidayat, R. (2017). Aplikasi Penjualan Jam Tangan Secara Online Studi Kasus: Toko JAMBORESHOP. Jurnal Teknik Komputer.
Hutahean. (2015). Karekteristik sistem. KARAKTERISTIK SISTEM.
Lestanti, S., & Susana, A. D. (2016). SISTEM PENGARSIPAN DOKUMEN GURU DAN PEGAWAI MENGGUNAKAN METODE MIXTURE MODELLING BERBASIS WEB. Antivirus : Jurnal Ilmiah Teknik Informatika.
https://doi.org/10.35457/antivirus.v10i2.164
Muttaqin, M. F., Mutiara, G. A., & Handayani, R. (2018). Rfid Sistem Parkir Dengan User Profiler. E-Proceeding of Applied Science.
Rosa A.S, M. S. (2016). Model Waterfall. 2016.
Sudrajat, B. (2018). Rancang Bangun Sistem Informasi Penjualan. Interkom.
Tabrani, M., & Eni, P. (2017). Penerapan Metode Waterfall Pada Sistem Informasi Inventori Pt. Pangan Sehat Sejahtera. Jurnal Inkofar.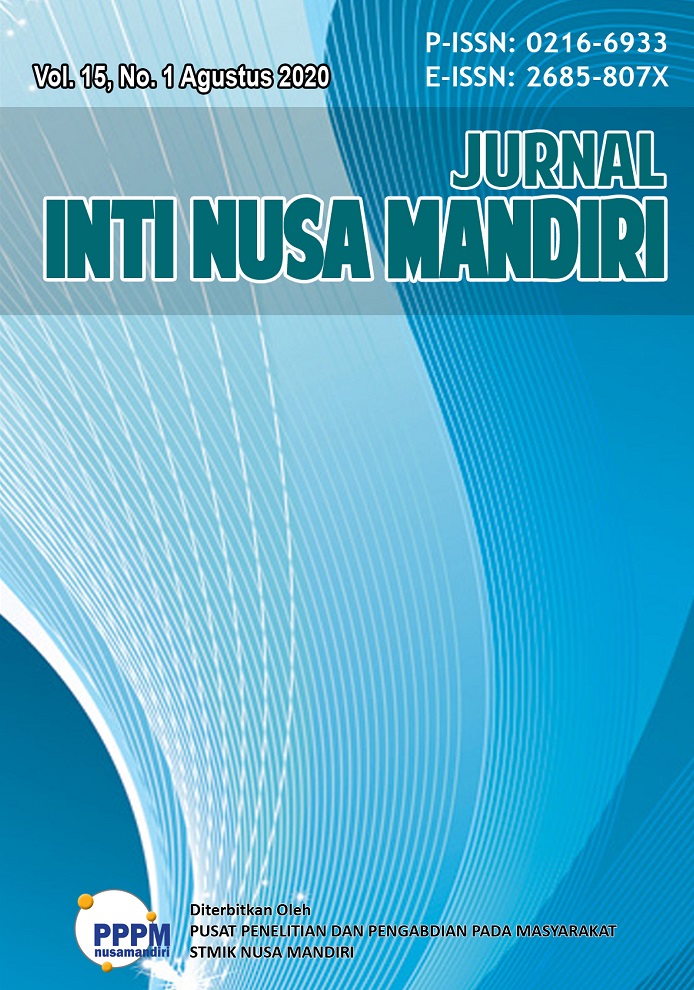 How to Cite
Suryanto, A., & Putra, R. (2020). RANCANG BANGUN SISTEM INFORMASI KEARSIPAN PADA BAGIAN KEARSIPAN DAN DOKUMENTASI MAHKAMAH AGUNG RI. INTI Nusa Mandiri, 15(1), 73-80. https://doi.org/10.33480/inti.v15i1.1441
Article Metrics

Abstract viewed = 31 times

PDF downloaded = 26 times