SISTEM INFORMASI PENJUALAN TIKET MASUK WISATA JEMBATAN CINTA BERBASIS WEB
Jefi Jefi (1*)

Universitas Bina Sarana Informatika

Muhammad Fahmi (2)

Universitas Nusa Mandiri

Hendri Hendri (3)

Universitas Nusa Mandiri

Desiana Nur Kholifah (4)

Universitas Nusa Mandiri

Suharjanti Suharjanti (5)

Universitas Bina Sarana Informatika


(*) Corresponding Author

Keywords:
Rancang Bangun Sistem Informasi, Pemesanan Tiket, Codeigniter MVC
Abstract
Abstract— The use of technology in the tourism industry is becoming increasingly crucial considering changes in consumer behavior that tend to rely on digital platforms to make transactions. To analyze the effectiveness and reliability of facilitating the process of purchasing tickets online. In addition, it also includes an evaluation of the level of user satisfaction with this web-based system and its impact on increasing visits to the Cinta Bridge tourist attraction. Through surveys of tourists using a web-based ticket sales system, interviews with tour managers, and analysis of ticket transaction data documented in the system. Research participants include tourists, managers, and other related parties. The data were obtained and analyzed using statistical methods and qualitative analysis to gain a thorough understanding of the impact of the Web-Based Bridge Tourism Entrance Ticket Sales Information System. Demonstrating that managing ticket stock and arranging visit schedules more efficiently is also a positive result for the development of the technology-based tourism industry by proving the benefits of the Web-Based Bridge of Love Entrance Ticket Sales Information System. The results of this study can be the basis for the development and implementation of similar systems in other tourism destinations. In addition, the research is considered to provide valuable insights for related parties in optimizing the use of technology to improve user experience and operational efficiency in the tourism sector
Downloads
Download data is not yet available.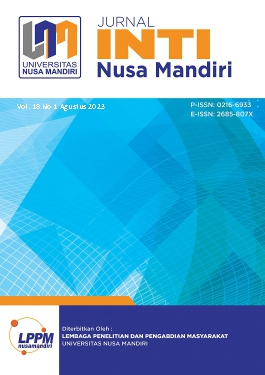 How to Cite
Jefi, J., Fahmi, M., Hendri, H., Kholifah, D., & Suharjanti, S. (2023). SISTEM INFORMASI PENJUALAN TIKET MASUK WISATA JEMBATAN CINTA BERBASIS WEB. INTI Nusa Mandiri, 18(1), 84 - 92. https://doi.org/10.33480/inti.v18i1.4307
Article Metrics

Abstract viewed = 94 times

PDF downloaded = 73 times
Copyright (c) 2023 Jefi Jefi, Muhammad Fahmi, Hendri Hendri, Desiana Nur Kholifah
This work is licensed under a Creative Commons Attribution-NonCommercial 4.0 International License.
Penulis yang menerbitkan jurnal ini menyetujui ketentuan berikut:
1. Penulis memegang hak cipta dan memberikan hak jurnal mengenai publikasi pertama dengan karya yang dilisensikan secara bersamaan di bawah Creative Commons Attribution 4.0 International License. yang memungkinkan orang lain untuk berbagi karya dengan pengakuan atas karya penulis dan publikasi awal pada jurnal.
2. Penulis dapat memasukkan pengaturan kontrak tambahan yang terpisah untuk distribusi non-eksklusif dari versi jurnal yang diterbitkan (misalnya, mengirimkannya ke repositori institusional atau menerbitkannya dalam sebuah buku), dengan pengakuan atas publikasi awalnya pada Jurnal.
3. Penulis diizinkan dan didorong untuk memposting karya mereka secara online (misalnya, dalam penyimpanan institusional atau di situs web mereka) sebelum dan selama proses pengiriman, karena hal itu dapat menghasilkan pertukaran yang produktif, serta kutipan dari karya yang diterbitkan sebelumnya.