APRIORI ALGORITHM FOR IMPLEMENTATION OF RAW MATERIAL PURCHASE DATA ANALYSIS IN PT MAHAKAM BETA FARMA
Dewi Risdawati (1)

Sekolah Tinggi Manajemen Informatika dan Komputer Nusa Mandiri

Nita Merlina (2*)

STMIK Nusa Mandiri


(*) Corresponding Author

Keywords:
Data Mining, Apriori Algorithm, Tanagra 1.4
Abstract
PT Mahakam Beta Farma is a manufacturing company in the pharmaceutical field and there are obstacles in the storage of raw materials so that the process of entering and exiting raw materials is not effective. The solution to this problem is to rearrange the location of raw materials in the warehouse to facilitate the distribution of raw materials when entering or leaving so that when needed for the production process does not require much time in the search, which will also have an impact on the smooth production process. The basis for determining the layout of raw materials in the warehouse is to analyze what raw materials are often purchased at the same time for 1 year with data mining using apriori algorithm method. The application used to process the purchase of raw material that is large enough is Tanagra 1.4. The results of this study obtained 12 patterns of purchase of raw materials with a minimum value of 80% support, 90% minimum confidence, and lift ratio o as materials to recommend the re-layout of raw materials in the warehouse.
Downloads
Download data is not yet available.
References
N. P. A. Hidayat, "Perancangan Tata Letak Gudang dengan Metoda Class-Based Storage Studi Kasus CV. SG Bandung," J. AL-AZHAR Indones. SERI SAINS DAN Teknol., vol. Vol. 1, No, p. 106, 2012.
A. P. Sujana, D. D. Damayanti, and M. D. Astuti, "USULAN PERBAIKAN ALOKASI PENYIMPANAN BARANG DENGAN METODE CLASS BASED STORAGE PADA GUDANG BAHAN BAKU 1 PT SMA," J. Rekayasa Sist. Ind., vol. 1, pp. 1–7, 2014.
C. R. W. Relita Buaton, Anton Sihombing, Fuji Dodo Aritonang, "Data mining untuk menentukan korelasi ( confidence dan support ) jurusan siswa pada tingkat sekolah menengah terhadap indeks prestasi kumulatif (IPK )," J. Sist. Inf. Kaputama, vol. 1, no. ISSN 2548-9712, pp. 1–13, 2017.
G. Indrawan and G. R. Dantes, "DATA MINING REKOMENDASI CALON MAHASISWA BERPRESTASI DI STMIK DENPASAR MENGGUNAKAN METODE TECHNIQUE FOR OTHERS REFERENCE BY SIMILARITY TO IDEAL SOLUTION Program Studi Ilmu Komputer , Program Pascasarjana," J. Sains dan Teknol. |, vol. 5, no. 2, pp. 746–760, 2016.
N. Adha, L. T. Sianturi, and E. R. Siagian, "IMPLEMENTASI DATA MINING PENJUALAN SABUN DENGAN MENGGUNAKAN METODE APRIORI ( Studi Kasus : PT. Unilever)," Maj. Ilm. INTI, vol. 12, no. 2, pp. 219–223, 2017.
A. F. Mustofa, "Pengaruh Service Guarantee Terhadap Behavioral Intention : survey terhadap tamu yang mendapatkan service guarantee di hotel ibis Bandung Trans Studio," Bandung, 2017.
M. S. Lubis, Metodologi Penelitian. Dee Publish, 2018.
R. Vulandari, Data Mining Teori dan Aplikasi Rapidminer. Surakarta, Indonesia: Penerbit Gava Media, 2017.
A. Firmansyah and N. Merlina, "Laporan akhir penelitian : Prediksi Pola Penjualan Tiket Kapal PT. PELNI Cabang Makassar Menggunakan Metode Algoritma Apriori," Jakarta, 2019.
D. Risdawati and N. Merlina, "Laporan Akhir Penelitian: Penerapan algoritma apriori terhadap Analisis data pembelian bahan baku di PT. Mahakam Beta Farma," Jakarta, 2018.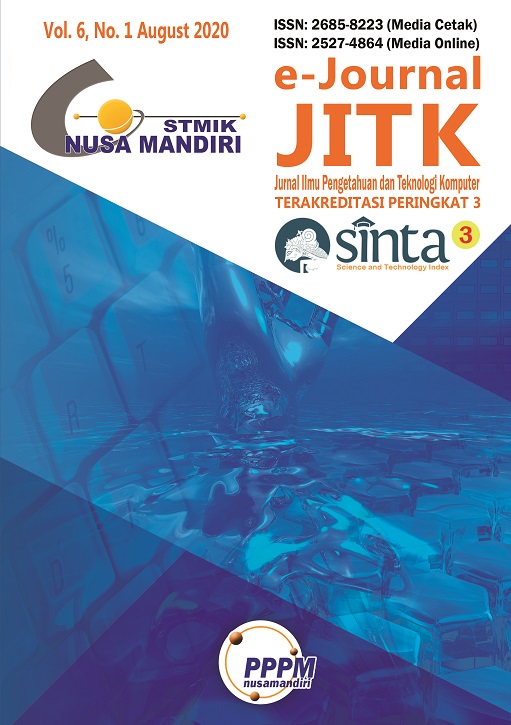 How to Cite
[1]
D. Risdawati and N. Merlina, "APRIORI ALGORITHM FOR IMPLEMENTATION OF RAW MATERIAL PURCHASE DATA ANALYSIS IN PT MAHAKAM BETA FARMA", jitk, vol. 6, no. 1, pp. 61-66, Jul. 2020.
Article Metrics

Abstract viewed = 132 times

PDF downloaded = 114 times