IMPLEMENTASI BACKUP ROUTER TROUBLE DENGAN METODE VIRTUAL ROUTER REDUDANCY PROTOCOL (VRRP) PADA DISKOMINFO DEPOK
Indra Chaidir (1*)

Sistem Informasi Universitas Bina Sarana Informatika

Riyandi Al Rino (2)

Teknik Informatika STMIK Nusa Mandiri


(*) Corresponding Author

Keywords:
VRRP, Router, Networking, Virtual Router Redundancy Protocol
Abstract
Kegagalan pada jaringan terdiri dari kegagalan perangkat dan kegagalan link. Kegagalan perangkat berarti bahwa perangkat jaringan itu sendiri sedang down yang bisa berupa kegagalan pada switch, hub, atau router. Kegagalan perangkat bisa terjadi pada switch atau router maka jaringan tersebut akan down karena tidak ada yang bisa meneruskan paket. Karena switch atau router merupakan perangkat inti dari jaringan dan yang menghubungkan antar segment yang berbeda. Pada saat terjadi kegagalan jaringan yang di sebabkan oleh perangkat jaringan yaitu router, bagian IT network akan memperbaikinya secara manual dan memerlukan waktu yang cukup lama. Hal tersebut tentunya mengurangi kinerja pada suatu jaringan komputer, bila tidak adanya peralihan jaringan secara cepat dan otomatis. Oleh karena itu, dibutuhkan Implementasi Virtual Router Redundancy Protocol (VRRP) untuk meningkatka
Downloads
Download data is not yet available.
References
Chaidir, I., & Alrino, R. (2018). Laporan Akhir Penelitian Mandiri. Jakarta.

Choirullah, M. Y., Anif, M., & Rochadi, A. (2017). Analisis Kualitas Layanan Virtual Router Redundancy Protocol Menggunakan Mikrotik pada Jaringan VLAN. Jurnal Nasional Teknik Elektro Dan Teknologi Informasi (JNTETI), 5(4), 278–285. Retrieved from http://ejnteti.jteti.ugm.ac.id/index.php/JNTETI/article/view/275/204

Guterres, E. J., Triyono, J., & Kumalasari, E. (2014). Perancangan dan Pengembangan Jaringan VLAN pada Dili Institute of Technologi (DIT) Timor Leste Menggunakan Packet Tracer. Jurnal Jarkom. Retrieved from http://journal.akprind.ac.id/index.php/jarkom/article/view/126

Halawa, S. (2016). Perancangan Aplikasi Pembelajaran Topologi Jaringan Komputer Untuk Sekolah Menengah Kejuruan ( Smk ) Teknik Komputer Dan. JURIKOM (Jurnal Riset Komputer), 66–71. Retrieved from https://ejurnal.stmik-budidarma.ac.id/index.php/jurikom/article/view/53/32

Lukman, N. (2016). Studi Implementasi Aplikasi Manajemen Ruang Kelas "Netop School" Berbasiskan Local Area Network (Lan). Jurnal Sains Dan Teknologi, XI(1), 1–14. Jurnal tidak didaringkan.

Muallifah, C., & Yulianto, L. (2013). Pembuatan Jaringan Local Area Network Pada Laboratorium MA Pembangunan Kikil Arjosari. Indonesian Journal on Networking and Security. Retrieved from http://ijns.org/journal/index.php/ijns/article/view/7/7

Pamungkas, C. A. (2016). Manajemen Bandwith Menggunakan Mikrotik Routerboard. Jurnal INFORMA Politeknik Indonusa Surakarta, 1(3), 17–22. Retrieved from http://www.poltekindonusa.ac.id/jurnal/jurnal-informa_/

Saputra, R. H., Permana, A. G., & Iqbal, M. (2015). Implementasi Dan Analisis Virtual Router Redundancy Protocol Version 3 ( Vrrpv3) Ipv6 Dengan Menggunakan Small Form-Factor Pluggable Optic Untuk Layanan Data. EProceedings of Engineering, 2(1), 177–184. Retrieved from http://libraryeproceeding.telkomuniversity.ac.id/index.php/engineering/article/view/1597

Sari, Herlina, Latipa; Sudarsono, Aji; Hayadi, B. H. (2013). Pengembangan Jaringan Local Area Network Menggunakan Sistem Operasi Linux Redhat 9. Jurnal Media Infotama, 9(1), 165–189. Retrieved from https://jurnal.unived.ac.id/index.php/jmi/article/view/31

Varianto, E., & Mohammad Badrul. (2015). Implementasi Virtual Private Network Dan Proxy Server Menggunakan Clear Os Pada Pt.Valdo International. Jurnal Teknik Komputer Amik Bsi, 1(1), 55–56. Retrieved from https://ejournal.bsi.ac.id/ejurnal/index.php/jtk/article/view/236/202

Wardoyo, S., Ryadi, T., & Fahrizal, R. (2014). Analisis Performa File Transport Protocol Pada Perbandingan Metode IPv4 Murni, IPv6 Murni dan Tunneling 6to4 Berbasis Router Mikrotik. Jurnal Nasional Teknik Elektro, (2), 106-117. Retrieved from http://jnte.ft.unand.ac.id/index.php/jnte/article/view/74/7.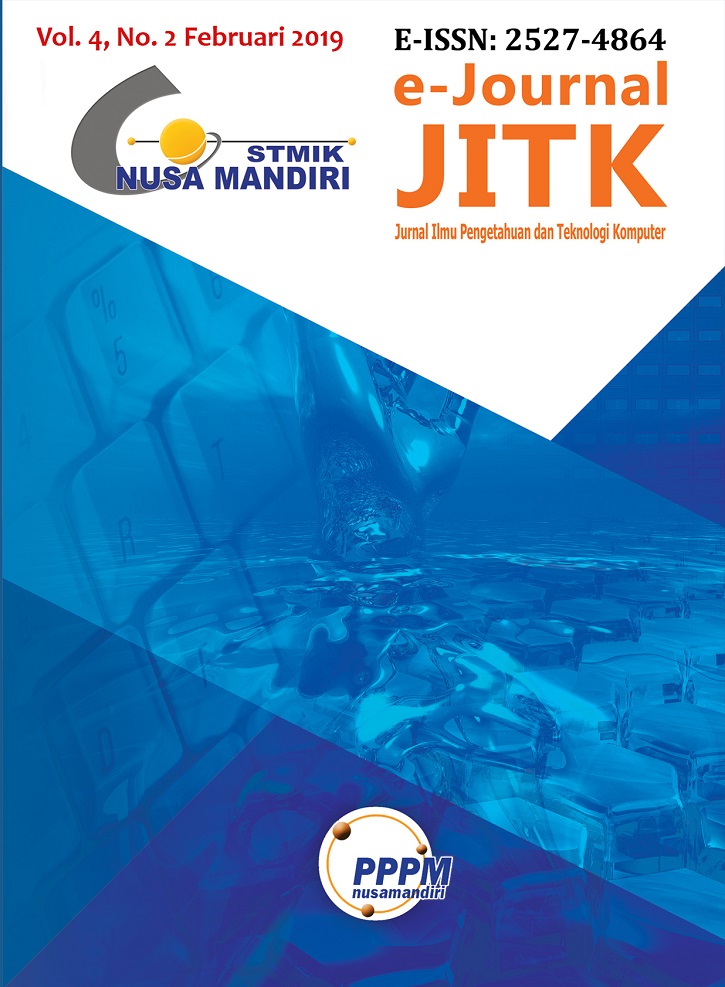 How to Cite
[1]
I. Chaidir and R. Al Rino, "IMPLEMENTASI BACKUP ROUTER TROUBLE DENGAN METODE VIRTUAL ROUTER REDUDANCY PROTOCOL (VRRP) PADA DISKOMINFO DEPOK", jitk, vol. 4, no. 2, pp. 251-256, Feb. 2019.
Article Metrics

Abstract viewed = 171 times

PDF downloaded = 326 times