RANCANGAN BANGUN VIDEO STREAMING MENGGUNAKAN RED5 SEBAGAI MEDIA SERVER BERBASIS PROTOKOL RTSP
Indra Chaidir (1*)

Manajemen Informatika AMIK BSI Jakarta

Tri Budi Haryanto (2)

Teknik Informatika STMIK Nusa Mandiri


(*) Corresponding Author

Keywords:
Real Time Streaming Protocol, Streaming, RTSP
Abstract
Building Construction Information Asia (BCI Asia) beserta salah satu devisi media Future Arc merupakan sebuah perusahaan yang bergerak dibidang pelayanan penyedia data informasi proyek konstruksi dan bangunan, dan sebagai penyedia media majalah maupun media partner dalam berbagai event. Sekarang ini dari berbagai hasil wawancara dan studi lapangan, dalam penyelenggaraan event-event BCI Asia dan Future Arc masih kurang mendapat dukungan dalam bentuk multimedia, belum adanya dokumentasi dalam bentuk video maupun video on demand, masih belum maksimalnya dukungan terhadap penerapan marketing online maupun inovasi-inovasi strategi marketing baru yang belum optimal. BCI Asia membutuhkan suatu penerapan video streaming dengan menggunakan Red5 server berbasis protokol Real Time Streaming Protocol (RTSP) dan teknologi kompresi Video yang dapat direalisasikan sesuai dengan kebutuhan network environment yang ada di lingkungan BCI Asia.
Downloads
Download data is not yet available.
References
Andrian, T., & Bahriun, T. A. (2013). PEMANFAATAN APLIKASI RED5 SEBAGAI STREAMING SERVER DI UNIVERSITAS SUMATERA UTARA. Singuda ENSIKOM, 3(1), 35–39. Retrieved from https://jurnal.usu.ac.id/index.php/singuda_ensikom/article/view/2269/1879.

Chaidir, Haryanto, I., & Budi, T. (2018). Laporan Akhir Penelitian Mandiri. Jakarta.

Durresi, A., & Jain, R. (2005). RTP, RTCP, and RTSP - Internet Protocol for Real-Time Multimedia Communication. The Industrial Information Technology Handbook (pp. 28-1-28–11). Boston: CRC Press.

Firmansyah. (2011). Kompresi Video Menggunakan Standar Mpeg. Universitas Udayana. Retrieved from https://id.scribd.com/document/241970881/Kompresi-Video-Menggunakan-Standar-Mpeg

Kurniawan, E., & Sani, A. (2014). ANALISIS KUALITAS REAL TIME VIDEO STREAMING TERHADAP BANDWIDTH JARINGAN YANG TERSEDIA. Singuda ENSIKOM, 9(2), 92–96. Retrieved from https://jurnal.usu.ac.id/index.php/singuda_ensikom/article/view/7561/4019

Munir. (2013). Multimedia: Konsep & Aplikasi Dalam Pendidikan (1st ed.). Bandung: Alfabeta. Retrieved from http://www.cvalfabeta.com/0389-detail-multimedia_konsp_dan_aplikasi_dalam_pendidikan.html

Satwika, I. K. S. (2011). PENGOLAHAN SINYAL MULTIMEDIA TE(6610) PROSES VIDEO STREAMING DENGAN PROTOCOL REAL-TIME STREAMING PROTOCOL (RTSP). Bali. Retrieved from http://docshare02.docshare.tips/files/17624/176245338.pdf

Wardana, H. K., Gideon, & Handoko. (2009). Implementasi Real Time Streaming Protocol Untuk Aplikasi Radio Internet. Techne, 8(1). Retrieved from http://repository.uksw.edu/handle/123456789/363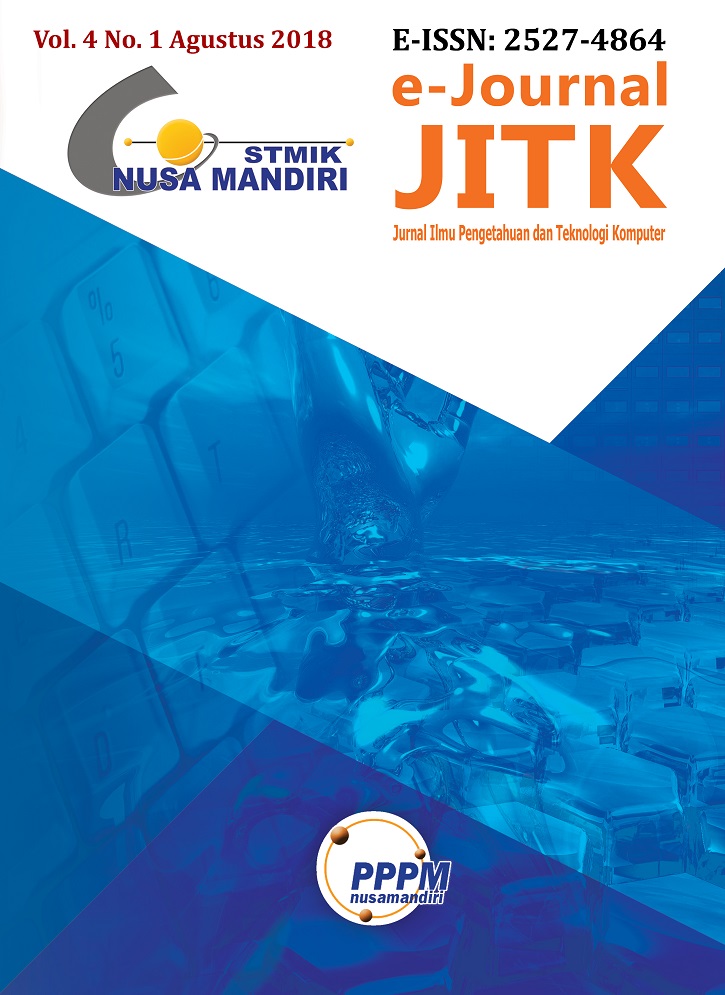 How to Cite
[1]
I. Chaidir and T. Haryanto, "RANCANGAN BANGUN VIDEO STREAMING MENGGUNAKAN RED5 SEBAGAI MEDIA SERVER BERBASIS PROTOKOL RTSP", jitk, vol. 4, no. 1, pp. 49-54, Aug. 2018.
Article Metrics

Abstract viewed = 99 times

PDF downloaded = 243 times