IMPLEMENTASI INTERFACE VIRTUAL LOCAL AREA NETWORK DAN FIREWALL PADA MIKROTIK DAN SWITCH MANAJEMEN
Taufik Rahman (1*)

Manajemen Informatika AMIK BSI Jakarta


(*) Corresponding Author

Keywords:
Network, VLAN, Firewall, MikroTik, Switch.
Abstract
Saat ini jaringan kampus sangat penting dan memainkan peran penting untuk setiap organisasi didalamnya. Untuk mengelola jaringan ethernet secara efisien, pengetahuan rinci dan akurat dari topologi diperlukan, seperti partisi jaringan, prediksi kinerja didasarkan pada topologi jaringan begitu pula ancaman keamanan jaringan komputer dan arsitektur jaringan selalu merupakan masalah serius dan penting. Pengembangan jaringan lokal area (LAN) dengan implementasi Virtual Local Area Network (VLAN) dan firewall pada router MikroTik dan switch manajemen akan dicoba sebagai solusi untuk aplikasi dan manajemen jaringan perguruan tinggi. Interface vlan dengan vlan id sebagai pembedanya pada router MikroTik pada interface bonding, digabungkan nya dua ethernet menjadi satu menggunakan mode balance rr, maka dapat memisahkan trafik jaringan sehingga broadcast dari pada jaringan dapat diminimalisir dan menjadi mudah dalam memantau trafik penggunaan jaringan, mendeteksi kegagalan koneksi dapat ditelusuri berdasarkan PVID melalui monitoring switch manajemen. Kebijakan mengenai penggunaan jaringan dilakukan melalui firewall pada router MikroTik kampus sehingga dapat di monitoring trafik dan paket data yang masuk dan keluar. Hal ini di buktikan dengan beberapa website yang tidak boleh diakses, begitupun dengan port dan protokol jaringan.
Downloads
Download data is not yet available.
References
Ali, M. N. Bin, Rahman, M. L., & Hossain, S. A. (2013). Network architecture and security issues in campus networks. 2013 4th International Conference on Computing, Communications and Networking Technologies, ICCCNT 2013, 1–9. https://doi.org/10.1109/ICCCNT.2013.6726595

Hameed, A., & Mian, A. N. (2015). Towards better traffic localization of virtual lans using genetic algorithm. Computer Journal, 59(2), 178–191. https://doi.org/10.1093/comjnl/bxv088

Kodama, S., Nakagawa, R., Tanouchi, T., & Kameyama, S. (2016). Management system by using embedded packet for hierarchical local area network. 2016 IEEE 7th Annual Ubiquitous Computing, Electronics & Mobile Communication Conference (UEMCON), 1–4. https://doi.org/10.1109/UEMCON.2016.7777868

Lehocine, M. B., & Batouche, M. (2017). Flexibility of managing VLAN filtering and segmentation in SDN networks. 2017 International Symposium on Networks, Computers and Communications, ISNCC 2017. https://doi.org/10.1109/ISNCC.2017.8071999

Pauzhi, W., & Coronel, J. (2015). Security for WISP through Mikrotik equipment Mikrotik ). In 2015 CHILEAN Conference on Electrical, Electronics Engineering, Information and Communication Technologies (CHILECON) (pp. 229–233). Santiago, Chile.

Rahman, T. (2018). Laporan Akhir Penelitian Mandiri. Jakarta: AMIK BSI Jakarta.

Rianafirin, K., & Kurniawan, M. T. (2017). Design Network Security Infrastructure Cabling Using Network Development Life Cycle Methodology and ISO/IEC 27000 Series in Yayasan Kesehatan (Yakes) Telkom Bandung. In 2017 4th International Conference on Computer Applications and Information Processing Technology (CAIPT) (pp. 1–6). Kuta Bali, Indonesia: IEEE. Retrieved from https://ieeexplore.ieee.org/document/8320681/

Wiboonrat, M. (2014). Data center infrastructure management: WLAN networks for monitoring and controlling systems. International Conference on Information Networking, 226–231. https://doi.org/10.1109/ICOIN.2014.6799696

Zhou, J., & Ma, Y. (2016). Topology discovery algorithm for ethernet networks with incomplete information based on VLAN. Proceedings of 2016 5th International Conference on Network Infrastructure and Digital Content, IEEE IC-NIDC 2016, 396–400. https://doi.org/10.1109/ICNIDC.2016.7974604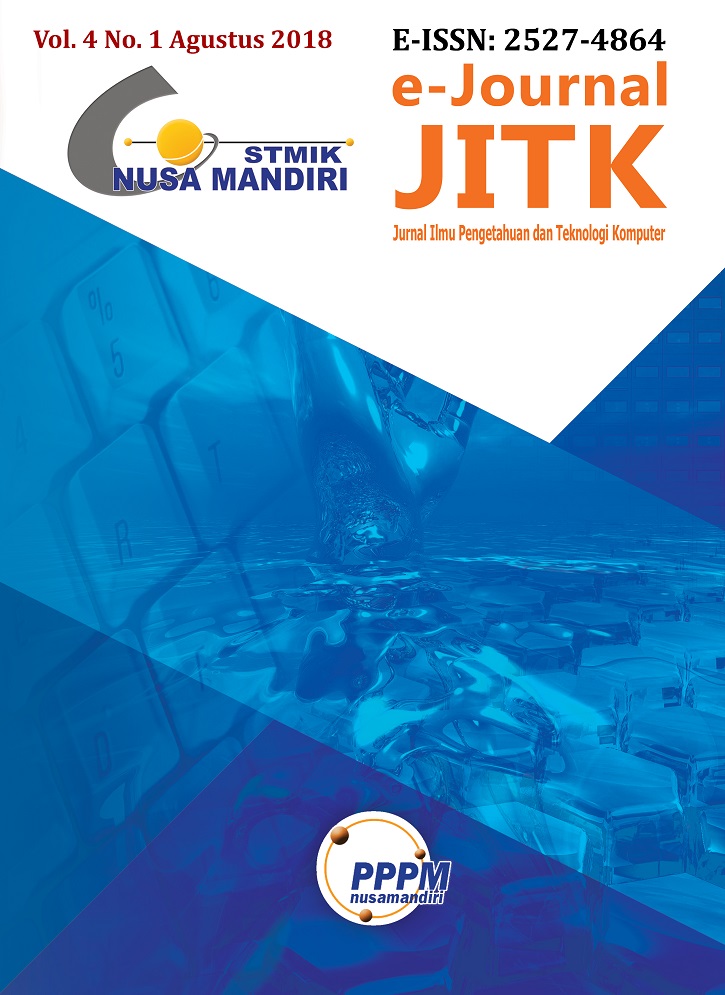 How to Cite
[1]
T. Rahman, "IMPLEMENTASI INTERFACE VIRTUAL LOCAL AREA NETWORK DAN FIREWALL PADA MIKROTIK DAN SWITCH MANAJEMEN", jitk, vol. 4, no. 1, pp. 29-36, Aug. 2018.
Article Metrics

Abstract viewed = 364 times

PDF downloaded = 473 times