ANALISA PENERAPAN KNOWLEDGE MANAGEMENT PADA PERUSAHAAN SERVICE (STUDI KASUS PT. PIT ELEKTRONIK
Wahyudi Wahyudi (1*)

Manajemen Informatika AMIK BSI Bogor


(*) Corresponding Author

Keywords:
Knowledge Management, Knowledge Sharing, Prototyping, Pit Elektronik.
Abstract
Knowledge management is an emerging concept in the field of management and widely adopted within the organization to improve organizational performance. This study discusses the PT PitElektronik readiness in implementing knowledge management. Questionnaires were distributed to the technicians, service head section, and manager of PT PitElektronik. Data were collected using a structured questionnaire and analyzed using descriptive statistical techniques and prototype. From the calculation results show that knowledge management as a whole has achieved optimal conditions, which indicates that the organization is ready to implement knowledge management. This study recommends that the initiative must be taken by the organization to adopt KM practices to gain more competitive advantage. 
Downloads
Download data is not yet available.
References
Malhotra, Y. (2000). Knowledge Management for E-Business Performance: Advancing Information Strategy to "Internet Time. Information Strategy The Executives Journal, 16(4), 5–16. https://doi.org/10.1080/07438613.2000.10744620

Mathew, A., Rodrigues, L., & Alapati, V. (2012). Human Factors & Knowledge Management: A System Dynamics Based Analysis. Journal of Knowledge Management Practice (Vol. 13).

Mulyono, J. A., Harisno, H., & Kristianto, C. N. (2013). The development of Knowledge Management system model in XYZ corporation. In IEEE International Conference on Teaching, Assessment and Learning for Engineering (pp. 188–191). https://doi.org/10.1109/TALE.2013.6654426

Nonaka, I. (1997). Organizational Knowledge Creation. In courses.ischool.utexas.edu (p. 3).

Setiarso, B. (2009). Penerapan Knowledge Management pada Organisasi. Yogyakarta: Graha Ilmu.

Sutabri, T. (2012). Analisis Sistem informasi. Yogyakarta: Andi Publisher. Retrieved from http://andipublisher.com/produk-0414005176-analisis-sistem-informasi-
buku-kerjasama.html

Tiwana, A. (1999). Knowledge Management Toolkit, The Amrit Tiwana Knowledge Management Toolkit, The. Knowledge Management Toolkit. https://doi.org/10.1227/01.neu.0000403833.47211.af

Turban, E., Leidner, D., McLean, E., & Wetherbe, J. (2007). Information Technology for Management Information: transformation organizations in the digital economy. Text. https://doi.org/10.1017/CBO97811074153 24.004

Wahyudi. (2018). Laporan Akhir Penelitian Mandiri dengan Judul Analisa Penerapan Knowledge Management Pada Perusahaan Service Pada Pt. Pit Elektronik. Bogor.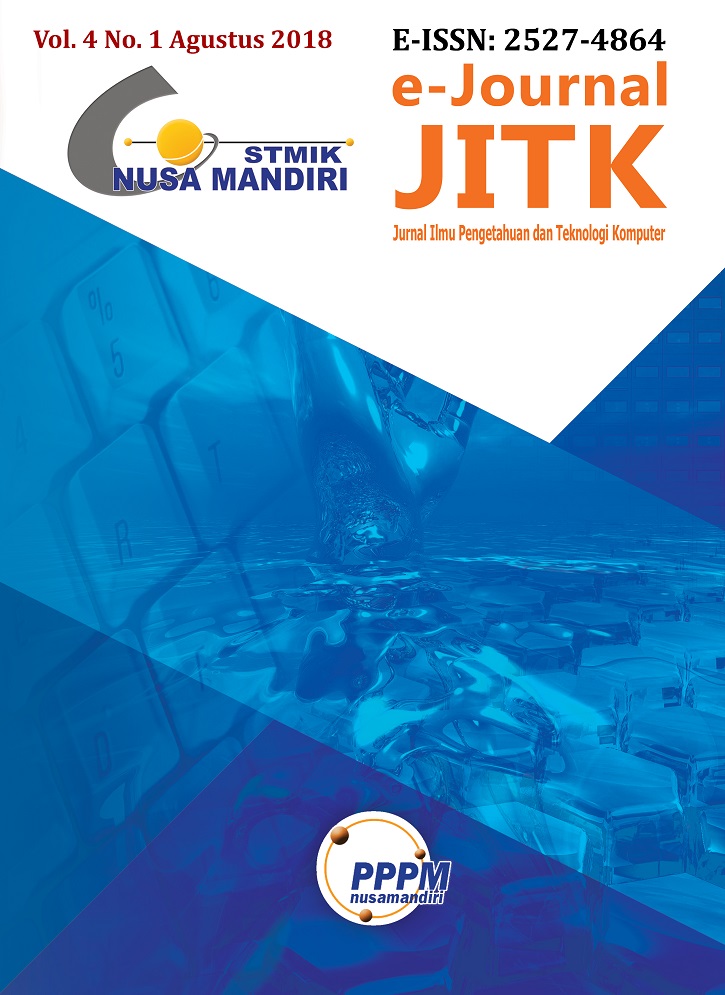 How to Cite
[1]
W. Wahyudi, "ANALISA PENERAPAN KNOWLEDGE MANAGEMENT PADA PERUSAHAAN SERVICE (STUDI KASUS PT. PIT ELEKTRONIK", jitk, vol. 4, no. 1, pp. 37-42, Aug. 2018.
Article Metrics

Abstract viewed = 375 times

PDF downloaded = 2270 times