RANCANG BANGUN SISTEM INFORMASI PENERIMAAN SISWA BARU PADA SMK BUDHI WARMAN 1 JAKARTA
Ruhul Amin (1*)

Teknik Informatika STMIK Nusa Mandiri Jakarta


(*) Corresponding Author

Keywords:
New Student Enrollment, Information Systems
Abstract
System acceptance of new students that are used today by SMK Budhi Warman 1 still using manual systems, where the committee registration data entry by recording the books, authors, therefore, intends to make the information system admission of new students web-based SMK Budhi Warman 1. Making the information system admission of new students using the web-based PHP programming language and MySQL database. The registration system is web-based SMK Budhi Warman 1 Jakarta can be easier for potential new students to register to save time and cost than if it comes directly to the school and with the information system of information admission of new students, are expected to assist and simplify the processing of learners SMK Budhi Warman 1 Jakarta.
Downloads
Download data is not yet available.
References
Frieyadie, F. (2007). Belajar Sendiri Pemrograman Database Menggunakan FoxPro 9.0. Jakarta: Elex Media Komputindo.

Indriyawan, Eko. 2007. First Step To Be A Programmer. Yogyakarta: Andi Yogyakarta

Kadir, Abdul. 2009. Membuat Aplikasi Web dengan PHP + Database MySQL. Yogyakarta: Andi.

Kansil, C.L. 2002. Orientasi Baru Penyelenggaraan Pendidikan Program Profesional dalam Memenuhi Kebutuhan Dunia Industri. Transpor, XX (4): 57-61.

Kurniawan, Rulianto. 2008. Membangun Situs dengan PHP untuk Orang Awam. Palembang: Maxsikom.

Madcoms. 2009. Menguasai XHTML,CSS, PHP & MYSQL Melalui Dreamweaver. Yogyakarta : Andi.

Marlinda, Linda. 2004. Sistem Basis Data. Yogyakarta: Andi.

Mustakini, H.Jogianto. 2005. Analisa dan Desain Sistem Informasi. Yogyakarta : Andi.

Simarmata, Janner. 2010. Rekayasa Perangkat Lunak. Yogyakarta: Andi Offset.

Suhendar, Cucu. Rancang Bangun Sistem Informasi Penerimaan Siswa Baru Berbasis Web (Studi kasus pada SMK Ciledug Al-Musaddadiyah Garut. (online). (http://jurnal.sttgarut.ac.id, diakses 25 Januari 2017).

Sukamto, Rosa Ariani dan Mutia Shalahuddin. 2013. Rekayasa Perangkat Lunak Terstruktur dan Berorientasi Objek. Bandung: Informatika

Sunaryo, Andri. Bambang Eka. Sukadi. Pembuatan Sistem Informasi Pengolahan Data Siswa Pada Sekolah Dasar Negri Sirnoboyo 1 Pacitan. (Online), (http://speed.unsa.ac.id, diakses 25 Januari 2016).

Sholihin, Miftahus. Siti Mujilahwati. Sistem Penerimaan Peserta Didik Baru Berbasis Web (Online) Di SMK Muhammadiyah 7 Kedungpring Lamongan. (online). (http://journal.unisla.ac.id, dikases 25 Januari 2017).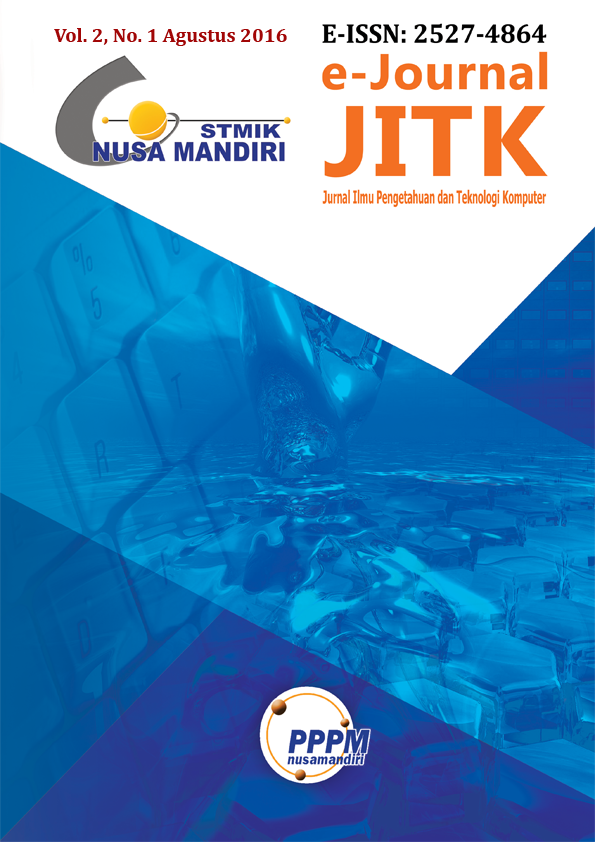 How to Cite
[1]
R. Amin, "RANCANG BANGUN SISTEM INFORMASI PENERIMAAN SISWA BARU PADA SMK BUDHI WARMAN 1 JAKARTA", jitk, vol. 2, no. 2, pp. 113-121, Feb. 2017.
Article Metrics

Abstract viewed = 4694 times

PDF downloaded = 4697 times