ANALISA KEPUASAN PENGGUNA TERHADAP KUALITAS APLIKASI TICKET MONITORING PT. INFRASTRUKTUR TELEKOMUNIKASI DENGAN METODE WEBQUAL
Ferly Andriansyah (1*)

Sistem Informasi STMIK Nusa Mandiri

Nining Suryani (2)

Sistem Informasi Kampus Kabupaten Karawang

Sukmawati Anggraeni Putri (3)

Sistem Informasi STMIK Nusa Mandiri


(*) Corresponding Author

Keywords:
Webqual 4.0, Helpdesk, Ticket Monitoring.
Abstract
The Helpdesk as Single Point Of Contact (SPOC) is a communication facility between customers or users and a support team of the company providing the product or service and the user usually complains or questions via telephone or email. Because currently the helpdesk staff often complain that the website being used is often error / slow, so the writer analyzes the website quality measurement, measuring the quality of the website can be done with tools or surveys. In this study, web quality is measured by users based on the measurement of website quality using webqual 4.0. The measurement of web quality on webqual 4.0 is done by the web user so that the measurements taken will help the web manager to adjust the quality of the web according to the user's perceptions. The research objective is to find out how effective the Ticket Monitoring System is for Users. To find out the effect of the system on what data information is obtained by the user. To find out the difficulties and convenience for each user in using the system.
Downloads
Download data is not yet available.
References
Andriansyah, F. (2018). Laporan Akhir Tugas Akhir Penelitian. Jakarta.

Chafid, N., Kusumawati, K., & Imami, R. (2017). Analisis Dan Perancangan Aplikasi Ticketing Pada Layanan Helpdesk Atm Dengan Menggunakan Arsitektur 3 Tier, 2(2), 9–21.

Fauziah, D. N., & Wulandari, D. A. N. (2018). PENGUKURAN KUALITAS LAYANAN BUKALAPAK.COM TERHADAP KEPUASAN KONSUMEN DENGAN METODE WEBQUAL 4.0. JITK (Jurnal Ilmu Pengetahuan Dan Teknologi Komputer), 3(2), 173–180. https://doi.org/10.33480/JITK.V3I2.345

Furkonudin, Suryadi, E., & Darmanto. (2016). Evaluasi Kualitas Layanan Website E-Commerce Blibli.Com Menggunakan Metode Webqual 4.0 Terhadap Keputusan Pembelian Online. Seminar Nasional Teknologi Informasi Dan Multimedia 2016, 7–12.

Hapsari, K., & Priyadi, Y. (2017). Perancangan Model Data Flow Diagram Untuk Mengukur Kualitas Website Menggunakan Webqual 4.0. JURNAL SISTEM INFORMASI BISNIS, 7(1), 66. https://doi.org/10.21456/vol7iss1pp66-72

Khairunissa, & Wasiyanti, S. (2018). Pengukuran Kualitas Website Pemerintah Depok Terhadap Kepuasan Pengguna Dengan Metode WebQual 4.0. Jurnal Swabumi, 6(1), 35–43.

Sugiyono. (2015). Metode Penelitian Kuantitatif Kualitatif Dan R&D. Bandung: Alfabeta.

Sujarweni, V. W., & Endrayanto, P. (2012). Statistika Untuk Penelitian. Yogyakarta: Graha Ilmu.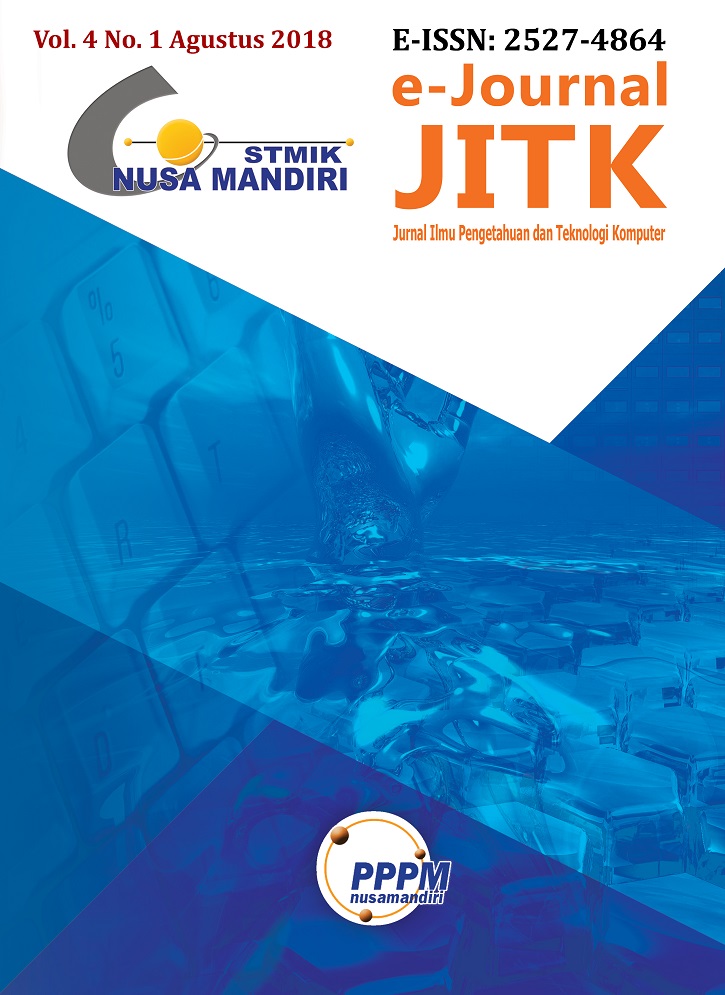 How to Cite
[1]
F. Andriansyah, N. Suryani, and S. Putri, "ANALISA KEPUASAN PENGGUNA TERHADAP KUALITAS APLIKASI TICKET MONITORING PT. INFRASTRUKTUR TELEKOMUNIKASI DENGAN METODE WEBQUAL", jitk, vol. 4, no. 1, pp. 111-118, Aug. 2018.
Article Metrics

Abstract viewed = 257 times

PDF downloaded = 252 times