RISK MANAGEMENT OF INFORMATION SYSTEM IN DISKOMINFO STATISTIC AND ENCODING USING NIST SP 800-30
Budi Tjahjono (1*)

Universitas Esa Unggul

Miri Ardiansyah (2)

Universitas Esa Unggul

Gerry Firmansyah (3)

Universitas Esa Unggul

Habibullah Akbar (4)

Universitas Esa Unggul


(*) Corresponding Author

Keywords:
E-Government, Diskominfo of XYZ District, Risk Management, NIST SP 800-30
Abstract
E-Government is a form of government service in digital form that utilizes the internet network which makes government services to the community easy. However, behind the perceived convenience, of course, there will be risks that arise, for example data loss, data theft, mis-access, illegal access, hardware damage, hacking, etc. which will have a negative impact on an organization, including in the Statistics and Encryption Communication and Information Service, XYZ Regency. The most commonly found threats are those that come from humans and electricity. In addition, there are still many sources of threats that have the potential to pose risks that will interfere with the implementation of electronic-based government. From the results of risk measurements that have been carried out based on NIST SP 800-30 By multiplying between the levels determined in the likelihood and impact processes to produce a number to be used as a guide in determining the level of risk, it was found that the risk threats originating from humans are 60% risk with Low level, 30% risk with Medium level, and 10% risk with High level. While the risk derived from electricity was 20% risk with Low level, 20% risk with Medium level, and 60% risk with High level. Lastly sourced from Technical is 34% risk with Low level, 33% Medium level risk, and 33% High level risk. Overall the risk assessment results were 39% risk threats with Low level, 33% risk threat with Medium level, and 28% risk threat with High level.
Downloads
Download data is not yet available.
References
O. Arifudin, U. Wahrudin, and F. D. Rusmana, Manajemen Risiko. 2020.
I. B. Indonesia, Manajemen Risiko 1. 2015.
P. Y.A.P, Manajemen Risiko Perusahaan. 2017.
F. H. Hotdiana, A. Ahmad Yani, M. Putri, P. Syari, and F. Ekonomi Dan Bisnis Islam, "Analisis Risiko Bisnis," J. Visions Ideas, vol. 2, no. 2, pp. 119–125, 2022.
Muhammad Asir, R. A. Yuniawati, K. Mere, K. Sukardi, and M. A. Anwar, "Peran manajemen risiko dalam meningkatkan kinerja perusahaan: studi manajemen sumber daya manusia," Entrep. Bisnis Manaj. Akunt., vol. 4, no. 1, pp. 32–42, 2023, doi: 10.37631/ebisma.v4i1.844.
W. Muka and M. A. Wibowo, "Penerapan Manajemen Risiko pada Proses Pengembangan Properti," J. Permukim., vol. 16, no. 1, p. 31, 2021, doi: 10.31815/jp.2021.16.31-40.
A. Elanda and R. L. Buana, "Analisis Manajemen Risiko Infrastruktur Dengan Metode NIST (National Institute of Standards and Technology) SP 800-30 (Studi Kasus: STMIK Rosma)," Elkom J. Elektron. dan Komput., 2021, [Online]. Available: https://journal.stekom.ac.id/index.php/elkom/article/view/387
N. fitrianti Fahrudin, A. Nugraha S, and K. Ramadhan Putra, "Penilaian Risiko Keamanan Data Karyawan Pada Sistem Informasi Dengan Menggunakan Framework Nist Sp 800-30 pada PT. ABC," J. Ilm. Teknol. Infomasi Terap., vol. 8, no. 3, 2022, doi: 10.33197/jitter.vol8.iss3.2022.900.
D. S. Valena, rizky prabowo, anie rose irawati, and aristoteles aristoteles, "Analisis Manajemen Risiko Sistem Informasi Perpustakaan Universitas Lampung Menggunakan Metode Nist Sp 800-30," J. Komputasi, vol. 7, no. 1, 2019, doi: 10.23960/komputasi.v7i1.2053.
D. I. Izatri, N. I. Rohmah, and R. S. Dewi, "Identifikasi Risiko pada Perpustakaan Daerah Gresik dengan NIST SP 800-30," JURIKOM (Jurnal Ris. Komputer), vol. 7, no. 1, p. 50, 2020, doi: 10.30865/jurikom.v7i1.1756.
A. N. SUSANTO and N. F. FAHRUDIN, "Penilaian Risiko Sistem Informasi Keamanan Data Karyawan Dengan Menggunakan Framework Nist Sp 800-30 pada Perusahaan XYZ Institut Teknologi Nasional Bandung," Pros. Disem. FTI Ganjil 2021/2022, 2022.
Z. Yusra, R. Zulkarnain, and S. Sofino, "Pengelolaan Lkp Pada Masa Pendmik Covid-19," J. Lifelong Learn., vol. 4, no. 1, pp. 15–22, 2021, doi: 10.33369/joll.4.1.15-22.
E. Trivaika and M. A. Senubekti, "Perancangan Aplikasi Pengelola Keuangan Pribadi Berbasis Android," Nuansa Inform., vol. 16, no. 1, pp. 33–40, 2022, doi: 10.25134/nuansa.v16i1.4670.
Ahmad and Muslimah, "Memahami Teknik Pengolahan dan Analisis Data Kualitatif," Proceedings, vol. 1, no. 1, pp. 173–186, 2021.
K. Harsanto and D. Hidayat, "Sistem Informasi Manajemen Risiko dengan Menggunakan Framework National Institute of Standards and Technology pada Lembaga Pendidikan," J. Ipsikom, vol. 6, no. 1, 2018.
B. A. Nugraha, A. R. Perdanakusuma, and ..., "Analisa Manajemen Risiko pada Sistem Informasi Tata Naskah Dinas Elektronik dengan Kerangka Kerja NIST 800-30 pada Dinas Komunikasi dan Informatika …," … Teknol. Inf. dan …, 2020, [Online]. Available: http://j-ptiik.ub.ac.id/index.php/j-ptiik/article/view/6884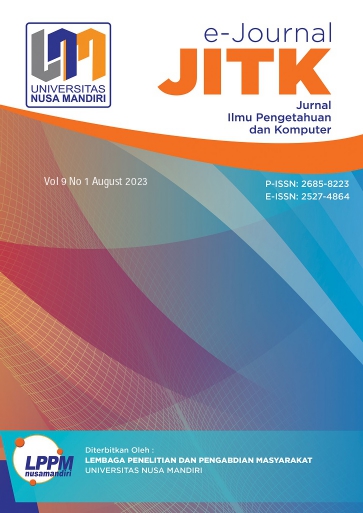 How to Cite
[1]
B. Tjahjono, M. Ardiansyah, G. Firmansyah, and H. Akbar, "RISK MANAGEMENT OF INFORMATION SYSTEM IN DISKOMINFO STATISTIC AND ENCODING USING NIST SP 800-30", jitk, vol. 9, no. 1, pp. 134 - 142, Aug. 2023.
Article Metrics

Abstract viewed = 32 times

PDF downloaded = 14 times
Copyright (c) 2023 Budi Tjahjono, Miri Ardiansyah, Gerry Firmansyah, Habibullah Akbar
This work is licensed under a Creative Commons Attribution-NonCommercial 4.0 International License.