APLIKASI WEB UNTUK SISTEM INFORMASI AKADEMIK SMA NEGERI 33 JAKARTA
Nunung Hidayatun (1*)

Manajemen Informatika AMIK BSI Jakarta

Herlawati Herlawati (2)

Sistem Informasi STMIK Nusa Mandiri

Frieyadie Frieyadie (3)

Manajemen Informatika AMIK BSI Jakarta


(*) Corresponding Author

Keywords:
Web Application, Academic Information System, Educational Information System, SMA Negeri 33 Jakarta
Abstract
Educational Information System up to now is off line information system generally, where information is only be created manually which are through official documents that are stored, print media and bulletin board on school's wall. Based on the explanation above, then be increased services in the field of information. Manual information system becomes a digital information system (computerize) in the form of online website. On this online website, it's used PHP script and MySQL database. The purpose of this planning system is facilitating in delivery of educational information widely, it's not only for the teachers and students but also accessible for the public on the internet. Through this
development system, access information can be done whenever and wherever without directly related with existing resources.
Downloads
Download data is not yet available.
References
Hakim, Lukmanul. Uus Musalini. 2006. Buku Sakti menjadi programer sejati PHP. Penerbit Solusi Media. Yogyakarta.

Kadir, Abdul. 2009. From Zero to a Pro Membuat Aplikasi Web dengan PHP + Database MySQL. Yogyakarta: Andi.

Madcoms. 2008. Teknik Mudah Membangun Website dengan HTML, PHP, dan MySQL. Yogyakarta: Andi.

Munawar. 2005. Pemodelan Visual dengan UML. Penerbit Graha Ilmu. Yogyakarta.

Sunarfrihantono, Bimo. 2002. PHP dan MySQL untuk Web. Yogyakarta: Andi.

Suprianto, Dodit. 2008. Buku Pintar Pemrograman PHP. Bandung: Oase Media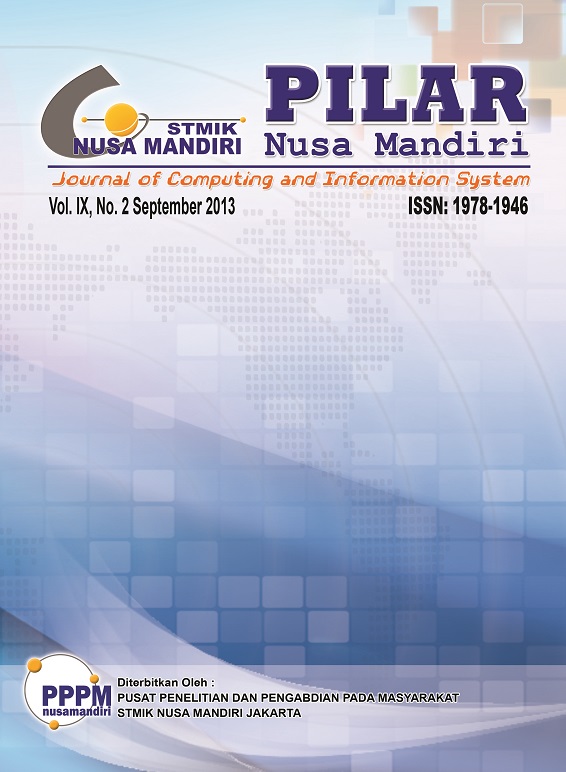 How to Cite
Hidayatun, N., Herlawati, H., & Frieyadie, F. (2013). APLIKASI WEB UNTUK SISTEM INFORMASI AKADEMIK SMA NEGERI 33 JAKARTA. Jurnal Pilar Nusa Mandiri, 9(2), 174-183. https://doi.org/10.33480/pilar.v9i2.141
Article Metrics

Abstract viewed = 350 times

PDF downloaded = 342 times
The Authors submitting a manuscript do so on the understanding that if accepted for publication, copyright of the article shall be assigned to the PILAR Nusa Mandiri journal as the publisher of the journal, and the author also holds the copyright without restriction.
Copyright encompasses exclusive rights to reproduce and deliver the article in all form and media, including reprints, photographs, microfilms, and any other similar reproductions, as well as translations. The reproduction of any part of this journal, its storage in databases, and its transmission by any form or media, such as electronic, electrostatic and mechanical copies, photocopies, recordings, magnetic media, etc. , are allowed with written permission from the PILAR Nusa Mandiri journal.
PILAR Nusa Mandiri journal, the Editors and the Advisory International Editorial Board make every effort to ensure that no wrong or misleading data, opinions, or statements be published in the journal. In any way, the contents of the articles and advertisements published in the PILAR Nusa Mandiri journal are the sole and exclusive responsibility of their respective authors and advertisers.