DESIGNING GEOGRAPHIC INFORMATION SYSTEM CULINARY TOUR LOCATION IN THE WEST LOMBOK REGION MOBILE-BASED APPLICATION
Surni Erniwati (1*)

Universitas Teknologi Mataram

Ahmad Subki (2)

Universitas Teknologi Mataram


(*) Corresponding Author

Keywords:
Geographic Information Systems, Tourism, Culinary, Culinary Locations, Lombok
Abstract
Lombok Island is an island in West Nusa Tenggara which is separated by the Lombok and Bali straits to the west and Alas Strait to the east of Sumbawa. The tourism potential in the West Lombok region is currently in great demand by local and foreign tourists because the tourist objects offered in the West Lombok region are very diverse, such as natural, religious, cultural, and culinary tours. Many restaurants offer culinary but often when indicating the location of a culinary, the information obtained is sometimes limited to street names and location characteristics. Meanwhile, the clarity of where the culinary location is not mapped in detail. So far, culinary connoisseurs use manual methods to find culinary locations such as Instagram, Facebook, and Blogspot. For tourists, this manual method is less effective because it consumes a lot of time and address information for getting to culinary locations is inadequate. One solution that can be used to obtain information is a geographic information system (GIS). The goal is to make it easier for culinary lovers to find culinary tourism locations. The research method used in this research is the Research and Development research method with preliminary stages, data and information collection, interviews and observations, system design with modeling, design validation, design revision, development, limited trial, limited trial revision, trial field, revision of field trials, dissemination, and implementation.
Downloads
Download data is not yet available.
References
Afnarius Surya, Ningsih Vivi Mulya, F. D. (2014). Pembangunan aplikasi wisata kuliner sumbar berbasis mobile geographic information system. Prosiding Seminar Ilmiah Nasional Komputer Dan Sistem Intelijen, 8(Kommit), 354–360.
Chan, A. S., & Utna, I. (2017). RANCANG BANGUN APLIKASI WISATA KULINER HALAL BERBASIS ANDROID PADA NEGARA SINGAPURA. 9(2), 1323–1334. Retrieved from https://ejournal.unsri.ac.id/index.php/jsi/article/view/4400
Chan, A. S., & Wahdi, Y. W. (2018). Desain Implementasi Aplikasi Wisata Kuliner Halal Berbasis Android Pada Kota Batam. SNISTEK 2018, 25–30. Batam: LPPM Universitas Putera Batam. Retrieved from http://113.212.163.133/index.php/prosiding/article/view/739
Erniwati, S., & Subki, A. (2020). Laporan Akhir Penelitian: Rancang Bangun Sistem Informasi Geografis Lokasi Wisata Kuliner Wilayah Lombok Barat Berbasis Mobile. Mataram.
Fitriani, L., & Faturochman, T. (2018). Rancang Bangun Sistem Informasi Geografis Pariwisata Dan Industri Berbasis Web. Jurnal Algoritma, 15(2), 106–112. https://doi.org/10.33364/algoritma/v.15-2.106
Muhardi, M., Febriani, A., & Oktavia, Y. (2018). SISTEM INFORMASI GEOGRAFIS KULINER DI KOTA PEKANBARU BERBASIS WEB. Jurnal Ilmu Komputer, 7(2), 44–50. Retrieved from http://jik.htp.ac.id/index.php/jik/article/view/113
Palabiran, M., Cahyadi, D., & Arifin, Z. (2015). Sistem Informasi Geografis Kuliner, Seni Dan Budaya Kota Balikpapan Berbasis Android. Informatika Mulawarman : Jurnal Ilmiah Ilmu Komputer, 10(1), 54. https://doi.org/10.30872/jim.v10i1.25
Prasetyo, J. E., Widiartha, I. B. K., & Albar, M. A. (2017). Sistem Informasi Geografis Pencarian Lokasi Wisata Kuliner Terdekat di Kota Mataram Berbasis Website. Journal of Computer Science and Informatics Engineering (J-Cosine), 1(1), 65. https://doi.org/10.29303/jcosine.v1i1.28
Rahmi, S. A. (2017). FASILITAS PENDUKUNG DALAM PEMBANGUNAN PARIWISATA KABUPATEN LOMBOK UTARA PROVINSI NUSA TENGGARA BARAT. Reformasi : Jurnal Ilmiah Ilmu Sosial Dan Ilmu Politik, 7(2), 19–33. Retrieved from https://45.32.120.76/index.php/reformasi/article/view/739
Ramadhanu, A. (2018). IMPLEMENTASI APLIKASI MOBILE MAGAZINE (E-MAGAZINE) DENGAN MENGGUNAKAN BAHASA PEMROGRAMAN ANDROID TENTANG REKOMENDASI TEMPAT WISATA KULINER DI KOTA PADANG. KOMTEKINFO, 5(1), 35–46. Retrieved from http://lppm.upiyptk.ac.id/ojsupi/index.php/KOMTEKINFO/article/view/6
Sugiyono. (2015). Metode Penelitian Kuantitatif Kualitatif Dan R&D. Bandu: Alfabeta.
Wikipedia. (2020). Pulau Lombok. Retrieved from Wikipedia.com website: https://id.wikipedia.org/wiki/Pulau_Lombok
Wirangga, I. W. Y., Piarsa, I. N., & Purnawan, I. K. A. (2014). Aplikasi Sistem Informasi Geografis Untuk Pemetaan Letak Suatu Rumah Makan Di Wilayah Denpasar. Jurnal Ilmiah Merpati (Menara Penelitian Akademika Teknologi Informasi), 2(2), 238–245.
Yun, D. I. (2011). UTILIZATION OF GEOGRAPHIC INFORMATION SYSTEM FOR RESEARCH, MANAGEMENT, AND EDUCATION IN THE NATURAL RESOURCES MANAGEMENT DEPARTMENT AT CALIFORNIA POLYTECHNIC STATE UNIVERSITY, SAN LUIS OBISPO. San Luis Obispo. Retrieved from https://digitalcommons.calpoly.edu/cgi/viewcontent.cgi?article=1472&context=theses
Zulius, A., Daulay, N. K., Informasi, S., Lokasi, G., & Kuliner, W. (2019). Kota Lubuklinggau Berbasis Android. 04(02), 109–115.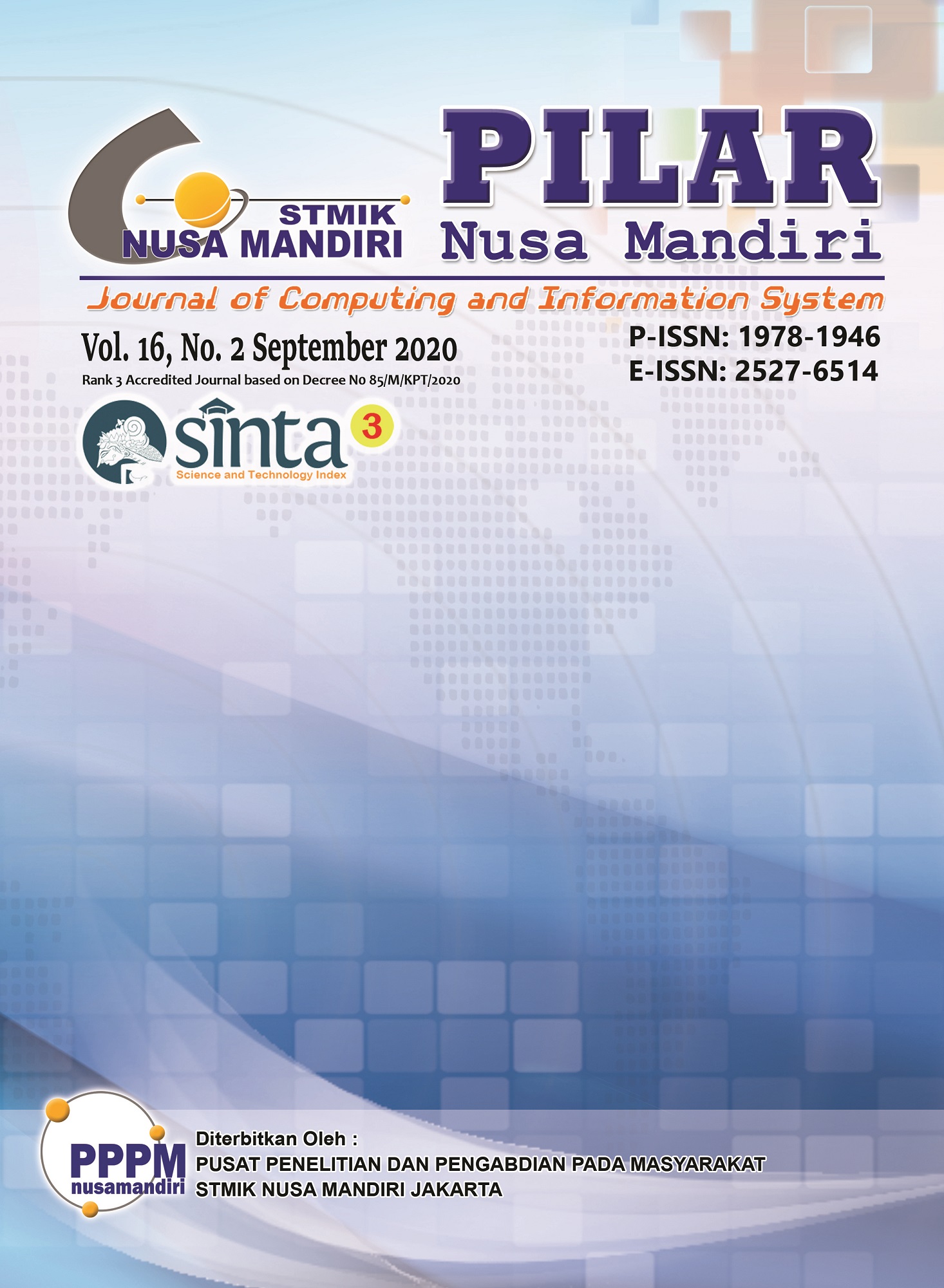 How to Cite
Erniwati, S., & Subki, A. (2020). DESIGNING GEOGRAPHIC INFORMATION SYSTEM CULINARY TOUR LOCATION IN THE WEST LOMBOK REGION MOBILE-BASED APPLICATION. Jurnal Pilar Nusa Mandiri, 16(2), 233-240. https://doi.org/10.33480/pilar.v16i2.1663
Article Metrics

Abstract viewed = 58 times

PDF downloaded = 79 times
Copyright (c) 2020 Surni Erniwati, Ahmad Subki
This work is licensed under a Creative Commons Attribution-NonCommercial 4.0 International License.
The Authors submitting a manuscript do so on the understanding that if accepted for publication, copyright of the article shall be assigned to the PILAR Nusa Mandiri journal as the publisher of the journal, and the author also holds the copyright without restriction.
Copyright encompasses exclusive rights to reproduce and deliver the article in all form and media, including reprints, photographs, microfilms, and any other similar reproductions, as well as translations. The reproduction of any part of this journal, its storage in databases, and its transmission by any form or media, such as electronic, electrostatic and mechanical copies, photocopies, recordings, magnetic media, etc. , are allowed with written permission from the PILAR Nusa Mandiri journal.
PILAR Nusa Mandiri journal, the Editors and the Advisory International Editorial Board make every effort to ensure that no wrong or misleading data, opinions, or statements be published in the journal. In any way, the contents of the articles and advertisements published in the PILAR Nusa Mandiri journal are the sole and exclusive responsibility of their respective authors and advertisers.