PREDIKSI HARGA CRYPTOCURRENCY DENGAN METODE K-NEAREST NEIGHBOURS
Haerul Fatah (1*)

Program Pascasarjana Magister Ilmu Komputer STMIK Nusa Mandiri

Agus Subekti (2)

Pusat Penelitian Elektronika dan Telekomunikasi Lembaga Ilmu Pengetahuan Indonesia (LIPI)


(*) Corresponding Author

Keywords:
Cryptocurrency, Bitcoin, K-Nearest Neighbours
Abstract
Electronic money is getting more popular as online transaction means among people especially for entrepreneurs, businessmen and investors due to its practicality. Cryptocurrency emerges as the solution to resolve the contrains of electronic money that depends heavily on third parties. One of widely used Cryptocurrency is  Bitcoin. The price of bitcoin fluctuates in very short duration. It is similar with the fluctuation of stock price in stock market. Prediction for future price becomes important anad interesting. In this paper, we propose a prediction model for cryptocurrency price. Out proposed model predict the cryptocurreny price using KNN (K-Nearest Neighbors) method. With the parameter of k=3 and using linear NN search algorithm, out proposed method gives a mean absolute error (MAE) of 0.0018 and root mean squared error (RMSE) of 0.0089.
Downloads
Download data is not yet available.
References
Alkhatib, K., Najadat, H., Hmeidi, I., & Shatnawi, M. K. A. (2013). Stock Price Prediction Using k-Nearest Neighbor (kNN) Algorithm. Nternational Journal of Business, Humanities and Technology 3, 3(3), 32–44.

Banjarsari, M. A., Budiman, I., & Farmadi, A. (2015). PENERAPAN K-OPTIMAL PADA ALGORITMA KNN UNTUK PREDIKSI KELULUSAN TEPAT WAKTU MAHASISWA PROGRAM STUDI ILMU KOMPUTER FMIPA UNLAM BERDASARKAN IP SAMPAI DENGAN SEMESTER 4. KLIK - KUMPULAN JURNAL ILMU KOMPUTER, 2(2), 159–173. https://doi.org/10.20527/KLIK.V2I2.26

Claudy, Y. I., Perdana, R. S., & Fauzi, M. A. (2018). Klasifikasi Dokumen Twitter Untuk Mengetahui Karakter Calon Karyawan Menggunakan Algoritme K-Nearest Neighbor (KNN). Jurnal Pengembangan Teknologi Informasi Dan Ilmu Komputer, 2(8), 2761–2765. Retrieved from https://www.researchgate.net/publication/322959490

Dourado, E., & Brito, J. (2014). Cryptocurrency. The New Palgrave Dictionary of Economics (Online).

Fakhruddin, H. M., & Darmadji, T. (2011). Pasar Modal Di Indonesia, Pendekatan Tanya Jawab (3rd ed.). Jakarta: Salemba 4.

Fatah, H., & Subekti, A. (2018). Laporan Akhir Penelitian - Prediksi Harga Cryptocurrency Dengan Metode K-Nearest Neighbours. Jakarta.

Gorunescu, F. (2011). Data Mining: Concepts, Models and Techniques. Berlin, Heidelberg: Springer Science & Business Media. https://doi.org/10.1007/978-3-642-19721-5

Leidiyana, H. (2013). Penerapan algoritma k-nearest neighbor untuk penentuan resiko kredit kepemilikan kendaraan bemotor. Jurnal Penelitian Ilmu Komputer, System Embedded & Logic, 1(1), 65–76.

Mulyanto, F. (2015). Pemanfaatan Cryptocurrency Sebagai Penerapan Mata Uang Rupiah Kedalam Bentuk Digital Menggunakan Teknologi Bitcoin. IJNS - Indonesian Journal on Networking and Security, 4(4), 19–26. https://doi.org/10.1123/IJNS.V4I4.1364

Setyowati, R. A. D. (2013). Penerapan Fuzzy Iterative Dichotomiser 3 (Fuzzy ID3) Pada Data Fluktuasi Harga Saham. Universitas Brawijaya Malang.

Sinha, P., & Sinha, P. (2015). Comparative Study of Chronic Kidney Disease Prediction using KNN and SVM. International Journal of Engineering Research & Technology (IJERT), 4(12), 608–612. Retrieved from www.ijert.org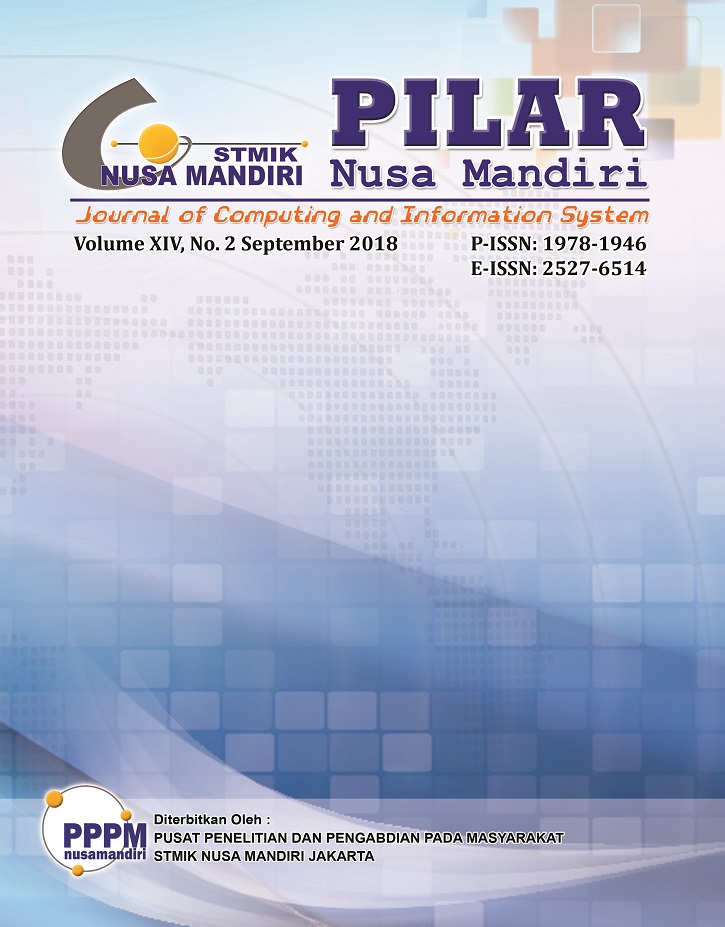 How to Cite
Fatah, H., & Subekti, A. (2018). PREDIKSI HARGA CRYPTOCURRENCY DENGAN METODE K-NEAREST NEIGHBOURS. Pilar Nusa Mandiri: Journal of Computing and Information System, 14(2), 137-144. https://doi.org/10.33480/pilar.v14i2.30
Article Metrics

Abstract viewed = 441 times

PDF downloaded = 1222 times
The Authors submitting a manuscript do so on the understanding that if accepted for publication, copyright of the article shall be assigned to the PILAR Nusa Mandiri journal as the publisher of the journal, and the author also holds the copyright without restriction.
Copyright encompasses exclusive rights to reproduce and deliver the article in all form and media, including reprints, photographs, microfilms, and any other similar reproductions, as well as translations. The reproduction of any part of this journal, its storage in databases, and its transmission by any form or media, such as electronic, electrostatic and mechanical copies, photocopies, recordings, magnetic media, etc. , are allowed with written permission from the PILAR Nusa Mandiri journal.
PILAR Nusa Mandiri journal, the Editors and the Advisory International Editorial Board make every effort to ensure that no wrong or misleading data, opinions, or statements be published in the journal. In any way, the contents of the articles and advertisements published in the PILAR Nusa Mandiri journal are the sole and exclusive responsibility of their respective authors and advertisers.