PEMODELAN PREDIKTIF KONSUMSI ENERGI BANGUNAN GEDUNG KOMERSIAL DENGAN ALGORITMA SUPPORT VECTOR MACHINE
Indriyanti Indriyanti (1*)

Program Studi Ilmu Komputer STMIK Nusa Mandiri

Agus Subekti (2)

Pusat Penelitian Elektronika dan Telekomunikasi Lembaga Ilmu Pengetahuan Indonesia


(*) Corresponding Author

Keywords:
SMOreg, LibSVM, Support Vector Machine, Prediksi Total Konsumsi Energi.
Abstract
Konsumsi energi bangunan yang semakin meningkat mendorong para peneliti untuk membangun sebuah model prediksi dengan menerapkan metode machine learning, namun masih belum diketahui model yang paling akurat. Model prediktif untuk konsumsi energi bangunan komersial penting untuk konservasi energi. Dengan menggunakan model yang tepat, kita dapat membuat desain bangunan yang lebih efisien dalam penggunaan energi. Dalam tulisan ini, kami mengusulkan model prediktif berdasarkan metode pembelajaran mesin untuk mendapatkan model terbaik dalam memprediksi total konsumsi energi. Algoritma yang digunakan yaitu SMOreg dan LibSVM dari kelas Support Vector Machine, kemudian untuk evaluasi model berdasarkan nilai Mean Absolute Error dan Root Mean Square Error. Dengan menggunakan dataset publik yang tersedia, kami mengembangkan model berdasarkan pada mesin vektor pendukung untuk regresi. Hasil pengujian kedua algoritma tersebut diketahui bahwa algoritma SMOreg memiliki akurasi lebih baik karena memiliki nilai MAE dan RMSE sebesar 4,70 dan 10,15, sedangkan untuk model LibSVM memiliki nilai MAE dan RMSE sebesar 9,37 dan 14,45. Kami mengusulkan metode berdasarkan algoritma SMOreg karena kinerjanya lebih baik.
Downloads
Download data is not yet available.
References
Ahmad, A. S., Hassan, M. Y., Abdullah, M. P., Rahman, H. A., Hussin, F., Abdullah, H., & Saidur, R. (2014). A review on applications of ANN and SVM for building electrical energy consumption forecasting. Renewable and Sustainable Energy Reviews, 33, 102–109. https://doi.org/10.1016/j.rser.2014.01.069

Colanus, I., Drajana, R., & Selection, F. (2017). METODE SUPPORT VECTOR MACHINE DAN FORWARD SELECTION PREDIKSI PEMBAYARAN PEMBELIAN BAHAN BAKU, 9, 116–123.

Deng, H., Fannon, D., & Eckelman, M. J. (2018). Predictive modeling for US commercial building energy use: A comparison of existing statistical and machine learning algorithms using CBECS microdata. Energy and Buildings, 163, 34–43. https://doi.org/10.1016/J.ENBUILD.2017.12.031

Indriyanti, I., & Subekti, A. (2018). Laporan Akhir Penelitian "Pemodelan Prediktif Konsumsi Energi Bangunan Gedung Komersial Dengan Algoritma Support Vector Machine." Jakarta.

Michaels, J. (2016). 2012 Commercial Buildings Energy Consumption Survey: Energy Usage Summary. Washington, DC. Retrieved from https://www.eia.gov/consumption/commercial/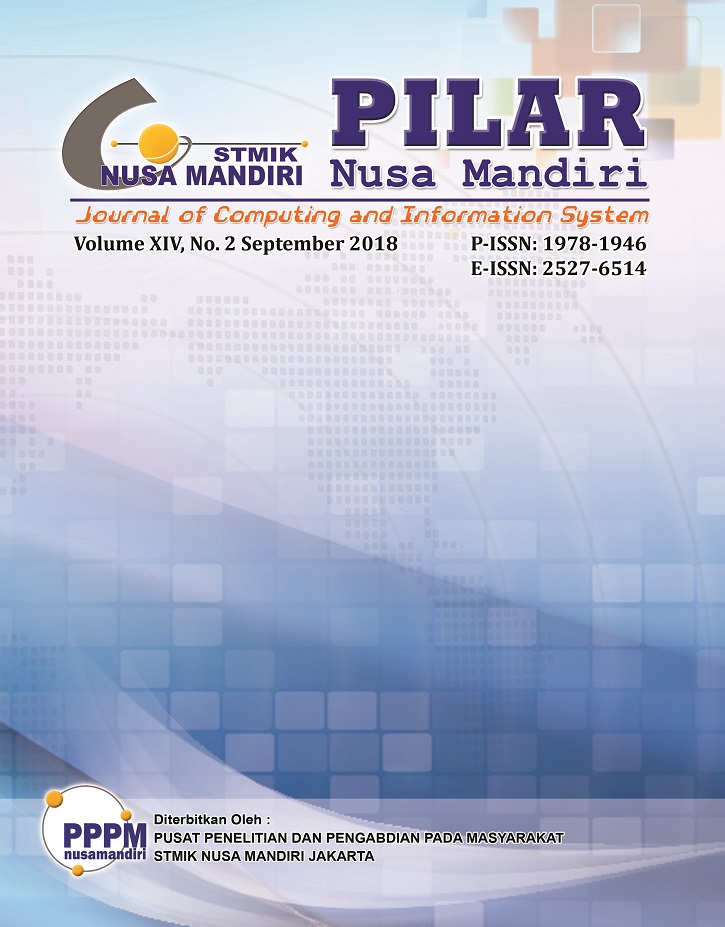 How to Cite
Indriyanti, I., & Subekti, A. (2018). PEMODELAN PREDIKTIF KONSUMSI ENERGI BANGUNAN GEDUNG KOMERSIAL DENGAN ALGORITMA SUPPORT VECTOR MACHINE. Pilar Nusa Mandiri: Journal of Computing and Information System, 14(2), 225-232. https://doi.org/10.33480/pilar.v14i2.71
Article Metrics

Abstract viewed = 134 times

PDF downloaded = 139 times
The Authors submitting a manuscript do so on the understanding that if accepted for publication, copyright of the article shall be assigned to the PILAR Nusa Mandiri journal as the publisher of the journal, and the author also holds the copyright without restriction.
Copyright encompasses exclusive rights to reproduce and deliver the article in all form and media, including reprints, photographs, microfilms, and any other similar reproductions, as well as translations. The reproduction of any part of this journal, its storage in databases, and its transmission by any form or media, such as electronic, electrostatic and mechanical copies, photocopies, recordings, magnetic media, etc. , are allowed with written permission from the PILAR Nusa Mandiri journal.
PILAR Nusa Mandiri journal, the Editors and the Advisory International Editorial Board make every effort to ensure that no wrong or misleading data, opinions, or statements be published in the journal. In any way, the contents of the articles and advertisements published in the PILAR Nusa Mandiri journal are the sole and exclusive responsibility of their respective authors and advertisers.