ANALISIS PENGARUH KUALITAS PELAYANAN MODUL PENERIMAAN NEGARA GENERASI KEDUA (MPN G2) TERHADAP KEPUASAN WAJIB PAJAK DENGAN MENGGUNAKAN METODE CUSTOMER SATISFACTION INDEX (CSI)
Hannie Hannie (1*)

Sistem Informasi Universitas Singaperbangsa Karawang

Nina Sulistiyowati (2)

Sistem Informasi Universitas Singaperbangsa Karawang


(*) Corresponding Author

Keywords:
Customer Satisfaction Index, Importance Performance Analysis, Modul Penerimaan negara generasi kedua.
Abstract
Modul penerimaan Negara Generasi Kedua (MPN G2) is a state revenue system that uses electronic deposits. Where currently Taxpayers can be easier, faster and more accurate in fulfilling tax obligations by utilizing electronic facilities provided by the online Directorate General of Taxes. To determine the level of satisfaction of taxpayers on MPN G2 attributes, a satisfaction measurement process is required by using the Customer Satisfaction Index (CSI) method. The CSI measurement results can be used as benchmark in order to improve the Modul Penerimaan Negara Generasi Kedua (MPN G2) system. The data used are primary data and secondary data. The sampling method is the Non Probability Sampling method, while the Non Probability sampling method used is Purpose Sampling. The CSI calculation results for MPN G2 servant quality attributes is 90.61 percent. It means that the total satisfaction level between 81% - 100%, means that the taxpayer is very satisfied with the performance of MPN G2 service quality attributes.
Downloads
Download data is not yet available.
References
Adisasmito, S., & Sadjiarto, A. (2013). Analisis Kepuasan Wajib Pajak atas Layanan Kantor Pelayanan Pajak Pratama di Lingkungan Kantor Wilayah Direktorat Jenderal Pajak Jawa Timur I. Tax & Accounting Review, 3(2), 313–321.

Direktorat Jenderal Pajak. (2016). E-Billing Cara Baru Bayar Pajak. Retrieved from http://www.pajak.go.id/content/e-billing

Ferdinand, A. (2014). Metode Penelitian Manajemen. Semarang: Universitas Diponegoro.
Fitriana, D., Florencia, Dwi, J. U., & Tanto. (2014). Pengukuran Kepuasan Kontraktor Terhadap Kinerja Klien Pada Proyek Konstruksi Swasta. Jurnal Karya Teknik Sipil, 3(1), 283–295.

Hannie, & Sulistiyowati, N. (2018). Laporan Akhir Penelitian Dosen Pemula. Karawang.

Kementerian Keuangan Republik Indonesia. (2016). MPN G2.

Priyambodo, A. (2017). Efektivitas Penerimaan Negara dengan Penerapan Modul Penerimaan Negara Generasi Kedua Wilayah Kerja. Journal Ilmiah Ilmu Administrasi Publik, 7(2), 109–114.

Rangkuti, F. (2013). Customer Service Satiscaction & Call Centre Berdasarkan ISO 9001. Jakarta: Gramedia Pustaka Utama.

Riadi, E. (2016). Statistika Penelitian (Analisis Manual Dan IBM SPSS). Yogyakarta: ANDI.

Shingal, A. (2017). Internationalization of Government Procurement Regulation. In The Internationalization of Government Procurement Regulation (pp. 404–431). Oxford University Press. https://doi.org/10.1093/acprof:oso/9780198796749.003.0016

Silalahi, S., Musadieq, M., & Nurtjahjono, G. (2015). Pengaruh Kualitas Pelayanan Perpajakan Terhadap Kepuasan Wajib Pajak, Kepatunan Wajib Pajak dan Penerimaaan Pajak. JEJAK, 4(1), 1–5.

Sudarno, Rusgiyono, A., Hoyyi, A., & Listifadah. (2011). Analisis Kualitas Pelayanan Dan Pengendalian Kualitas Jasa Berdasarkan Persepsi Pengunjung. Media Statistika, 4(1), 33–45.

Sugiyono, S. (2010). Statistika Untuk Penelitian. (E. Mulyatiningsi, Ed.) (1st ed.). Bandung: CV. Alfabeta.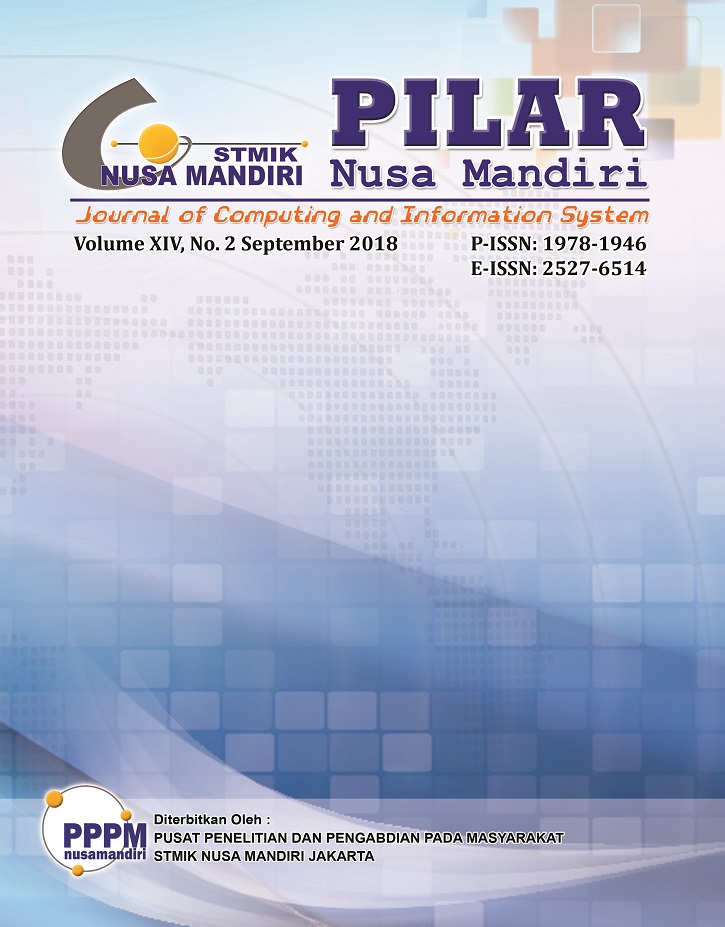 How to Cite
Hannie, H., & Sulistiyowati, N. (2018). ANALISIS PENGARUH KUALITAS PELAYANAN MODUL PENERIMAAN NEGARA GENERASI KEDUA (MPN G2) TERHADAP KEPUASAN WAJIB PAJAK DENGAN MENGGUNAKAN METODE CUSTOMER SATISFACTION INDEX (CSI). Pilar Nusa Mandiri: Journal of Computing and Information System, 14(2), 163-168. https://doi.org/10.33480/pilar.v14i2.34
Article Metrics

Abstract viewed = 164 times

PDF downloaded = 191 times
The Authors submitting a manuscript do so on the understanding that if accepted for publication, copyright of the article shall be assigned to the PILAR Nusa Mandiri journal as the publisher of the journal, and the author also holds the copyright without restriction.
Copyright encompasses exclusive rights to reproduce and deliver the article in all form and media, including reprints, photographs, microfilms, and any other similar reproductions, as well as translations. The reproduction of any part of this journal, its storage in databases, and its transmission by any form or media, such as electronic, electrostatic and mechanical copies, photocopies, recordings, magnetic media, etc. , are allowed with written permission from the PILAR Nusa Mandiri journal.
PILAR Nusa Mandiri journal, the Editors and the Advisory International Editorial Board make every effort to ensure that no wrong or misleading data, opinions, or statements be published in the journal. In any way, the contents of the articles and advertisements published in the PILAR Nusa Mandiri journal are the sole and exclusive responsibility of their respective authors and advertisers.