ANALYSIS OF KARAWANG ONLINE SALES CUSTOMER SATISFACTION USING CUSTOMER SATISFACTION INDEX (CSI) METHOD
Analisis Tingkat Kepuasan Konsumen Karawang Terhadap Perkembangan Penjualan Online Dengan Menggunakan Metode Customer Satisfaction Index (CSI)
Hannie Hannie (1)

Universitas Singaperbangsa Karawang, Indonesia

Ultach Enri (2*)

Universitas Singaperbangsa Karawang

Yuyun Umaidah (3)

Universitas Singaperbangsa Karawang, Indonesia


(*) Corresponding Author

Keywords:
Consumer Satisfaction, Online Sales, Customer Satisfaction Index
Abstract
Karawang is one of the industrial cities. Most industry players look at Karawang as a strategic city to run a business. Many products have been produced from Karawang. However, there are lack in promoting, marketing the product and expanding the marketing area. The analysis of consumer satisfaction in Karawang is to determine the satisfaction of Karawang consumers to the prospects of promising online sales. Service attributes can be included in increasing online sales at Karawang using the Customer Satisfaction Index (CSI) method. The result of the Customer Satisfaction Index (CSI) is 78.43% which means that overall consumers who live in Karawang and have been shopped online are satisfied with the development of online shopping. This research was conducted in Karawang. The data used are primary data and secondary data. The sampling method is a non-probability sampling method, while the non-probability sampling method used sampling purposes.
Downloads
Download data is not yet available.
References
APJII. (2018). Hasil Survei Penetrasi dan Perilaku Pengguna Internet Indonesia 2018. Retrieved from https://apjii.or.id/content/read/39/410/Hasil-Survei-Penetrasi-dan-Perilaku-Pengguna-Internet-Indonesia-2018
BPS Kabupaten Karawang. (2016). Jumlah Penduduk dan Rasio Jenis Kelamin Menurut Kecamatan di Kabupaten Karawang, 2015-2016. Retrieved from https://karawangkab.bps.go.id/dynamictable/2018/07/17/37/jumlah-penduduk-dan-rasio-jenis-kelamin-menurut-kecamatan-di-kabupaten-karawang-2015-2016.html
Hannie, Umaidah, Y., & Enri, U. (2018). Laporan Akhir Penelitian DIPA Unsika. Karawang.
Nasihin, H. (2019). 5 Alasan Prospek Investasi di Karawang Terus Meningkat. Retrieved from https://www.kompasiana.com/herunasihin/5c4580bc6ddcae1de2697d22/5-alasan-prospek-investasi-di-karawang-terus-meningkat
Nugraha, R., Harsono, A., & Adianto. (2014). UsulanPeningkatan Kualitas Pelayanan Jasa pada Bengkel "X" Berdasarkan Hasil Matrix Importance-Performance Analysis (Studi kasus di Bengkel AHASS PD. Sumber Motor Karawang). Jurnal Online Institut Teknologi Nasional, 1(3), 221–231.
Pohandry, A., Sidarto, S., & Winarni. (2013). Analisis Tingkat Kepuasan Pelanggan Dengan Menggunakan Metode Customer Satisfaction Index dan Importance Performance Analysis Serta Service Quality. Jurnal REKAVASI, 1(1), 21–29.
Ramadhiani, A. (2016). Industri Terus Tumbuh, Karawang Diincar Pengembang Besar. Retrieved from https://properti.kompas.com/read/2016/05/09/210000821/Industri.Terus.Tumbuh.Karawang.Diincar.Pengembang.Besar?page=all
Randall, S., Coast, E., & Leone, T. (2011). Cultural constructions of the concept of household in sample surveys. Population Studies, 65(2), 217–229. https://doi.org/10.1080/00324728.2011.576768
Riadi, E. (2016). Statistika Penelitian (Analisis Manual Dan IBM SPSS). Yogyakarta: ANDI.
Riduwan, & Akdon. (2013). Rumus dan Data dalam Aplikasi Statistika. Bandung: Alfabeta.
Situmeang, R. R. (2018). DAMPAK BISNIS ONLINE DAN LAPANGAN PEKERJAAN TERHADAP PENINGKATAN PENDAPATAN MASYARAKAT (STUDI KASUS JASA BISNIS ONLINE TRANSPORTASI GRAB DI KOTA MEDAN). AJIE, 3(3), 319–335. Retrieved from https://journal.uii.ac.id/ajie/article/view/11620/
Sudarno, Rusgiyono, A., Hoyyi, A., & Listifadah. (2011). Analisis Kualitas Pelayanan Dan Pengendalian Kualitas Jasa Berdasarkan Persepsi Pengunjung. Media Statistika, 4(1), 33–45.
Sugiyono. (2011). Statistika untuk Penelitian (Cetakan ke-3). Bandung: CV ALFABETA.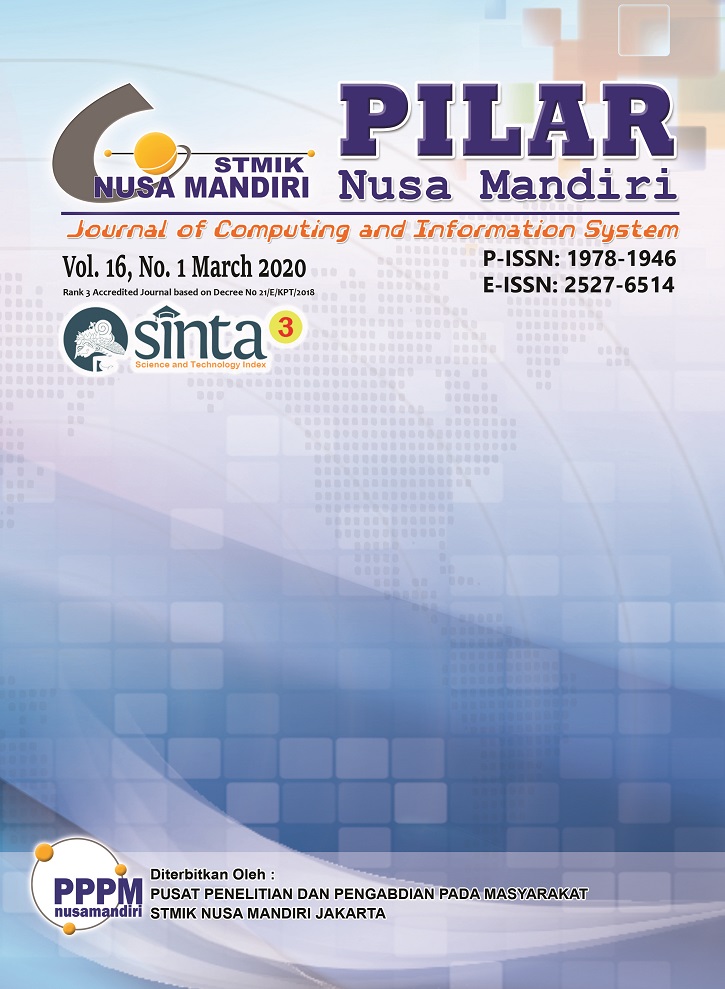 How to Cite
Hannie, H., Enri, U., & Umaidah, Y. (2020). ANALYSIS OF KARAWANG ONLINE SALES CUSTOMER SATISFACTION USING CUSTOMER SATISFACTION INDEX (CSI) METHOD. Jurnal Pilar Nusa Mandiri, 16(1), 7-12. https://doi.org/10.33480/pilar.v16i1.1111
Article Metrics

Abstract viewed = 380 times

PDF downloaded = 319 times
Copyright (c) 2020 Hannie Hannie, Ultach Enri, Yuyun Umaidah
This work is licensed under a Creative Commons Attribution-NonCommercial 4.0 International License.
An author who publishes in the Pilar Nusa Mandiri: Journal of Computing and Information System agrees to the following terms:
Author retains the copyright and grants the journal the right of first publication of the work simultaneously licensed under the Creative Commons Attribution-NonCommercial 4.0 License that allows others to share the work with an acknowledgement of the work's authorship and initial publication in this journal
Author is able to enter into separate, additional contractual arrangements for the non-exclusive distribution of the journal's published version of the work (e.g., post it to an institutional repository or publish it in a book) with the acknowledgement of its initial publication in this journal.
Author is permitted and encouraged to post his/her work online (e.g., in institutional repositories or on their website) prior to and during the submission process, as it can lead to productive exchanges, as well as earlier and greater citation of the published work (See The Effect of Open Access).
Read more about the Creative Commons Attribution-NonCommercial 4.0 Licence here: https://creativecommons.org/licenses/by-nc/4.0/.