IMPLEMENTASI APLIKASI ZAHIR UNTUK MENENTUKAN ANALISA RASIO KEUANGAN
Muhamad Fani Fahrizal (1*)

Sistem Informasi Akuntansi Univeritas Bina Sarana Informatika

Siti Masripah (2)

Sistem Informasi Universitas Bina Sarana Informatika


(*) Corresponding Author

Keywords:
Software zahir, Analisa Rasio, Sistem accounting
Abstract
Zahir as one of the accounting software that has the ability in terms of processing financial data, starting from the process of selling goods, purchasing goods, setting up inventory to making reports needed by the company. The benefits that can be obtained are, companies can find out about the company's financial position, decision making and technically can minimize errors. The results obtained from the use of Zahir Accounting as a substitute for manual recording systems can be observed in terms of financial statements and financial report analysis produced between manual recording and Zahir Accounting showing the same results. The results of the application of zahir application on corporate finance for Ratio Analysis can be obtained as follows: profitability ratio shows results where 5.29% for Return On Equity, 19.13% for Gross Margin, 8.64% for Net Margin, and 91, 36% for Operating Ratio. This number is to determine the ability to carry out its obligations as a company.
Downloads
Download data is not yet available.
References
Bahri, S. (2016). Pengantar Akuntansi, Berdasarkan SAK TAP dan IFRS. Yogyakarta: Andi.

Cahyani, N. M., Indriyanto, E., & Masripah, S. (2016). Uji Validitas dan Reabilitas Terhadap Implementasi Aplikasi Penjualan dan Pembelian, 1(1), 21–34.

Dede, T. (n.d.). Laporan Akhir Penelitian Mandiri 2018.

Erica, D. (2016). Analisa Rasio Laporan Keuangan untuk Menilai Kinerja Perusahaan PT Astra Agro Lestari TBK. Moneter, III(3), 243–250.

Fahrizal, M. F., & Masripah, S. (n.d.). Laporan Akhir Penelitian Mandiri 2018.

Hery. (2016). Akuntansi Sektor Jasa dan Dagang. Jakarta: PT Grasindo, anggota IKAPI.

Istiana, D., & Ariyati, I. (2017). Sistem Informasi Akuntansi Perusahaan Dagang Menggunakan Zahir Accounting Versi 5 . 1, 2(1), 11–20.

Larasati, H., & Masripah, S. (2017). Analisa dan perancangan sistem informasi pembelian grc dengan metode waterfall, 13(2), 37–42.

Muchtar, E. (2016). PENGARUH MINAT DAN DISIPLIN BELAJAR TERHADAP HASIL BELAJAR AKUNTANSI PADA WORKSHOP & SERTIFIKASI AKUNTANSI KNIT-2 Nusa Mandiri, 47–56.

Rachmawati, S., & Nurjanah. (2017). IMPLEMENTASI DATA KEUANGAN DENGAN ZAHIR ACCOUNTING PADA PT . ANUGERAH, 5(2), 267–273.

Samryn, L. . (2015). Pengantar Akuntansi:Mudah Membuat Jurnal dengan Pendekatan Siklus Transaksi (Revisi). Jakarta: Rajawali Pers.

Utami, L. D., & Hidayat, R. (2018). Pengolahan Data Keuangan Dengan Menggunakan Zahir Accounting 5 . 1, XVI(1), 99–106.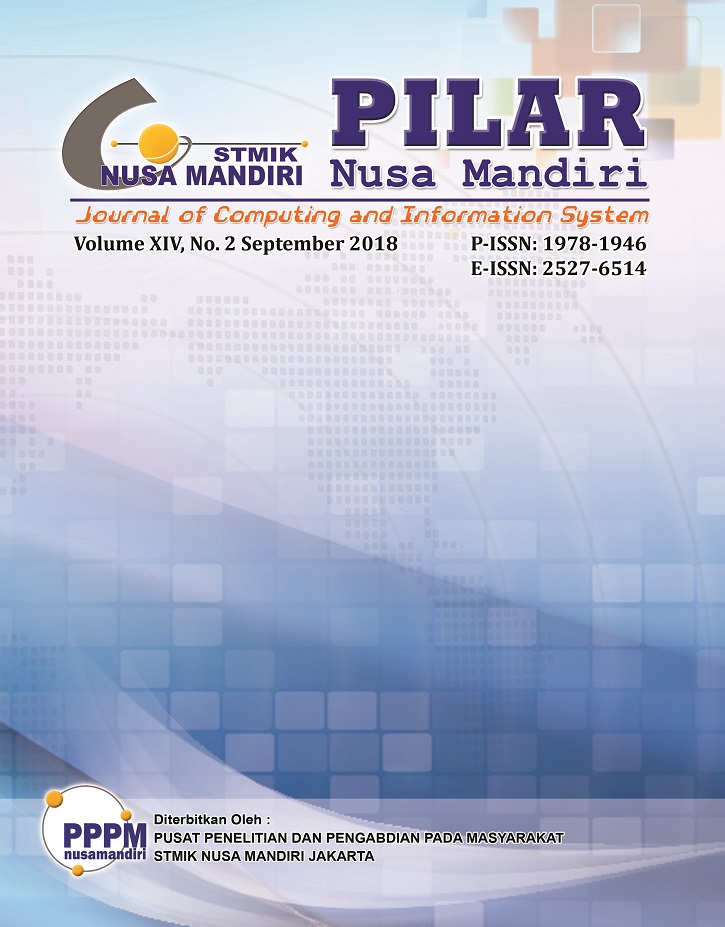 How to Cite
Fahrizal, M., & Masripah, S. (2018). IMPLEMENTASI APLIKASI ZAHIR UNTUK MENENTUKAN ANALISA RASIO KEUANGAN. Pilar Nusa Mandiri: Journal of Computing and Information System, 14(2), 181-186. https://doi.org/10.33480/pilar.v14i2.37
Article Metrics

Abstract viewed = 320 times

PDF downloaded = 1297 times
The Authors submitting a manuscript do so on the understanding that if accepted for publication, copyright of the article shall be assigned to the PILAR Nusa Mandiri journal as the publisher of the journal, and the author also holds the copyright without restriction.
Copyright encompasses exclusive rights to reproduce and deliver the article in all form and media, including reprints, photographs, microfilms, and any other similar reproductions, as well as translations. The reproduction of any part of this journal, its storage in databases, and its transmission by any form or media, such as electronic, electrostatic and mechanical copies, photocopies, recordings, magnetic media, etc. , are allowed with written permission from the PILAR Nusa Mandiri journal.
PILAR Nusa Mandiri journal, the Editors and the Advisory International Editorial Board make every effort to ensure that no wrong or misleading data, opinions, or statements be published in the journal. In any way, the contents of the articles and advertisements published in the PILAR Nusa Mandiri journal are the sole and exclusive responsibility of their respective authors and advertisers.