IMPLEMENTASI APLIKASI ZAHIR UNTUK MENENTUKAN ANALISA RASIO KEUANGAN
Muhamad Fani Fahrizal (1*)

Sistem Informasi Akuntansi Univeritas Bina Sarana Informatika

Siti Masripah (2)

Sistem Informasi Universitas Bina Sarana Informatika


(*) Corresponding Author

Keywords:
Software zahir, Analisa Rasio, Sistem accounting
Abstract
Zahir as one of the accounting software that has the ability in terms of processing financial data, starting from the process of selling goods, purchasing goods, setting up inventory to making reports needed by the company. The benefits that can be obtained are, companies can find out about the company's financial position, decision making and technically can minimize errors. The results obtained from the use of Zahir Accounting as a substitute for manual recording systems can be observed in terms of financial statements and financial report analysis produced between manual recording and Zahir Accounting showing the same results. The results of the application of zahir application on corporate finance for Ratio Analysis can be obtained as follows: profitability ratio shows results where 5.29% for Return On Equity, 19.13% for Gross Margin, 8.64% for Net Margin, and 91, 36% for Operating Ratio. This number is to determine the ability to carry out its obligations as a company.
Downloads
Download data is not yet available.
References
Bahri, S. (2016). Pengantar Akuntansi, Berdasarkan SAK TAP dan IFRS. Yogyakarta: Andi.

Cahyani, N. M., Indriyanto, E., & Masripah, S. (2016). Uji Validitas dan Reabilitas Terhadap Implementasi Aplikasi Penjualan dan Pembelian, 1(1), 21–34.

Dede, T. (n.d.). Laporan Akhir Penelitian Mandiri 2018.

Erica, D. (2016). Analisa Rasio Laporan Keuangan untuk Menilai Kinerja Perusahaan PT Astra Agro Lestari TBK. Moneter, III(3), 243–250.

Fahrizal, M. F., & Masripah, S. (n.d.). Laporan Akhir Penelitian Mandiri 2018.

Hery. (2016). Akuntansi Sektor Jasa dan Dagang. Jakarta: PT Grasindo, anggota IKAPI.

Istiana, D., & Ariyati, I. (2017). Sistem Informasi Akuntansi Perusahaan Dagang Menggunakan Zahir Accounting Versi 5 . 1, 2(1), 11–20.

Larasati, H., & Masripah, S. (2017). Analisa dan perancangan sistem informasi pembelian grc dengan metode waterfall, 13(2), 37–42.

Muchtar, E. (2016). PENGARUH MINAT DAN DISIPLIN BELAJAR TERHADAP HASIL BELAJAR AKUNTANSI PADA WORKSHOP & SERTIFIKASI AKUNTANSI KNIT-2 Nusa Mandiri, 47–56.

Rachmawati, S., & Nurjanah. (2017). IMPLEMENTASI DATA KEUANGAN DENGAN ZAHIR ACCOUNTING PADA PT . ANUGERAH, 5(2), 267–273.

Samryn, L. . (2015). Pengantar Akuntansi:Mudah Membuat Jurnal dengan Pendekatan Siklus Transaksi (Revisi). Jakarta: Rajawali Pers.

Utami, L. D., & Hidayat, R. (2018). Pengolahan Data Keuangan Dengan Menggunakan Zahir Accounting 5 . 1, XVI(1), 99–106.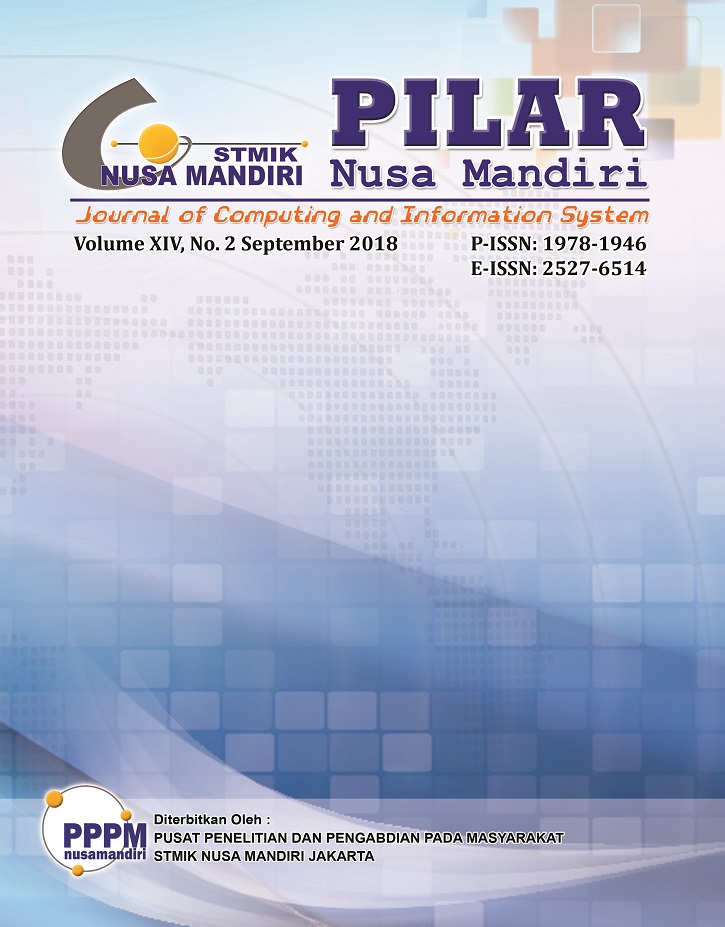 How to Cite
Fahrizal, M., & Masripah, S. (2018). IMPLEMENTASI APLIKASI ZAHIR UNTUK MENENTUKAN ANALISA RASIO KEUANGAN. Jurnal Pilar Nusa Mandiri, 14(2), 181-186. https://doi.org/10.33480/pilar.v14i2.37
Article Metrics

Abstract viewed = 545 times

PDF downloaded = 1893 times
An author who publishes in the Pilar Nusa Mandiri: Journal of Computing and Information System agrees to the following terms:
Author retains the copyright and grants the journal the right of first publication of the work simultaneously licensed under the Creative Commons Attribution-NonCommercial 4.0 License that allows others to share the work with an acknowledgement of the work's authorship and initial publication in this journal
Author is able to enter into separate, additional contractual arrangements for the non-exclusive distribution of the journal's published version of the work (e.g., post it to an institutional repository or publish it in a book) with the acknowledgement of its initial publication in this journal.
Author is permitted and encouraged to post his/her work online (e.g., in institutional repositories or on their website) prior to and during the submission process, as it can lead to productive exchanges, as well as earlier and greater citation of the published work (See The Effect of Open Access).
Read more about the Creative Commons Attribution-NonCommercial 4.0 Licence here: https://creativecommons.org/licenses/by-nc/4.0/.