RANCANGAN PEMBELAJARAN PEMROGRAMAN JAVA DENGAN PENDEKATAN OBJECT-FIRST UNTUK MEMPERMUDAH MEMAHAMI KONSEP OBJECT ORIENTED PROGRAMING (OOP)
Arfhan Prasetyo (1*)

Komputerisasi Akuntasi AMIK BSI Bogor


(*) Corresponding Author

Keywords:
Learning, Java Programming, Object-First, OOP concepts
Abstract
This study has the purpose to implement an object-first approach to students who have not studied structured programming with structured programming that has been studied. Samples from this study were students totaling 48 students, which consisted of 24 students learn and understand the concepts of OOP without Object-First approach and 24 other students using Object-First approach. Data were analyzed using t-test prior to testing the validity, reliability, normality and homogeneity test. From the research results found in the study java programming with Object-First approach has not been proven to facilitate the understanding and studying the concepts of OOP, ie there is no difference between without using Object-First approach using Object-First approach is evident from the (t count (1,927) <t table (<2.012)) and the ratio of the mean value of the pretest (61.33) is higher than the posttest (56.54). 
Downloads
Download data is not yet available.
References
Akil, I., 2010. Metode Pembelajaran Object Oriented Programming (OOP) Dengan Pendekatan Hemispheric Cognitive Style Collaboration, Seminar Nasional Pengaplikasian Telematika.

Armstrong, D. J., 2006. The Quarks of Object-Oriented Development. Communications Of The ACM, pp. 123-128.

Fang Wei, S. H. M. S. M. P. a. G. D. B., 2005. A Student Model For Object Oriented Design And Programming.

Hadar, I. H. a. E., 2006. An Iterative Methodology for Teaching Object.

Hadar, I. H. d. E., 2006. Iterative Cycle for teaching Object Oriented Concepts: From Abstract Thinking to Specific Language Implementation.

Mahmood, Z., 2008. An Objects-First Approach to Teaching Introductory Software.

Prasetyo, D. R. d. A., 2009. Designing and Measuring Web Quality Toward Satisfying Business Transaction Of Women User. Jakarta, s.n., pp. 287-292

Sally H. Moritz, F. W. S. M. P. a. G. D. B., 2005. From Object-First to Design First With Multimedia and Intelligent Tutoring.

Sugiyono, P. D., 2009. Metode Penelitian Kuantitatif Kualitatif dan R & D. Bandung: cv. ALFABETA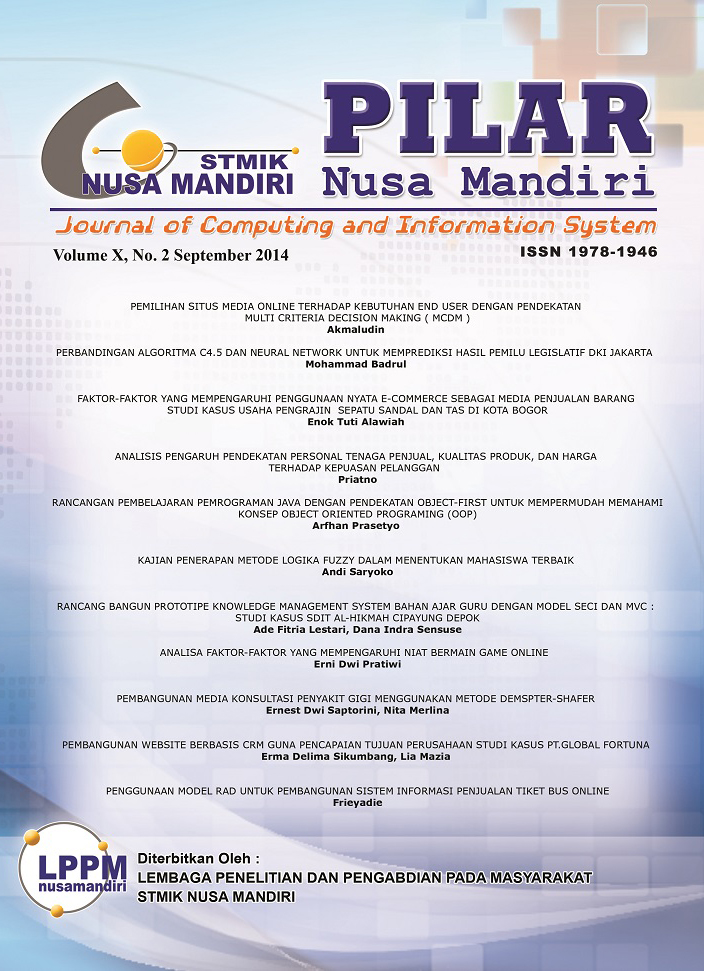 How to Cite
Prasetyo, A. (2014). RANCANGAN PEMBELAJARAN PEMROGRAMAN JAVA DENGAN PENDEKATAN OBJECT-FIRST UNTUK MEMPERMUDAH MEMAHAMI KONSEP OBJECT ORIENTED PROGRAMING (OOP). Jurnal Pilar Nusa Mandiri, 10(2), 155-160. https://doi.org/10.33480/pilar.v10i2.473
Article Metrics

Abstract viewed = 284 times

PDF downloaded = 229 times
The Authors submitting a manuscript do so on the understanding that if accepted for publication, copyright of the article shall be assigned to the PILAR Nusa Mandiri journal as the publisher of the journal, and the author also holds the copyright without restriction.
Copyright encompasses exclusive rights to reproduce and deliver the article in all form and media, including reprints, photographs, microfilms, and any other similar reproductions, as well as translations. The reproduction of any part of this journal, its storage in databases, and its transmission by any form or media, such as electronic, electrostatic and mechanical copies, photocopies, recordings, magnetic media, etc. , are allowed with written permission from the PILAR Nusa Mandiri journal.
PILAR Nusa Mandiri journal, the Editors and the Advisory International Editorial Board make every effort to ensure that no wrong or misleading data, opinions, or statements be published in the journal. In any way, the contents of the articles and advertisements published in the PILAR Nusa Mandiri journal are the sole and exclusive responsibility of their respective authors and advertisers.