PERANCANGAN SISTEM KERANGKA PENILAIAN KINERJA MANAJER OPERASIONAL MENGGUNAKAN PENDEKATAN BALANCED SCORECARD PADA PT PEGADAIAN (PERSERO
Irfan Mahendra (1)

Sistem Informasi STMIK Nusa Mandiri


(*) Corresponding Author

Keywords:
performance appraisal, balanced score card, mission center scorecard, service center scorecard
Abstract
Pegadaian is a  State  Owned  Enterprises  (SOEs) is engaged in financing, with the main business is pawning services. The level of competition in the mortgage sector is currently very tight and will continue to increase the complexity and intensity.  Further pawnshop must continually improve its performance, that the company competitive advantage can be realized.  An important factor to consider in this case is the performance appraisal system, because the objective performance appraisal system, comprehensive, and continuous performance of the company will continuously be reviewed and could be improved. The performance appraisal system has been used in Pegadaian is to use the merit system approach. This approach is considered highly subjective and may not represent actual employee performance. Another approach that is popular and widely used is the assessment of performance using a balanced scorecard approach, which is a strategic management system that can be used to assess the company's performance objectively and comprehensively. This research is to design a framework for appraisal the performance of the employee (System Operations Manager) uses a balanced scorecard approach to the  IT  Operations  Division  of  Pegadaian.  Design  framework  for  assessing  performance  using  the  balanced scorecard  approach  is  done  through  two  main  stages,  design  scorecard  for  the  mission  center  which  then cascaded into team and personal scorecard.
Downloads
Download data is not yet available.
References
Mulyadi. (2001). Balanced Scorecard. Jakarta: Salemba Empat.

Mulyadi. (2008). Sistem Terpadu Pengelolaan Kinerja Personal Berbasis Balanced Scorecard.

Yogyakarta: UPP STIM YKPN.

Mulyana, Deddy. (2004). Metodologi Penelitian. Jakarta: Remaja Rosdakarya.

Dessler, Gary. (2008). Manajemen Sumber Daya Manusia Jakarta: Indeks.

Kaplan, Robert S dan Norton, David P. (2000). Balanced Scorecard. Jakarta: Erlangga.

Kaplan, Robert S dan Norton, David P. (2001). The Strategy Focused Organization. USA: Harvard Business School Publishing Corporation.

Kaplan, Robert S dan Norton, David P. (2004. Strategy Maps. USA: Harvard Business School Publishing Corporation.

Rivai, Veithzal. (2008). Manajemen Sumber Daya Manusia. Jakarta: Murai Kencana.

Sony Yuwono, dkk. (2006). Petunjuk Praktis Penyususnan Balanced Scorecard. Jakarta: Gramedia PustakaUtama.

Suharsimi Arikunto, 2002, Prosedur Penelitian. Rineka Cipta, Jakarta.

Suwardi Luis dan Biromo, A. Prima. (2008). Step by Step in Cascading Balanced Scorecard to

fungtional Scorecards. Jakarta: Gramedia PustakaUtama.

Tunggal, Amin Widjaya. (2002). Memahami Konsep Balanced Scorecard. Jakarta: Harvarindo.

Gaspersz, Vincent. (2003). Balanced Scorecard Dengan Six Sigma. Jakarta: Gramedia Pustaka Umum.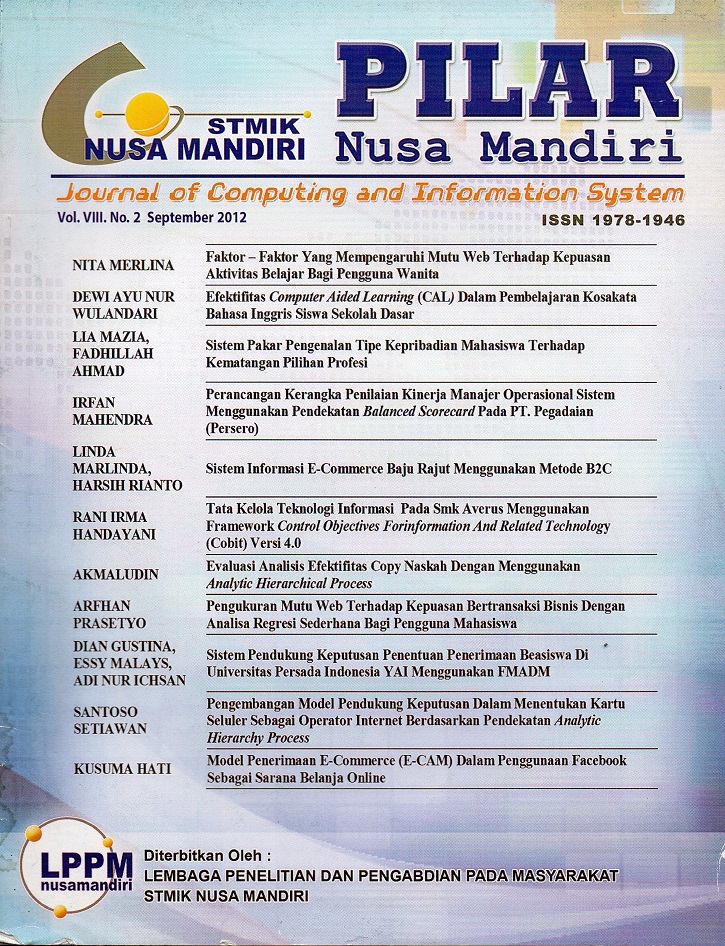 How to Cite
Mahendra, I. (2012). PERANCANGAN SISTEM KERANGKA PENILAIAN KINERJA MANAJER OPERASIONAL MENGGUNAKAN PENDEKATAN BALANCED SCORECARD PADA PT PEGADAIAN (PERSERO. Jurnal Pilar Nusa Mandiri, 8(2), 125-134. Retrieved from https://ejournal.nusamandiri.ac.id/index.php/pilar/article/view/483
Article Metrics

Abstract viewed = 121 times

PDF downloaded = 115 times
The Authors submitting a manuscript do so on the understanding that if accepted for publication, copyright of the article shall be assigned to the PILAR Nusa Mandiri journal as the publisher of the journal, and the author also holds the copyright without restriction.
Copyright encompasses exclusive rights to reproduce and deliver the article in all form and media, including reprints, photographs, microfilms, and any other similar reproductions, as well as translations. The reproduction of any part of this journal, its storage in databases, and its transmission by any form or media, such as electronic, electrostatic and mechanical copies, photocopies, recordings, magnetic media, etc. , are allowed with written permission from the PILAR Nusa Mandiri journal.
PILAR Nusa Mandiri journal, the Editors and the Advisory International Editorial Board make every effort to ensure that no wrong or misleading data, opinions, or statements be published in the journal. In any way, the contents of the articles and advertisements published in the PILAR Nusa Mandiri journal are the sole and exclusive responsibility of their respective authors and advertisers.