ANALYSIS OF NEURAL NETWORK CLASSIFICATION ALGORITHM TO KNOW THE SUCCESS LEVEL OF IMMUNOTHERAPY
Analisis Algoritma Klasifikasi Neural Network Untuk Mengetahui Tingkat Keberhasilan Dari Immunotherapy
Agung Fazriansyah (1)

STMIK Nusa Mandiri, Jakarta, Indonesia

Mochammad Abdul Azis (2*)

Nusa Mandiri

Yudhistira Yudhistira (3)

Universitas Bina Sarana Informatika


(*) Corresponding Author

Keywords:
Immunotherapy, Cancer, Neural Network
Abstract
Cancer is a disease that is feared by humans at this stage, the genetic term of most diseases that have the characteristics of abnormal cell growth and beyond the normal cell limits so that they can attack cells that cover and are able to spread to other organs. For cancer recovery therapy is immunization therapy. Of course in this alternative treatment still needs to be done research to determine the level of success with existing conditions and parameters. Increasingly sophisticated, developing technology that helps human work. The neural network algorithm is used to analyze large datasets, the purpose of this study is to find the accuracy and immunotherapy methods of the dataset using a neural network learning machine with 200 data training cycles, 0.9 momentum and 0.01 learning levels that produce quite high accuracy 80 % and AUC value of 0.738
References
Fazriansyah, A., Azis, M. A., & Yudhistira, Y. (2019). Final Report of Independent Research: Analysis Of Neural Network Classification Algorithm To Know The Success Level Of Immunotherapy.
Hastuti, K. (2012). ANALISIS KOMPARASI ALGORITMA KLASIFIKASI DATA MINING UNTUK PREDIKSI MAHASISWA NON AKTIF. SEMANTIK, 2(1), 241–249. http://publikasi.dinus.ac.id/index.php/semantik/article/view/132
Indriani, A., & Nbc, D. (2014). Klasifikasi Data Forum dengan menggunakan Metode Naïve Bayes Classifier. 5–10.
Rahayu, S., Nugraha, F. S., & Shidiq, M. J. (2019). Analisa tingkat keberhasilan cryoterapy menggunakan neural network. Jurnal Pilar Nusa Mandiri, 15(2), 1–7. https://doi.org/10.33480/pilar.v15i2.599
Sucipto, A. (2015). CREDIT PREDICTION WITH NEURAL NETWORK ALGORITHM Ir . Adi Sucipto , M . Kom . Sains and Technology Faculty Universitas Islam Nahdlatul Ulama Jepara. PROSIDING SEMINAR NASIONAL MULTI DISIPLIN ILMU & CALL FOR PAPERS UNISBANK (SENDI_U), 15, 978–979. https://www.unisbank.ac.id/ojs/index.php/sendi_u/article/view/3343/
Sulaiman, F. H., Yulianti, K., & Husain, H. S. (2019). MODEL MATEMATIKA TERAPI KANKER MENGGUNAKAN KEMOTERAPI, IMUNOTERAPI DAN BIOCHEMOTHERAPY. Jurnal EurekaMatika, 7(1), 1–10. https://ejournal.upi.edu/index.php/JEM/article/view/17883
Supriyatna, A., & Mustika, W. P. (2018). Komparasi Algoritma Naive bayes dan SVM Untuk Memprediksi Keberhasilan Imunoterapi Pada Penyakit Kutil. J-SAKTI (Jurnal Sains Komputer Dan Informatika), 2(2), 152. https://doi.org/10.30645/j-sakti.v2i2.78
Widowati, L., & Mudahar, H. (2009). Uji Aktivitas Ekstrak Etanol 50°/o Umbi Keladi Tikus (Typhonium Flagelliforme (Lood) Bl) Terhadap Sel Kanker Payudara Mcf-7 in Vitro. Media Penelitian Dan Pengembangan Kesehatan, 19(1), 6–14. http://repository.litbang.kemkes.go.id/1368/1/882-1872-1-PB.pdf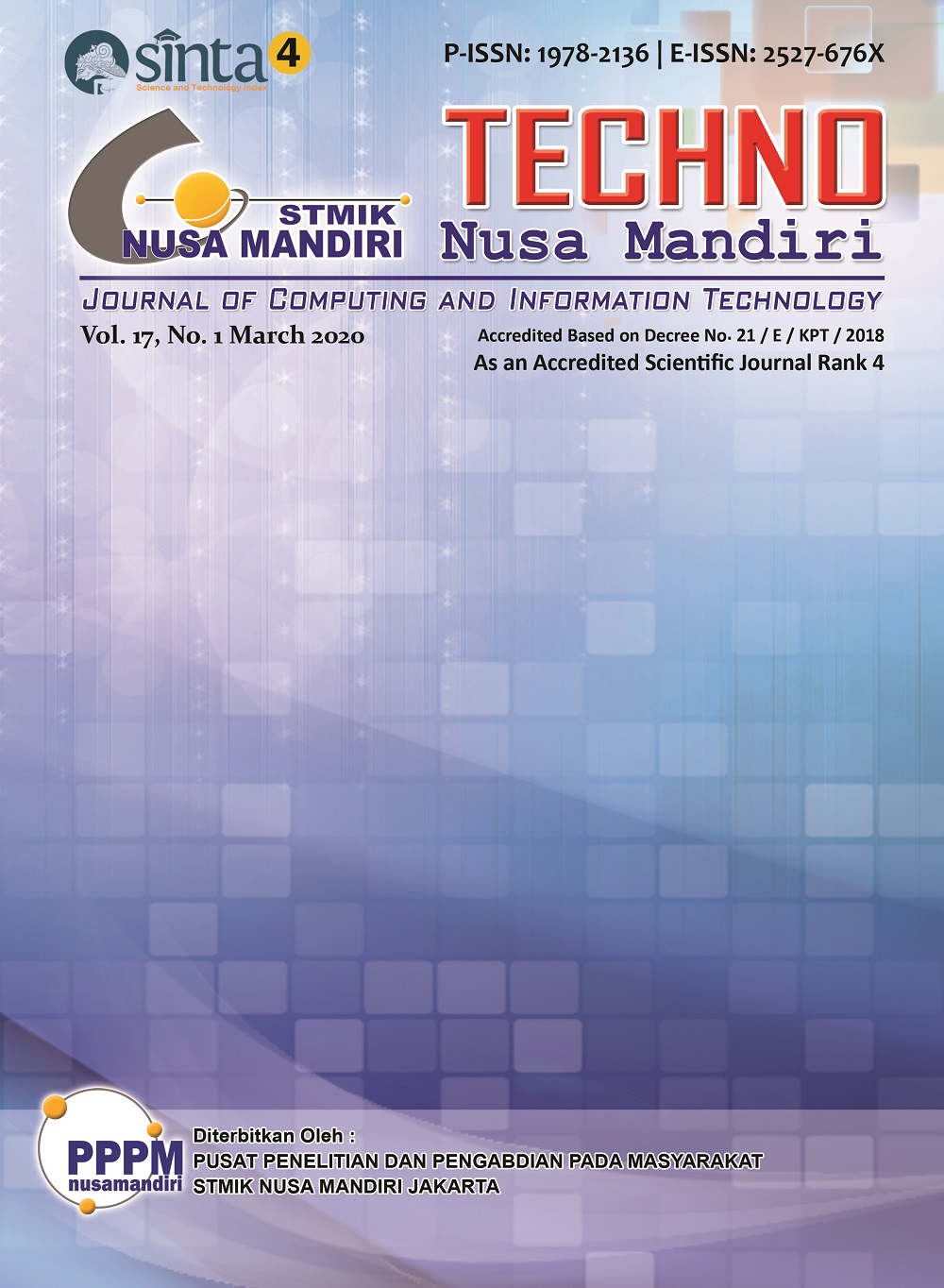 How to Cite
Fazriansyah, A., Azis, M., & Yudhistira, Y. (2020). ANALYSIS OF NEURAL NETWORK CLASSIFICATION ALGORITHM TO KNOW THE SUCCESS LEVEL OF IMMUNOTHERAPY. Jurnal Techno Nusa Mandiri, 17(1), 57-62. https://doi.org/10.33480/techno.v17i1.1089
Article Metrics

Abstract viewed = 264 times

PDF downloaded = 277 times
The copyright of any article in the TECHNO Nusa Mandiri Journal is fully held by the author under the Creative Commons CC BY-NC license.
The copyright in each article belongs to the author.
Authors retain all their rights to published works, not limited to the rights set out on this page.
The author acknowledges that Techno Nusa Mandiri: Journal of Computing and Information Technology (TECHNO Nusa Mandiri) is the first to publish with a Creative Commons Attribution 4.0 International license (CC BY-NC).
Authors can enter articles separately, manage non-exclusive distribution, from manuscripts that have been published in this journal into another version (for example: sent to author affiliation respository, publication into books, etc.), by acknowledging that the manuscript was published for the first time in Techno Nusa Mandiri: Journal of Computing and Information Technology (TECHNO Nusa Mandiri);
The author guarantees that the original article, written by the stated author, has never been published before, does not contain any statements that violate the law, does not violate the rights of others, is subject to the copyright which is exclusively held by the author.
If an article was prepared jointly by more than one author, each author submitting the manuscript warrants that he has been authorized by all co-authors to agree to copyright and license notices (agreements) on their behalf, and agrees to notify the co-authors of the terms of this policy. Techno Nusa Mandiri: Journal of Computing and Information Technology (TECHNO Nusa Mandiri) will not be held responsible for anything that may have occurred due to the author's internal disputes.