MOBILE-BASED ONLINE EXAM APPLICATIONS USING PROBLEM WEIGHT CLASSIFICATION TECHNIQUES, GROUPING AND RANDOMIZING
Aplikasi Ujian Online Berbasis Mobile Menggunakan Teknik Klasifikasi Bobot Soal, Pengelompokan Dan Pengacakan
Muhammad Iqbal (1*)

STMIK Nusa Mandiri

Abdul Hamid (2)

Universitas Bina Sarana Informatika, Jakarta, Indonesia

Nuraeni Herlinawati (3)

STMIK Nusa Mandiri, Jakarta, Indonesia

Mochammad Abdul Azis (4)

STMIK Nusa Mandiri, Jakarta, Indonesia

Muhammad Rezki (5)

STMIK Nusa Mandiri, Jakarta, Indonesia

Ali Mustopa (6)

STMIK Nusa Mandiri, Jakarta, Indonesia


(*) Corresponding Author

Keywords:
Application, Online Test, Mobile, Classification, Question Weight
Abstract
Education is an agenda for designing the country's development. Implementation in the field of education is a joint responsibility of both the government and the community, educational institutions are one that plays an important role in the ongoing learning process activities one of which is the examination activities. The test is an evaluation of the learning process to obtain learning outcomes as a form of achievement recognition or completion in an educational unit. The test is still cheating, it is triggered by the lack of confidence in working on the exam questions and the same type of exam questions will provide an opportunity to chat and work together. The author aims to provide a solution in the form of the application of online-based online test applications using question weight classification techniques, grouping and randomization. This mobile-based online exam application was developed using the waterfall model. The results obtained from research on this mobile-based exam application has features to prevent screen capture or screenshots, prevent video recording or video recorder and prevent switching applications that can run multiplatform on Android and iOS. This application has been through the process of testing the user and distributing questionnaires to determine the feasibility of using the weight classification technique with a percentage of 80% so it is suitable for use in examination activities.
References
Arizqia, M. G., & Widodo, A. A. (2017). Rancang Bangun Aplikasi Dengan Linear Congruent Method (LCM) Sebagai Pengacakan Soal. JOINTECS (Journal of Information Technology and Computer Science), 2(1), 1–6. https://doi.org/10.31328/jointecs.v2i1.412
Hasmori, A. A., Sarju, H., Norihan, I. S., Hamzah, R., & Sukr Saud, M. (2011). Pendidikan , Kurikulum Dan Masyarakat : Satu Integrasi. Journal of Edupres.
Iqbal, M., Hamid, A., Herlinawati, N., Aziz, M. A., Rezki, M., & Mustopa, A. (2020). APLIKASI UJIAN ONLINE BERBASIS MOBILE MENGGUNAKAN TEKNIK KLASIFIKASI BOBOT SOAL, PENGELOMPOKAN DAN PENGACAKAN (Vol. 17 No). Retrieved from https://ejournal.nusamandiri.ac.id/index.php/techno
Irmayani, W., & Susyatih, E. (2017). Sistem Informasi Anggaran Pendapatan dan Belanja Desa Berorientasi Objek. Khatulistiwa Informatika, V(1), 58–63.
Kurniawan, D., Andrian, R., & Ertina, L. (2014). Pengembangan Sistem Ujian Online Sekolah. Jurnal Komputasi, 2(2), 36–40.
Lisnawanty. (2014). Perancangan Sistem Informasi Kearsipan Surat Masuk Dan Surat Keluar Berbasis Multiuser. Jurnal Khatulistiwa Informatika, 2(2), 161–175. Retrieved from ejournal.bsi.ac.id/ejurnal/index.php/khatulistiwa/article/view/1639%0A
M Teguh Prihandoyo. (2018). Unified Modeling Language (UML) Model Untuk Pengembangan Sistem Informasi Akademik Berbasis Web. Jurnal Informatika: Jurnal Pengembangan IT, 3(1), 126–129.
Nasution, S. D. (2013). Penerapan metode linier kongruendan algoritma vigenère chiper pada aplikasi sistem ujian berbasis lan. STMIK Budi Darma Medan.
Saraswati, N. W. S., & Putra, D. M. D. U. (2015). Sistem Ujian Online Berbasis Website di STMIK STIKOM Indonesia. S@Cies.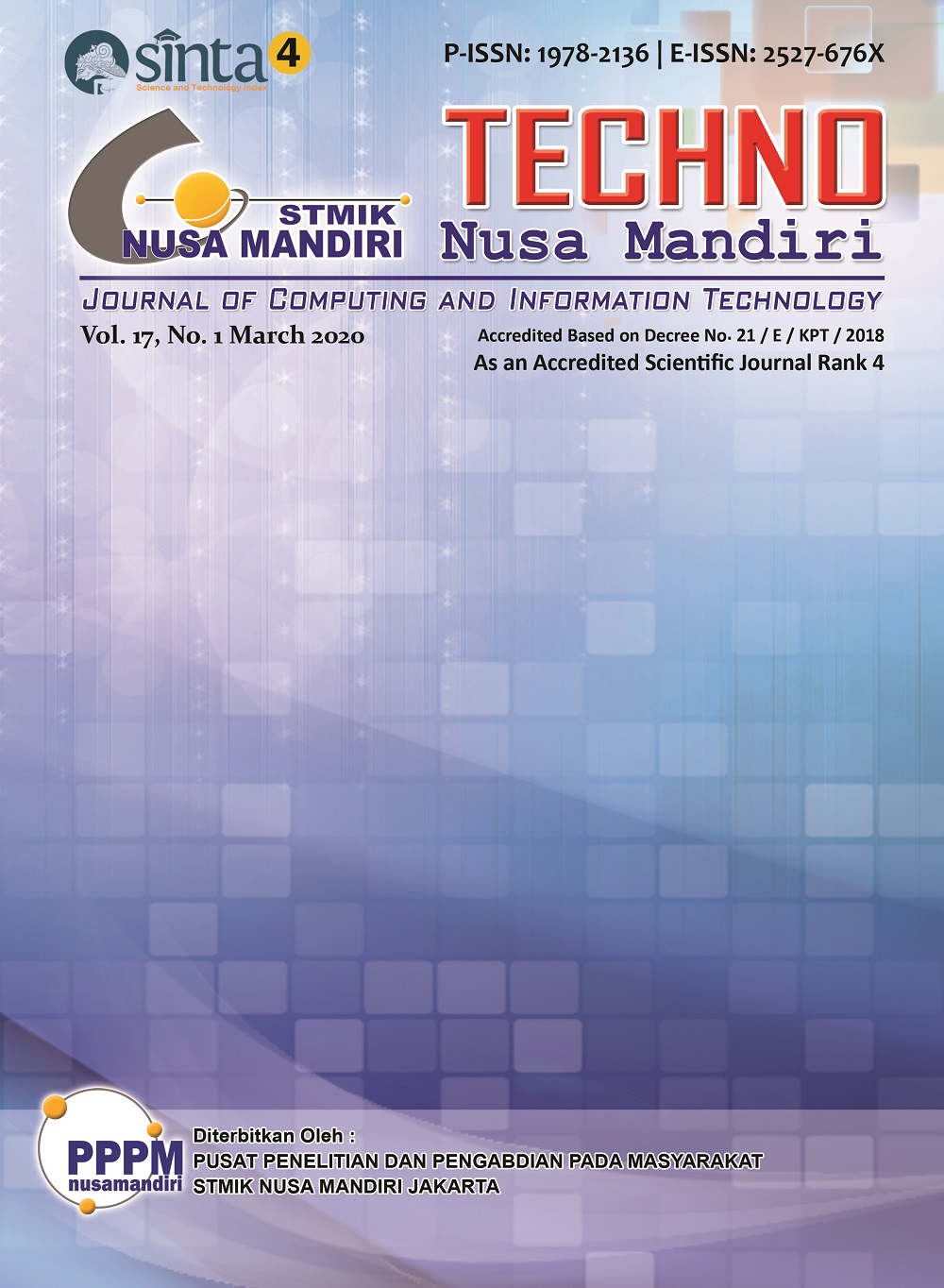 How to Cite
Iqbal, M., Hamid, A., Herlinawati, N., Azis, M., Rezki, M., & Mustopa, A. (2020). MOBILE-BASED ONLINE EXAM APPLICATIONS USING PROBLEM WEIGHT CLASSIFICATION TECHNIQUES, GROUPING AND RANDOMIZING. Techno Nusa Mandiri: Journal of Computing and Information Technology, 17(1), 43-50. https://doi.org/10.33480/techno.v17i1.1229
Article Metrics

Abstract viewed = 334 times

PDF downloaded = 272 times
The copyright of any article in the TECHNO Nusa Mandiri Journal is fully held by the author under the Creative Commons CC BY-NC license.
The copyright in each article belongs to the author.
Authors retain all their rights to published works, not limited to the rights set out on this page.
The author acknowledges that Techno Nusa Mandiri: Journal of Computing and Information Technology (TECHNO Nusa Mandiri) is the first to publish with a Creative Commons Attribution 4.0 International license (CC BY-NC).
Authors can enter articles separately, manage non-exclusive distribution, from manuscripts that have been published in this journal into another version (for example: sent to author affiliation respository, publication into books, etc.), by acknowledging that the manuscript was published for the first time in Techno Nusa Mandiri: Journal of Computing and Information Technology (TECHNO Nusa Mandiri);
The author guarantees that the original article, written by the stated author, has never been published before, does not contain any statements that violate the law, does not violate the rights of others, is subject to the copyright which is exclusively held by the author.
If an article was prepared jointly by more than one author, each author submitting the manuscript warrants that he has been authorized by all co-authors to agree to copyright and license notices (agreements) on their behalf, and agrees to notify the co-authors of the terms of this policy. Techno Nusa Mandiri: Journal of Computing and Information Technology (TECHNO Nusa Mandiri) will not be held responsible for anything that may have occurred due to the author's internal disputes.