DECISION SUPPORT SYSTEM FOR SELECTION OF CHAIRMAN OF OSIS USING ELECTRE METHOD IN SMK PGRI 35 WEST JAKARTA
Sistem Pendukung Keputusan Pemilihan Ketua Osis Menggunakan Metode Electre Pada SMK PGRI 35 Jakarta Barat
Mia Rosmiati (1*)

Universitas Bina Sarana Informatika

Nur Atika Sari (2)

STMIK Nusa Mandiri


(*) Corresponding Author

Keywords:
Electre, Decision, Election, Using Electre Method
Abstract
In an organization choosing a leader who is highly dedicated, responsible and responsive to every problem is not easy. A leader is not only required to have intelligence and skill but also must have a soul of leadership, a great sense of responsibility and can be a role model. The purpose of this study was to determine the student council president using the ELECTRE method based on 4 (four) criteria, namely managerial ability, knowledge and skills, collaborative communication responsibilities and discipline. With the application of the ELECTRE method, it is expected to be able to achieve these objectives. With the implementation of the ELECTRE method in the process of electing the student council president at SMK PGRI 35 Jakarta, it can determine the student council chair with accurate results in accordance with the criteria given by the school. The results of calculations with the Electre method will obtain the highest rating, namely: A3 (Miranti Sofia) because if it indicates that the alternative is the chosen alternative.
References
Astuti, Y., & Safrudin, A. (2016). Metode FUZZY AHP untuk Pemilihan Ketua OSIS pada SMA N 1 Jogonalan Klaten. Creative Information Technology Journal, 4(1), 56. https://doi.org/10.24076/citec.2016v4i1.95
Aulawi, A., & Srinawati, S. (2019). IMPLEMENTASI NILAI-NILAI DEMOKRASI DALAM PENGAMBILAN KEPUTUSAN ORGANISASI UNTUK MENINGKATKAN ORGANISASI SISWA INTRA SEKOLAH (OSIS) DI SMK DARUS SYIFA KOTA CILEGON. PRO PATRIA, 2(1), 38–50. Retrieved from http://ejournal.lppm-unbaja.ac.id/index.php/propatria/article/view/489
Damanik, H. J., Parlina, I., Tambunan, H. S., & Irawan, E. (2017). Sistem Pendukung Keputusan Dalam Seleksi Penyiar Radio Boss Fm 102.8 Pematang Siantar Menggunakan Metode Electre. KOMIK (Konferensi Nasional Teknologi Informasi Dan Komputer), 1(1), 38–44. Retrieved from https://www.ejurnal.stmik-budidarma.ac.id/index.php/komik/article/view/470
Fitriyani, N., & Ipnuwati, S. (2017). SISTEM PENDUKUNG KEPUTUSAN DALAM MENENTUKAN KETUA OSIS MENGGUNAKAN SIMPLE ADDITIVE WEIGHTING (SAW) (STUDI KASUS : MTsN MODEL TALANGPADANG). Prociding Kmsi, 5(1).
Rosmiati, M., & Sari, N. A. (2020). Laporan Akhir Penelitian Mandiri: Sistem Pendukung Keputusan Pemilihan Ketua Osis Menggunakan Metode ELECTRE Pada SMK PGRI 35 Jakarta Barat. Jakarta.
Sugiyono. (2017). METODE PENELITIAN KUANTITATIF, KUALITATIF, DAN R&D (Buku). Bandung: ALFABETA.
Sundari, S., Wanto, A., Saifullah, & Gunawan, I. (2017). Sistem Pendukung Keputusan Dengan Menggunakan Metode Electre Dalam Merekomendasikan Dosen Berprestasi Bidang Ilmu Komputer (Study Kasus di AMIK & STIKOM Tunas Bangsa). Seminar Nasional Multi Disiplin Ilmu, (x), 1–6.
Sunoto, I., Ismawan, F., & Nulhakim, A. L. (2017). SISTEM PENDUKUNG KEPUTUSAN SELEKSI KETUA OSIS DENGAN METODE AHP SMK PGRI 23 JAKARTA. Jurnal Sisfotek Global, 7(2), 56–62. Retrieved from https://stmikglobal.ac.id/journal/index.php/sisfotek/article/view/152
Yulyantari, L. M., & Wijaya, I. P. (2019). Manajemen Model Pada Sistem Pendukung Keputusan. Yogyakarta: Andi.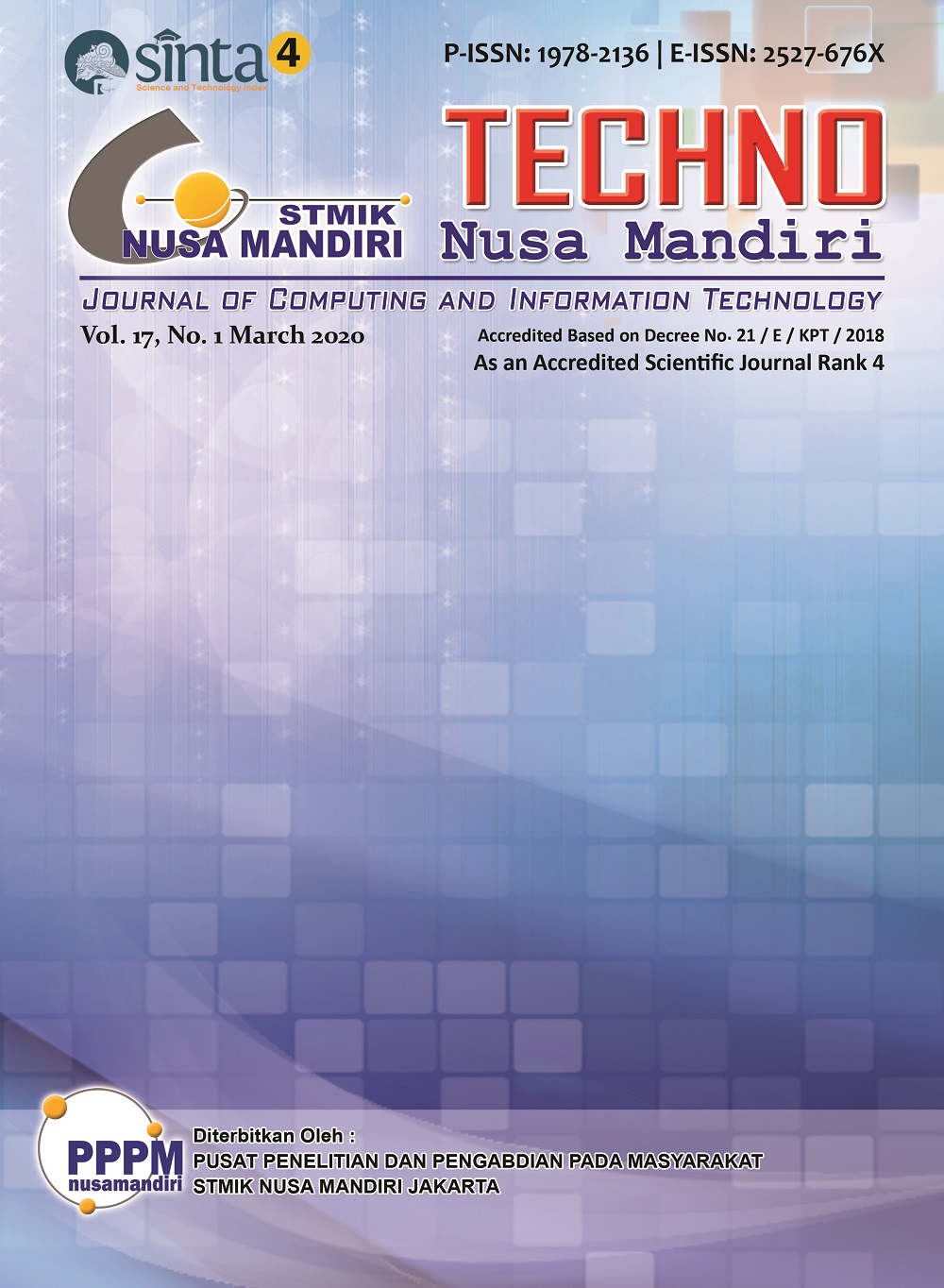 How to Cite
Rosmiati, M., & Sari, N. (2020). DECISION SUPPORT SYSTEM FOR SELECTION OF CHAIRMAN OF OSIS USING ELECTRE METHOD IN SMK PGRI 35 WEST JAKARTA. Jurnal Techno Nusa Mandiri, 17(1), 31-36. https://doi.org/10.33480/techno.v17i1.1221
Article Metrics

Abstract viewed = 70 times

PDF downloaded = 33 times