INSTALASI DAN KONFIGURASI JARINGAN VSAT MENGGUNAKAN MODEM GILAT PADA PT. INDO PRATAMA TELEGLOBAL JAKARTA
Germanus Yosef Rugi Laka (1*)

Teknik Informatika STMIK Nusa Mandiri

Luci Kanti Rahayu (2)

Manajemen Informatika AMIK BSI Jakarta

Yahdi Kusnadi (3)

Komputerisasi Akuntasi AMIK BSI Jakarta


(*) Corresponding Author

Keywords:
Very Small Aperture Terminal, Voice Over Internet Protocol, Modem Gilat
Abstract
PT. Indo Teleglobal is one vendor that specializes in infrastructure and internet service providers. Customer or Client in Sorong and Jayapura need internet service to send data or information to the central office in Jakarta where they are constrained by geographical conditions and do not allow for the use of optic fiber (FO). Overcoming the problems it is given the service of Very Small Aperture Terminal (VSAT). In addition to sending data or browsing, VSAT is also used to communicate with headquarters in Jakarta by using voice over Internet Protocol (VOIP) that the system connections through satellites. Compared with a terrestrial data communications network, data communication network via satellite has many advantages, among them capable of handling a wide area communications network. The author uses research methods that include requirements analysis, design, testing, and implementation.
References
Anhar. Analisa Performansi jaringan Komunikasi Very Small Aperture Terminal (VSAT). Sains teknologi dan Industri Universitas Riau (2003) Vol.1 No.1 Maret 2003.

Astriani, Dwiarum. Ilmukomputer.org. 2013.

Gilat SkyEdge II acses 2012: Monitoring and Product Modul: Ipt 2012, no.3

W, Indra, ilmukomputer.org. 2012.

Sugeng,Winarno: jaringan komputer dengan TCPI/IP.Modula:Bandung, 2010

Sulistyo,Imam: Wide Area Network (WAN) merupakan jaringan komputer yang mencakup area yang besar (2010)

Sutono: Perangkat keras komputer dan tools pendukungnya (2010)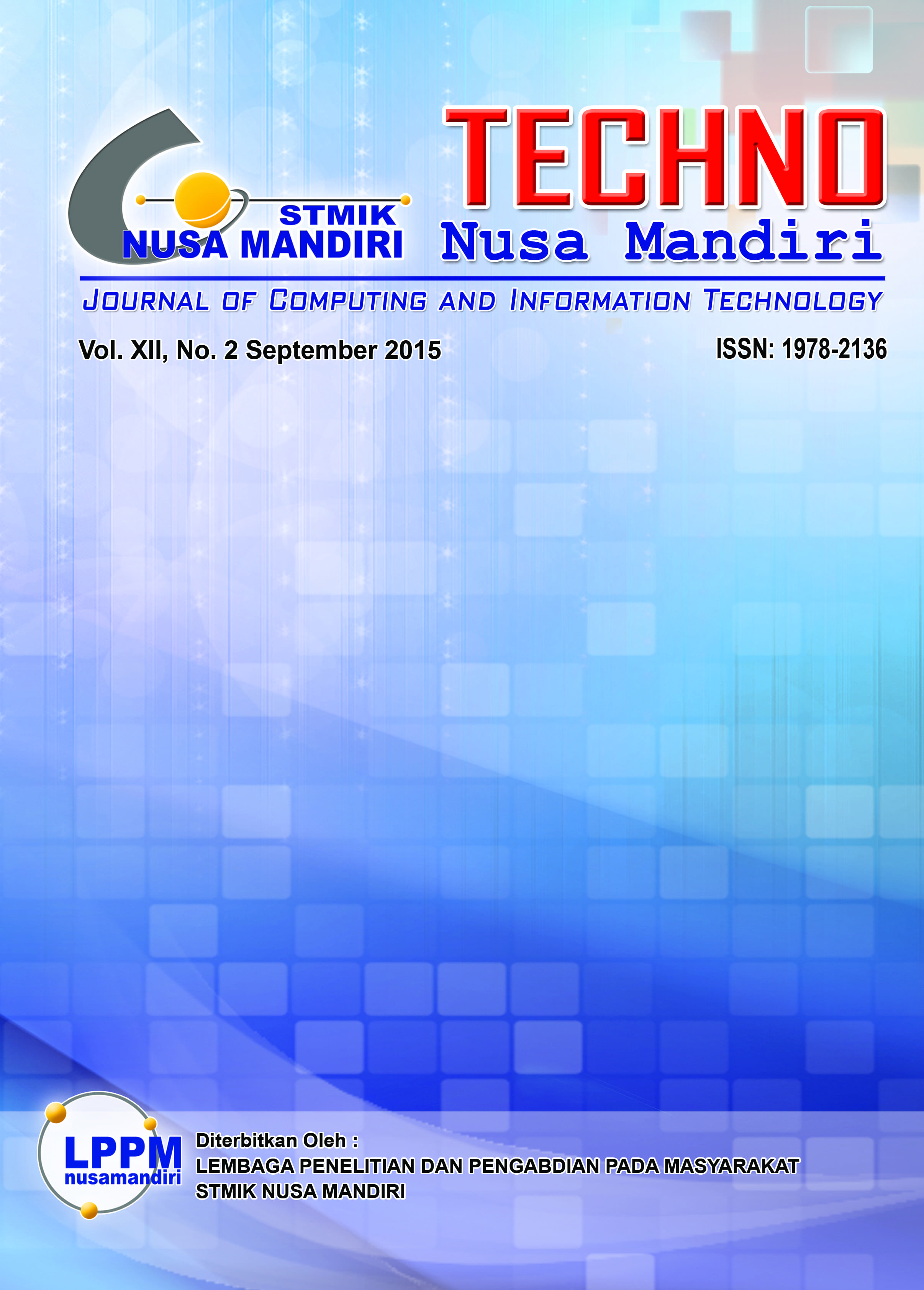 How to Cite
Laka, G., Rahayu, L., & Kusnadi, Y. (2015). INSTALASI DAN KONFIGURASI JARINGAN VSAT MENGGUNAKAN MODEM GILAT PADA PT. INDO PRATAMA TELEGLOBAL JAKARTA. Jurnal Techno Nusa Mandiri, 12(2), 167-178. https://doi.org/10.33480/techno.v12i2.447
Article Metrics

Abstract viewed = 680 times

PDF downloaded = 1828 times
The copyright of any article in the TECHNO Nusa Mandiri Journal is fully held by the author under the Creative Commons CC BY-NC license.
The copyright in each article belongs to the author.
Authors retain all their rights to published works, not limited to the rights set out on this page.
The author acknowledges that Techno Nusa Mandiri: Journal of Computing and Information Technology (TECHNO Nusa Mandiri) is the first to publish with a Creative Commons Attribution 4.0 International license (CC BY-NC).
Authors can enter articles separately, manage non-exclusive distribution, from manuscripts that have been published in this journal into another version (for example: sent to author affiliation respository, publication into books, etc.), by acknowledging that the manuscript was published for the first time in Techno Nusa Mandiri: Journal of Computing and Information Technology (TECHNO Nusa Mandiri);
The author guarantees that the original article, written by the stated author, has never been published before, does not contain any statements that violate the law, does not violate the rights of others, is subject to the copyright which is exclusively held by the author.
If an article was prepared jointly by more than one author, each author submitting the manuscript warrants that he has been authorized by all co-authors to agree to copyright and license notices (agreements) on their behalf, and agrees to notify the co-authors of the terms of this policy. Techno Nusa Mandiri: Journal of Computing and Information Technology (TECHNO Nusa Mandiri) will not be held responsible for anything that may have occurred due to the author's internal disputes.