PEMBANGUNAN SISTEM INFORMASI INVENTORY MENGGUNAKAN LINEAR SEQUENTIAL MODEL UNTUK PENINGKATAN LAYANAN INVENTORY BARANG
Frieyadie Frieyadie (1*)

Manajemen Informatika AMIK BSI Jakarta


(*) Corresponding Author

Keywords:
Linear Sequential Model, Inventory, Information Systems
Abstract
Inventory data processing still using the book out and book incoming goods which have been provided by the company. Reporting is done by copying the data inventory of books into Microsoft Office Excel Search files that have been saved and retyping existing report requires a long time in the delivery of information. Each monthly reports in Excel format should be sent via email. The system can not know the make inventory data updates per day. existing inventory must be balanced with the need because the inventory is too much will result in the company bears the risk of damage and high storage costs in addition to the cost of investments. The purpose of the research conducted: Solve problems that arise in the inventory system, giving the proposed computerized system to inventory system, and the administration gets applications that can be used in the recording, processing, and storage, and reporting of IT goods in and out relatively accurately.
References
Faisal, A., & Bagio, T. H. (2011, Desember 10). Sistem Informasi. Retrieved from EJournal Universitas Narotama Surabaya: http://ejournal.narotama.ac.id/index.php/detail/1213/1042

Maryono, Y., Suyoto, & Paulus, M. (2010). Analisis Dan Perancangan Sistem Informasi Manajemen Aset TIK Studi Kasus: Asmi Santa Maria Yogyakarta. Jurnal Buana Informatika, 81-90.

Puspika, J., & Anita, D. (2012, September 1). INVENTORY CONTROL DAN PERENCANAAN PERSEDIAAN BAHAN BAKU PRODUKSI ROTI PADA PABRIK ROTI BOBO PEKANBARU. Jurnal Ekonomi, 1-5.

Putra, A. S., & Febriani, O. M. (2013). Sistem Informasi Monitoring Inventori Barang Pada Balai Riset Standardisasi Industri Bandar Lampung. Jurnal Informatika, 91-98.

Rifai, A., Sarno, R., & Sunaryono, D. (2011, Juli 1). Digital Libaray Institut Sepuluh Nopember. Retrieved from ITS Institutional Repository: http://digilib.its.ac.id/public/ITS-Undergraduate-15725-paper.pdf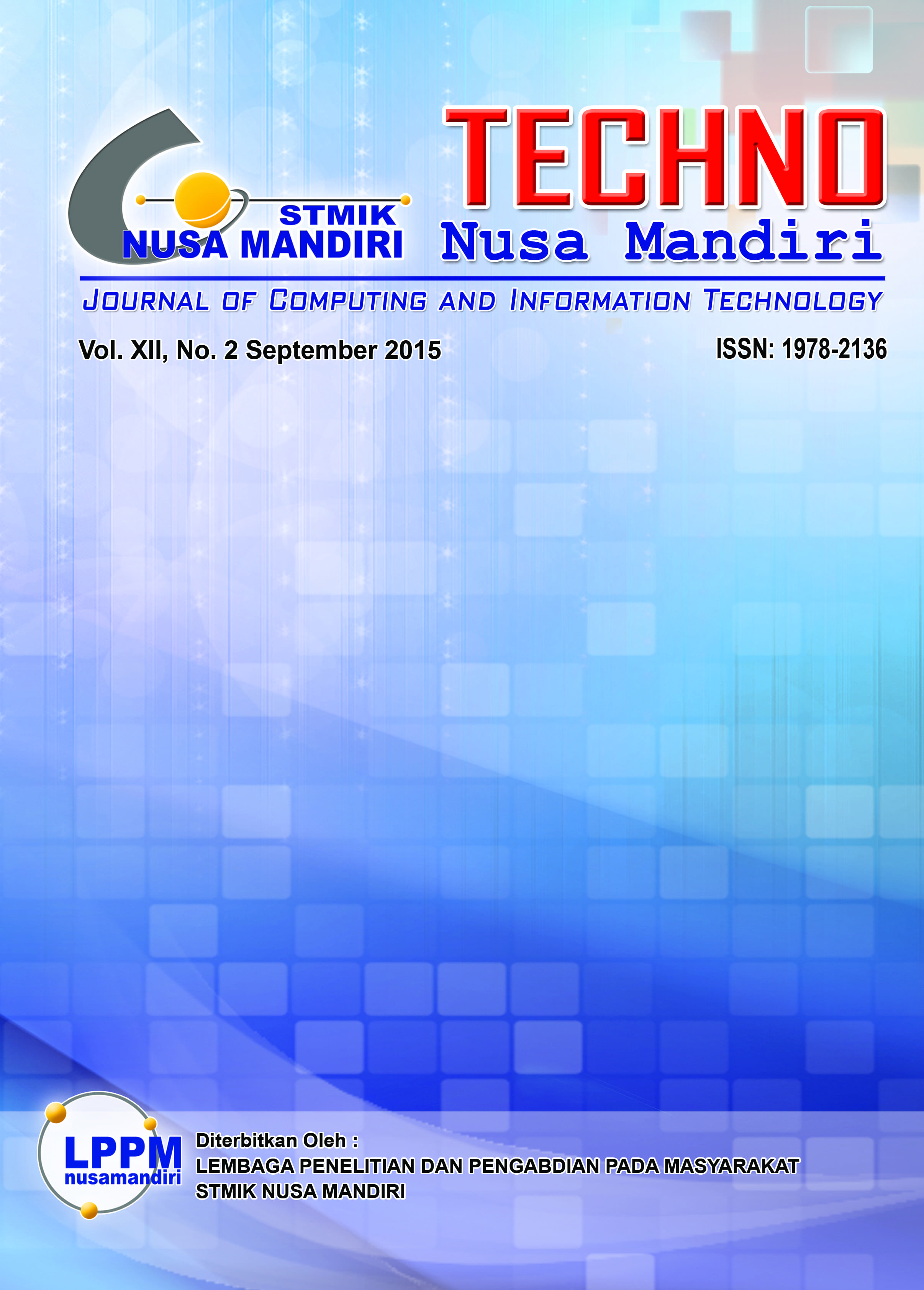 How to Cite
Frieyadie, F. (2015). PEMBANGUNAN SISTEM INFORMASI INVENTORY MENGGUNAKAN LINEAR SEQUENTIAL MODEL UNTUK PENINGKATAN LAYANAN INVENTORY BARANG. Jurnal Techno Nusa Mandiri, 12(2), 209-114. https://doi.org/10.33480/techno.v12i2.451
Article Metrics

Abstract viewed = 2029 times

PDF downloaded = 1728 times
The copyright of any article in the TECHNO Nusa Mandiri Journal is fully held by the author under the Creative Commons CC BY-NC license.
The copyright in each article belongs to the author.
Authors retain all their rights to published works, not limited to the rights set out on this page.
The author acknowledges that Techno Nusa Mandiri: Journal of Computing and Information Technology (TECHNO Nusa Mandiri) is the first to publish with a Creative Commons Attribution 4.0 International license (CC BY-NC).
Authors can enter articles separately, manage non-exclusive distribution, from manuscripts that have been published in this journal into another version (for example: sent to author affiliation respository, publication into books, etc.), by acknowledging that the manuscript was published for the first time in Techno Nusa Mandiri: Journal of Computing and Information Technology (TECHNO Nusa Mandiri);
The author guarantees that the original article, written by the stated author, has never been published before, does not contain any statements that violate the law, does not violate the rights of others, is subject to the copyright which is exclusively held by the author.
If an article was prepared jointly by more than one author, each author submitting the manuscript warrants that he has been authorized by all co-authors to agree to copyright and license notices (agreements) on their behalf, and agrees to notify the co-authors of the terms of this policy. Techno Nusa Mandiri: Journal of Computing and Information Technology (TECHNO Nusa Mandiri) will not be held responsible for anything that may have occurred due to the author's internal disputes.