SISTEM INFORMASI E-COMMERCE BAJU RAJUT MENGGUNAKAN METODE B2C
Linda Marlinda

Manajemen Informatika AMIK BSI Jakarta

Harsih Rianto

Manajemen Informatika AMIK BSI Jakarta
Keywords:
Marketing Results Crafts Knitting Materials, E-Commerce, Baju Rajut, B2C
Abstract
The technology of integrated information stored information in the form of documents with information that can be viewed on the monitor screen that consists of words, numbers, diagrams, videos, sounds, and images. Information technology can be utilized for marketing the much-loved crafts community. Particular crafts of knitting materials such as bags, shirts, bags HP, tablecloths and various other products requiring precise marketing tools and accurate that can be published and marketed throughout Indonesia. By working on competent parties especially in the world of IT (Information Technology) can provide to contribute to helping women artisans craft of knitting materials. So that is exactly what factors ultimately marketing information systems is made. 
Downloads
Download data is not yet available.
References
Andam, Ruth, Zorayda. 2003. E-Commerce and EBusiness.[http://www.apdip.net/publications/iespprimers/eprimer-ecom.pdf].

Jogiyanto, H.M. (2005). Analisis dan desain. Sistem Informasi. Pendekatan Tersturktur

Teori dan Praktek Aplikasi Bisnis. Yogyakarta :Andi Offset.

Kadir, Abdul, dkk. 2003. Pengenalan Teknologi Informasi. Yogyakarta : Andi Offset.

Kasiyan, dkk. (2009). Pembinaan Muatan Lokal Kerajinan Batik Warna Alami Bagi Guru-guru SLTP di Kabupatan Sleman Yogyakarta.[http://eprints.uny.ac.id/1260/artikel.doc].

Miarso, Yusufhadi. (2007). Teknologi yang Berwajah Humanis.[http://jurnal.pdii.lipi.go.id/admin/jurnal/69075058.pdf].

Weingand, Darlene E. (1999). Marketing/Planning Library and Information Service. USA: Libraries Unlimeted, inc.

Widodo, Suryarini. 2004. E-commerce. [http://wiwied.staff.gunadarma.ac.id/Downloads/files/9036/slide_E-Commerce.pdf].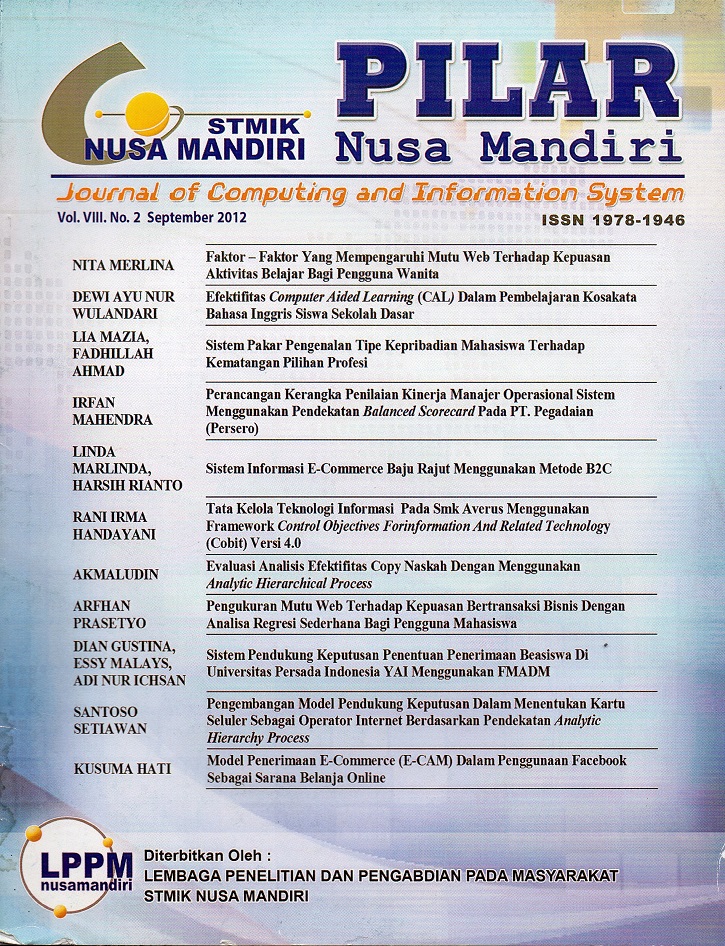 How to Cite
Marlinda, L., & Rianto, H. (2012). SISTEM INFORMASI E-COMMERCE BAJU RAJUT MENGGUNAKAN METODE B2C. Jurnal Pilar Nusa Mandiri, 8(2), 135-141. https://doi.org/10.33480/pilar.v8i2.484
Article Metrics

Abstract viewed = 17 times

PDF downloaded = 12 times