ANALISIS ALGORITMA KLASIFIKASI NEURAL NETWORK UNTUK DIAGNOSIS PENYAKIT KANKER PAYUDARA
Fitra Septia Nugraha (1*)

STMIK Nusa Mandiri Jakarta

Muhammad Ja'far Shidiq (2)

Ilmu Komputer STMIK Nusa Mandiri

Sri Rahayu (3)

Ilmu Komputer STMIK Nusa Mandiri


(*) Corresponding Author

Keywords:
kanker payudara, data mining, neural network
Abstract
Salahsatu penyebab kematian utama adalah kanker. Kanker yang paling umum pada wanita adalah kanker payudara. Penyakit ini jika dapat diketahui sejak dini dapat ditanggulangi bahkan dicegah. Teknik datamining klasifikasi dapat digunakan untuk memprediksi pasien mana yang terkena kanker payudara dan tidak dengan beberapa parameter yang ada. Dengan menggunakan metode Neural Network dan tools Rapid Miner 9.0 bertujuan untuk memprediksi diagnosis kanker payudara dan kemudian  menghasilkan nilai accuracy 71,83%, precision 81,08% dan recall 69,17% dengan AUC sebesar 0,806 yang artinya klasifikasi dinyatakan cukup sehingga pasien dengan parameter yang ada dapat diprediksi mana saja yang merupakan pasien kanker payudara dan mana yang bukan, sehingga pola ini dapat digunakan sebagai tolak ukur diagnosis sehingga dapat dideteksi lebih dini dan diharapkan dapat menekan angka kematian akibat kanker payudara.
Downloads
Download data is not yet available.
References
Ayer, T., Jagpreet Chhatwal, P., Oguzhan Alagoz, P., Charles E. Kahn, Jr, MD, M., Ryan W. Woods, MD, M., S., E., & Burnside, MD, MPH, M. (2010). Informatics in Radiology Comparison of Logistic Regression and Artificial Neural Network Models in.
Handayani, A., Jamal, A., & Septiandri, A. A. (2018). Evaluasi Tiga Jenis Algoritme Berbasis Pembelajaran Mesin untuk Klasifikasi Jenis Tumor Payudara. Jurnal Nasional Teknik Elektro Dan Teknologi Informasi (JNTETI). https://doi.org/10.22146/jnteti.v6i4.350
Hastuti, K. (2012). Analisis komparasi algoritma klasifikasi data mining untuk prediksi mahasiswa non aktif. 2012(Semantik), 241–249.
Hermawanti, L. (2012). Penerapan algoritma klasifikasi c4.5 untuk diagnosis penyakit kanker payudara. Jurnal Teknik UNISFAT, 7(1), 57–64.
Indriani, A. (2014). Klasifikasi Data Forum dengan menggunakan Metode Naïve Bayes Classifier. Seminar Nasional Aplikasi Teknologi Informasi (SNATI) Yogyakarta, 21 Juni 2014, ISSN: 1907, 5–10.
Karabatak, M., & Ince, M. C. Expert Systems with Applications An expert system for detection of breast cancer based on association rules and neural network. , 36 Expert Systems With Applications § (2009).
Khademi, F., & Jamal, S. M. (2016). RESEARCH PAPERS PREDICTING THE 28 DAYS COMPRESSIVE STRENGTH OF. I-Manager's Journal on Civil Engineering, 6(August), 1–7. https://doi.org/10.26634/jce.6.2.5936
Ma'arif, F., & Arifin, T. (2017). Optimasi Fitur Menggunakan Backward Elimination Dan Algoritma SVM Untuk Klasifikasi Kanker Payudara. JURNAL INFORMATIKA.
Nugraha, F. S., Shidiq, M. J., & Rahayu, S. (2019). ANALISIS ALGORITMA KLASIFIKASI NEURAL NETWORK UNTUK. Jurnal Pilar Nusa Mandiri, 15(1), 1–7.
Patrício, M. (2018). Breast Cancer Coimbra Data Set (Vol. 1).
Pusdatin. (2015). Situasi penyakit kanker 4. Kementrian Kesehatan RI. Jakarta.
Rachman, F., & Purnami, W. (2012). Perbandingan Klasifikasi Tingkat Keganasan Breast Cancer Dengan Menggunakan Regresi Logistik Ordinal Dan Support Vector Machine ( SVM ). Jurnal Sains Dan Seni Its.
Salama, G. I., Abdelhalim, M. B., & Zeid, M. A. E. (2012). Experimental comparison of classifiers for breast cancer diagnosis. Proceedings - ICCES 2012: 2012 International Conference on Computer Engineering and Systems. https://doi.org/10.1109/ICCES.2012.6408508
Sucipto, A. (2012). CREDIT PREDICTION WITH NEURAL NETWORK ALGORITHM. PROSIDING SEMINAR NASIONAL MULTI DISIPLIN ILMU & CALL FOR PAPERS UNISBANK (SENDI_U), 978-979–36(15), 1–10.
Wahyuni, E. S. (2017). PENERAPAN METODE SELEKSI FITUR UNTUK MENINGKATKAN HASIL DIAGNOSIS KANKER PAYUDARA. Simetris : Jurnal Teknik Mesin, Elektro Dan Ilmu Komputer. https://doi.org/10.24176/simet.v7i1.516
Yahya, S. (2012). Fuzzy Logic , Neural Network , Genetic Algorithm Knowledge Based Expert System and Computational Intelligence.
Zamani, A. M., Amaliah, B., & Munif, A. (2012). Implementasi Algoritma Genetika pada Struktur Backpropagation Neural Network untuk Klasifikasi Kanker Payudara. JURNAL TEKNIK ITS, Vol. 1 ISS.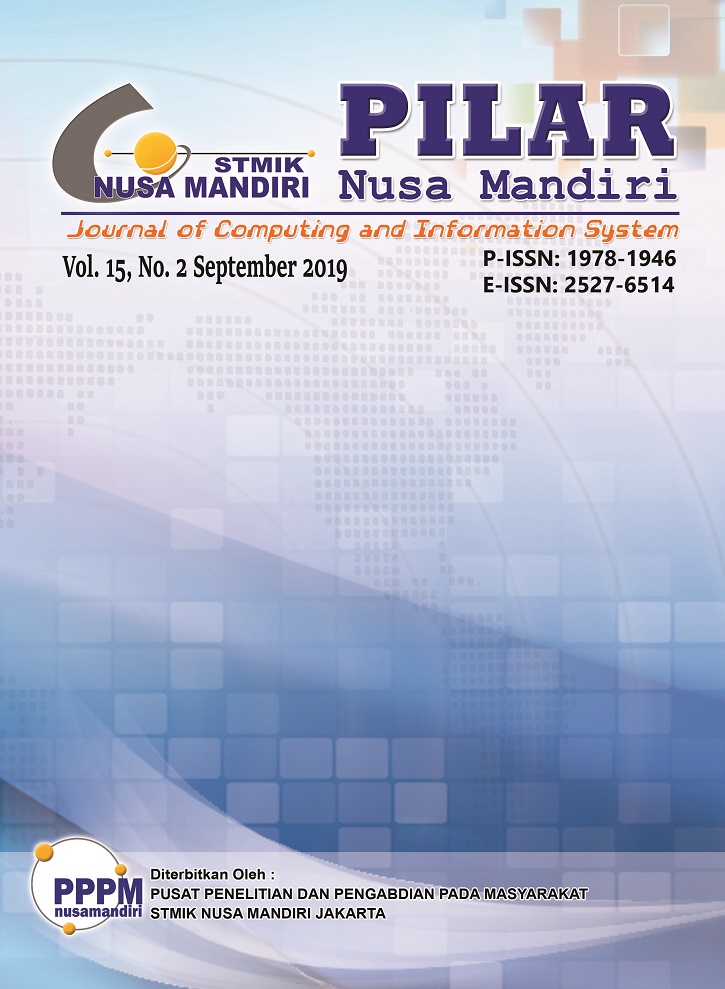 How to Cite
Nugraha, F., Shidiq, M., & Rahayu, S. (2019). ANALISIS ALGORITMA KLASIFIKASI NEURAL NETWORK UNTUK DIAGNOSIS PENYAKIT KANKER PAYUDARA. Jurnal Pilar Nusa Mandiri, 15(2), 149-156. https://doi.org/10.33480/pilar.v15i2.601
Article Metrics

Abstract viewed = 339 times

PDF downloaded = 517 times
Copyright (c) 2019 Fitra Septia Nugraha, Muhammad Ja'far Shidiq, Sri Rahayu
This work is licensed under a Creative Commons Attribution-NonCommercial 4.0 International License.
The Authors submitting a manuscript do so on the understanding that if accepted for publication, copyright of the article shall be assigned to the PILAR Nusa Mandiri journal as the publisher of the journal, and the author also holds the copyright without restriction.
Copyright encompasses exclusive rights to reproduce and deliver the article in all form and media, including reprints, photographs, microfilms, and any other similar reproductions, as well as translations. The reproduction of any part of this journal, its storage in databases, and its transmission by any form or media, such as electronic, electrostatic and mechanical copies, photocopies, recordings, magnetic media, etc. , are allowed with written permission from the PILAR Nusa Mandiri journal.
PILAR Nusa Mandiri journal, the Editors and the Advisory International Editorial Board make every effort to ensure that no wrong or misleading data, opinions, or statements be published in the journal. In any way, the contents of the articles and advertisements published in the PILAR Nusa Mandiri journal are the sole and exclusive responsibility of their respective authors and advertisers.