PERANCANGAN SISTEM INFORMASI PEMBAYARAN SPP TERPADU MENGGUNAKAN MODEL PROTOTIPE
Imam Sutoyo (1*)

Sistem Informasi Akuntansi Universitas Bina Sarana Informatika


(*) Corresponding Author

Keywords:
Integrated SPP Payment, Information System, Islamic Boarding School, Prototype Model
Abstract
SPP payment has become a main administrative activity in every educational institution, including Islamic Boarding School. SPP payment made only using manual procedures experience many obstacles. Therefore, a computer-based information system is needed to overcome these obstacles. This study aims to develop an SPP Payment System using the prototype model. The objective of this study is an Information Systems that can be applied practically in Islamic Boarding School to overcome obstacles in manual processing so as to increase the effectiveness and efficiency of the administration of SPP payments.
Downloads
Download data is not yet available.
References
Al-shabi, M. (2013). UML Modeling for General Educational Services in KSA integrated with GIS. IJCSI International Journal of Computer Science Issues, 10(2), 272–279. Retrieved from https://www.researchgate.net/profile/Mohammed_Al-Shabi/publication/328789548_UML_Modeling_for_Health_Information_Services_Integrated_with_GIS/links/5be308f0299bf1124fc1a4d4/UML-Modeling-for-Health-Information-Services-Integrated-with-GIS.pdf
Ashari, A. (2014). Sistem Informasi Pembayaran Sumbangan Pembinaan Pendidikan (SPP) pada Sekolah Menengah Atas Negeri 2 Pacitan. Indonesian Journal on Networking and Security, 3(3), 65–70.
Erinawati, H. D. (2012). Pembangunan Sistem Informasi Pembayaran Sekolah Pada Sekolah Menegah Atas (SMA) Negeri 1 Rembang Berbasis Web. Journal Speed – Sentra Penelitian Engineering Dan Edukasi, 4(4), 40–46. Retrieved from http://ejurnal.net/portal/index.php/speed/article/view/817
Ganpatrao Sabale, R. (2012). Comparative Study of Prototype Model For Software Engineering With System Development Life Cycle. IOSR Journal of Engineering, 02(07), 21–24. https://doi.org/10.9790/3021-02722124
Kumar, M., & Rashid, E. (2018). An Efficient Software Development Life cycle Model for Developing Software Project. International Journal of Education and Management Engineering, 8(6), 59–68. https://doi.org/10.5815/ijeme.2018.06.06
Maryam, S. (2019). Rancang Bangun Sistem Informasi Administrasi Pembayaran Spp dan Administrasi Sekolah Pada Smk Pgri 11 Ciledug menggunakan Metodologi Berorientasi Obyek. 6(1), 7–10.
Mubarok, A., Purnomo, E., & Noor, C. M. (2019). Pengembangan Aplikasi Pembayaran Sumbangan Pengembangan Pendidikan Berbasis Web. Jurnal Responsif, 1(1), 6–15. https://doi.org/10.1017/CBO9781107415324.004
Mufariya, Ilhamsyah, S. R. (2019). Rancang Bangun Sistem Informasi Sumbangan Pembinaan Pendidikan ( Spp ) Dengan Teknologi Sms Gateway. 07(02).
Narahawarin, S. J., Amrullah, F., Informatika, T., & Malang, U. M. (2019). Desain sistem informasi administrasi paud menuju akreditasi berbasis desktop 1,2). (September).
Pressman, R. S. (2012). Software-Engineering 7th ED by Roger S. Pressman. In Software Engineering A Practitioner's Approach.
Rahardjo, J. S. D., Nurmaesah, N., & Nuradilah, S. E. (2019). Sistem Informasi Pengelolaan Data Keuangan Siswa Berbasis Web di SDIT Ibnu Arkom. 9(1), 131–136.
Rochman, A., Sidik, A., & Nazahah, N. (2018). Perancangan Sistem Informasi Administrasi Pembayaran SPP Siswa Berbasis Web di SMK Al-Amanah. Jurnal Sisfotek Global, 8(1), 51–56. https://doi.org/10.1002/ijc.23959
Santono, H. (2019). Implementasi Sistem Informasi Pembayaran SPP Berbasis Web, Barcode, dan SMS Gateway. Prosiding Seminar Nasional Teknologi Informasi Dan Komunikasi (SENATIK), 2(1), 255–260.
Sudirman, H., Retnadi, E., & Rina, K. (2012). Perancangan Program Aplikasi Transaksi Pembayaran SPP, UTS Dan UAS Menggunakan Metode Analisis Dan Desain Berorientasi Objek Model Unified Approach. Algoritma, 9, 1–9. https://doi.org/10.1109/50.661365
Sutoyo, I. (2019). Laporan Akhir Penelitian Mandiri. Bekasi.
Yuanita, S. (2010). Sistem Informasi Administrasi Pembayaran Iuran Bulanan ( SPP ) Dan Dana Sumbangan Pendidikan ( DSP ) Siswa Taman Kanak- Kanak Negeri Pembina Kecamatan Pringkuku. Speed, 2(4), 42–47. Retrieved from http://www.ijns.org/journal/index.php/speed/article/view/887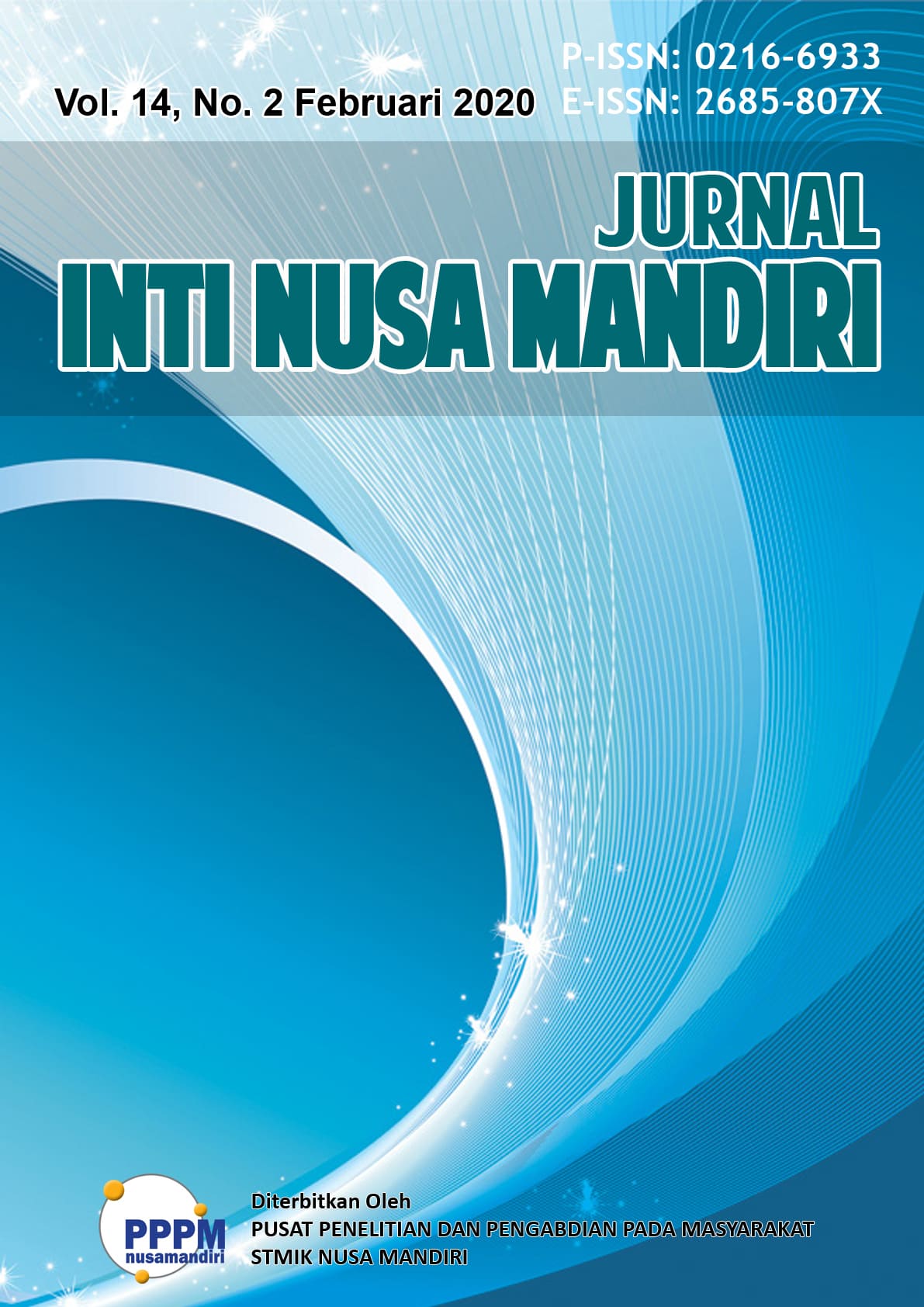 How to Cite
Sutoyo, I. (2020). PERANCANGAN SISTEM INFORMASI PEMBAYARAN SPP TERPADU MENGGUNAKAN MODEL PROTOTIPE. INTI Nusa Mandiri, 14(2), 145-152. https://doi.org/10.33480/inti.v14i2.1125
Article Metrics

Abstract viewed = 2262 times

PDF downloaded = 825 times
Penulis yang menerbitkan jurnal ini menyetujui ketentuan berikut:
1. Penulis memegang hak cipta dan memberikan hak jurnal mengenai publikasi pertama dengan karya yang dilisensikan secara bersamaan di bawah Creative Commons Attribution 4.0 International License. yang memungkinkan orang lain untuk berbagi karya dengan pengakuan atas karya penulis dan publikasi awal pada jurnal.
2. Penulis dapat memasukkan pengaturan kontrak tambahan yang terpisah untuk distribusi non-eksklusif dari versi jurnal yang diterbitkan (misalnya, mengirimkannya ke repositori institusional atau menerbitkannya dalam sebuah buku), dengan pengakuan atas publikasi awalnya pada Jurnal.
3. Penulis diizinkan dan didorong untuk memposting karya mereka secara online (misalnya, dalam penyimpanan institusional atau di situs web mereka) sebelum dan selama proses pengiriman, karena hal itu dapat menghasilkan pertukaran yang produktif, serta kutipan dari karya yang diterbitkan sebelumnya.