ANALISIS MANFAAT E- AGRICULTURAL MENGUNAKAN METODE SEMPLS (STUDY KASUS LIMAKILO.ID)
Andi Arfian (1*)

Mahasiswa Sistem Informasi STMIK Nusa Mandiri


(*) Corresponding Author

Keywords:
Delone And Mclean, E Commerce, SEMPLS, SmartPLS
Abstract
In the era of development of the world of digital information can be one of the answers to the challenges of the era in the current era. Answered, it answered the discussion in Indonesia, which was occasionally still haunted by the distribution chain that was too long and resulted in price spikes. One way is by implementing an online-based sales system and one of them is a partner with a profit sharing system between farmers and buyers. In its management, starting from capital lending, agricultural management, post-harvest processing to sales, packaging, to shipping. Each product supports the Limakilo.id website and the main objective is the empowerment of the Limakilo.id website for farmers in rural areas. In this study, researchers used the da Mclean delone model by using the sem method and qualitative pls tools. The purpose of this research is to study e-commerce. Most of the fields of agriculture can help improve the economics of farmers and villages in obtaining information on data but done through interviews, observations and direction of farmers and farmers of agricultural businesses in empowering the economy of rural communities in agriculture. The study analyzed activities regarding agricultural output in several villages in Sukamakmur District, Bogor Regency, West Java, using the system development model with the Delone and Mclean model and management data using SmartPls. From the results of this study it can be concluded that the limakilo e-commerce research. Id by Farmers also supports the agricultural economy in the villages is still very low in its utilization. Many are of the opinion and difficulties in carrying out these sales activities.
Downloads
Download data is not yet available.
References
Arfian, A. (2017). ANALISA EFEKTIFITAS DAN KEPUASAN PENGGUNA WEBSITE KECAMATAN JONGGOL Andi. Jurnal Inkofar, Volume 1 N(9), 1689–1699. https://doi.org/10.1017/CBO9781107415324.004
Arfian, A. (2020). ANALISIS MANFAAT E- AGRICULTURAL MENGUNAKAN METODE SEMPLS (STUDY KASUS LIMAKILO.ID).
Bpp ISMPI. (2009). Kondisi Pertanian Indonesia saat ini " Berdasarkan Pandangan Mahasiswa Pertanian Indonesia ." Www.Mb.Ipb.Ac.Id.
Catur Yuantari, M., Kurniadi, A., & Kesehatan, F. (2016). Pemanfaatan Teknologi Informasi Untuk Meningkatkan Pemasaran Hasil Pertanian Di Desa Curut Kecamatan Penawangan Kabupaten Grobogan Jawa Tengah. Techno.COM, 15(1), 43–47.
Ghozali. (2012). Aplikasi Analisis Multivariate dengan Program IBM SPSS 20. Semarang: Universitas Dionogoro.
Saputro, P. H., Budiyanto, D., & Santoso, J. (2016). Model Delone and Mclean Untuk Mengukur Kesuksesan E-Government Kota Pekalongan. Scientific Journal of Informatics, 2(1), 1–8. https://doi.org/10.15294/sji.v2i1.4523
Sulthoni, A. (2016). Sistem Informasi E-Commerce Pemasaran Hasil Pertanian Desa Kluwan Berbasis Web. Jurnal Sistem Informasi Sistem, 1–11.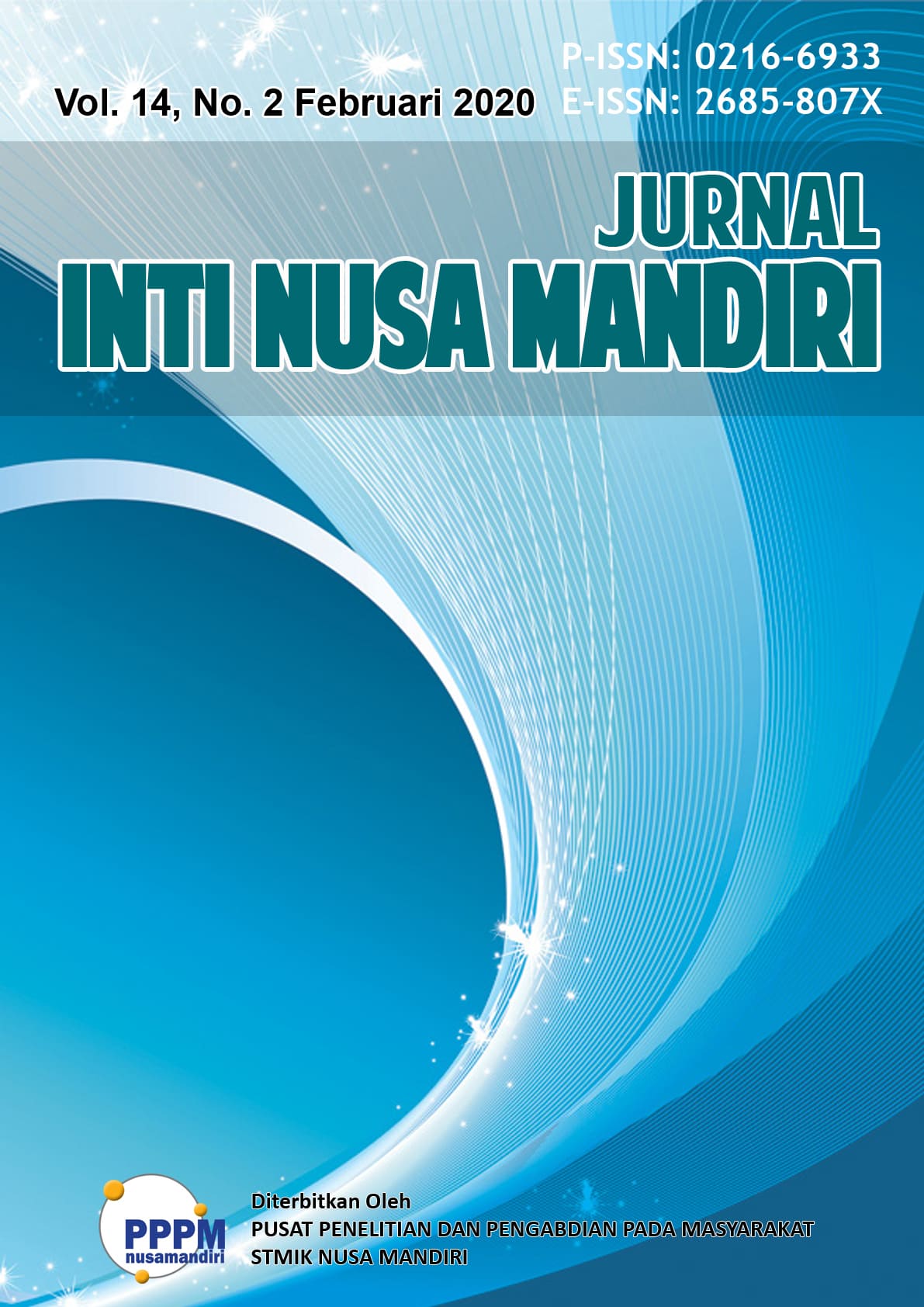 How to Cite
Arfian, A. (2020). ANALISIS MANFAAT E- AGRICULTURAL MENGUNAKAN METODE SEMPLS (STUDY KASUS LIMAKILO.ID). INTI Nusa Mandiri, 14(2), 175-180. https://doi.org/10.33480/inti.v14i2.1142
Article Metrics

Abstract viewed = 117 times

PDF downloaded = 92 times
Penulis yang menerbitkan jurnal ini menyetujui ketentuan berikut:
1. Penulis memegang hak cipta dan memberikan hak jurnal mengenai publikasi pertama dengan karya yang dilisensikan secara bersamaan di bawah Creative Commons Attribution 4.0 International License. yang memungkinkan orang lain untuk berbagi karya dengan pengakuan atas karya penulis dan publikasi awal pada jurnal.
2. Penulis dapat memasukkan pengaturan kontrak tambahan yang terpisah untuk distribusi non-eksklusif dari versi jurnal yang diterbitkan (misalnya, mengirimkannya ke repositori institusional atau menerbitkannya dalam sebuah buku), dengan pengakuan atas publikasi awalnya pada Jurnal.
3. Penulis diizinkan dan didorong untuk memposting karya mereka secara online (misalnya, dalam penyimpanan institusional atau di situs web mereka) sebelum dan selama proses pengiriman, karena hal itu dapat menghasilkan pertukaran yang produktif, serta kutipan dari karya yang diterbitkan sebelumnya.