IMPLEMENTASI METODE WARD DAN PEPPARD DALAM PERENCANAAN SI/TI DI KANTOR ARSIP DAN PERPUSTAKAAN KOTA TASIKMALAYA
Melisa Winda Pertiwi (1*)

STMIK Nusa Mandiri


(*) Corresponding Author

Keywords:
Future Applications Portfolio, Information technology planning, Ward and Peppard
Abstract
Development Strategy of Information Systems and Technology (SI/TI) in an organization of Government as well as a pemanfaata absolutely necessary to continue to improve the performance of employees in running business processes such as in the areas of coaching and Development Office of the archives and library of the town of Tasikmalaya don't have a business process excellence. Therefore, design kerangaka do it with in the planning SI/TI Using the method of analysis of the ward and Peppard has been in the form of results define strategy SI/TI The design of the framework of planning strategies SI/TI featuring the resulting Roadmap to future Application Portfolio. This future application can serve as a reference for the development of information systems are integrated to support the needs of the SI/TI Office of archives and library of the town of Tasikmalaya.
Downloads
Download data is not yet available.
References
Hakim, M. M. (2017). Information System Strategic Planning in IS / IT Service Provider. JIPI (Jurnal Ilmiah Penelitian Dan Pembelajaran Informatika), 2(2), 118–127. https://doi.org/10.29100/jipi.v2i2.395
John Ward and Joe Peppard. (2002). Strategic planning for an information system. Medinfo. MEDINFO (Vol. 8 Pt 2). https://doi.org/10.1016/0024-6301(90)90122-k
Pemerintah Kota Tasikmalaya. (2017). Rencana Strategis Kantor Arsip dan Perpustakaan Daerah Kota Tasikmalaya.
Peraturan Undang - undang Republik Indonesia. (2009). UNDANG-UNDANG REPUBLIK INDONESIA NOMOR 43 TAHUN 2009 TENTANG KEARSIPAN.
Pertiwi, M. W. (2019). Laporan Akhir Penelitian Mandiri. Jakarta.
Richardus Eko Indrajit. (2011). Tata Kelola Teknologi Informasi (It Governance). CommIT (Communication and Information Technology) Journal, 3(1), 1. https://doi.org/10.21512/commit.v3i1.505
Sriminangga, N. P., & Samopa, F. (2017). Strategic Planning of Information Systems / Information Technology at KOMINFO Department in Malang. Master's Program in Management of Technology, Institut Teknologi Sepuluh Nopember, 5(1).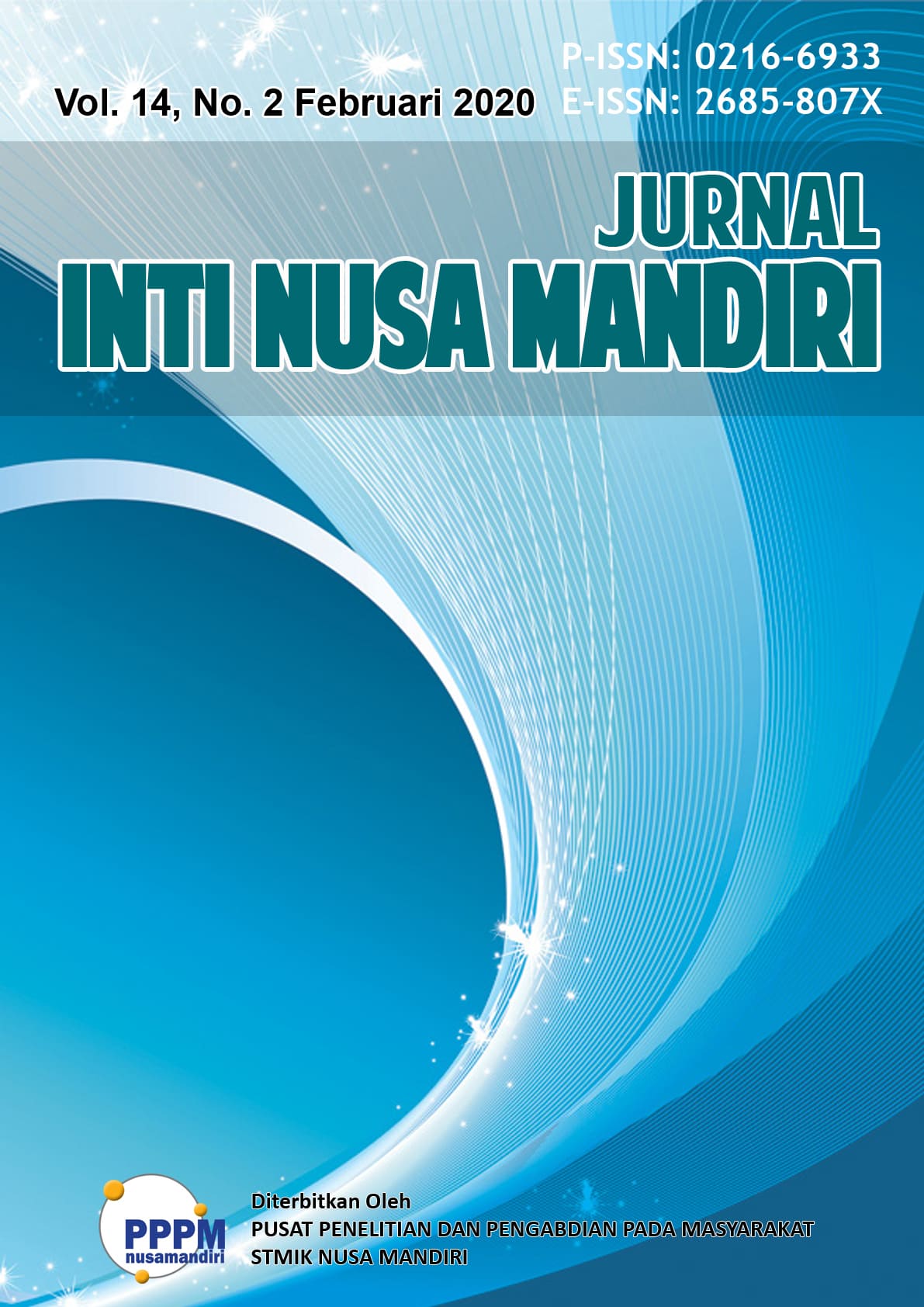 How to Cite
Pertiwi, M. (2020). IMPLEMENTASI METODE WARD DAN PEPPARD DALAM PERENCANAAN SI/TI DI KANTOR ARSIP DAN PERPUSTAKAAN KOTA TASIKMALAYA. INTI Nusa Mandiri, 14(2), 127-132. https://doi.org/10.33480/inti.v14i2.1152
Article Metrics

Abstract viewed = 217 times

PDF downloaded = 149 times
Penulis yang menerbitkan jurnal ini menyetujui ketentuan berikut:
1. Penulis memegang hak cipta dan memberikan hak jurnal mengenai publikasi pertama dengan karya yang dilisensikan secara bersamaan di bawah Creative Commons Attribution 4.0 International License. yang memungkinkan orang lain untuk berbagi karya dengan pengakuan atas karya penulis dan publikasi awal pada jurnal.
2. Penulis dapat memasukkan pengaturan kontrak tambahan yang terpisah untuk distribusi non-eksklusif dari versi jurnal yang diterbitkan (misalnya, mengirimkannya ke repositori institusional atau menerbitkannya dalam sebuah buku), dengan pengakuan atas publikasi awalnya pada Jurnal.
3. Penulis diizinkan dan didorong untuk memposting karya mereka secara online (misalnya, dalam penyimpanan institusional atau di situs web mereka) sebelum dan selama proses pengiriman, karena hal itu dapat menghasilkan pertukaran yang produktif, serta kutipan dari karya yang diterbitkan sebelumnya.