IMPLEMENTASI VIRTUAL LOCAL AREA NETWORK DENGAN SWITCH PORT PADA PT. MAXINDO MITRA SOLUSI JAKARTA
Reza Rizky Ramadhan (1)

Teknologi Komputer Universitas Bina Sarana Informatika

Bambang Wijonarko (2*)

Teknologi Komputer Universitas Bina Sarana Informatika


(*) Corresponding Author

Keywords:
VLAN, Switch, NDLC, Network Development Life Cycle
Abstract
PT. Maxindo Mitra Solusi, is a company engaged in internet service providers (ISP) in the work of PT. Maxindo has many divisions, so it is necessary to divide the network segmentation from each division, requires one switch one division device so that it consumes a lot of the remaining switch ports and also purchases a lot of network devices, for that it is needed Implementation of network design that can divide network segments in a physical device. like a layer three switch. For the above problems, PT. Maxindo Mitra Solusi applies the concept of a Virtual Local Area Network (VLAN) with a manageable switch device that functions as a network divider between divisions, to help the Network Development process at PT. Maxindo Mitra Solusi uses the Network Development Life Cycle (NDLC) development method. VLAN implementation can facilitate network troubleshooting and maintenance, and become more organized in providing IP addresses, avoiding broadcast domains, increasing security and increasing network performance.
Downloads
Download data is not yet available.
References
Akbar, M., Yamin, M., & Aksara, L. F. (2017). Analisis Dan Implementasi VLAN (Virtual Local Area Network) Pada Jurusan Teknik Informatika Fakultas Teknik Universitas Halu Oleo. SemanTIK, 3(2), 181–186. Retrieved from http://ojs.uho.ac.id/index.php/semantik/article/view/3666
Efendi, R., & Widiasari, I. R. (2012). Pengujian Kinerja Jaringan Pada Virtual Local Area Network ( VLAN ) Menggunakan Virtual Trunking Protocol ( VTP ). Jurnal Teknologi Informasi Dan Komunikasi, 3(1), 1–7. Retrieved from http://ejurnal.provisi.ac.id/index.php/JTIKP/article/view/65
Fahri, M., Fiade, A., & Suseno, H. B. (2018). Simulasi Jaringan Virtual Local Area Network (VLAN) Menggunakan Pox Controller. Jurnal Teknik Informatika, 10(1), 85–90. https://doi.org/10.15408/jti.v10i1.6821
Rianafirin, K., & Teguh Kurniawan, M. (2017). Rianafirin, Kartika, and Mochamad Teguh Kurniawan. "Design network security infrastructure cabling using network development life cycle methodology and ISO/IEC 27000 series in Yayasan Kesehatan (Yakes) Telkom Bandung. In 2017 4th International Conference on Computer Applications and Information Processing Technology (CAIPT). (pp. 1–6). Bali: IEEE. https://doi.org/https://doi.org/10.1109/CAIPT.2017.8320681
Rizky Ramadhan, R., & Wijonarko, B. (2019). Laporan Akhir Penelitian Mandiri: Implementasi Virtual Local Area Network Dengan Switch Port Pada Pt. Maxindo Mitra Solusi Jakarta. Jakarta.
Simanjuntak, F., & Mubarakah, N. (2015). Perancangan Virtual Local Area Network (VLAN) Dengan Dynamic Routing Menggunakan Cisco Packet Tracer 5.33. Singuda Ensikom, 10(28), 110–114. Retrieved from https://jurnal.usu.ac.id/singuda_ensikom/article/view/7809
Sutanto, P. H. (2018). Perancangan Virtual Local Area Network Berbasis VTP Dan Inter-Vlan Routing. Jurnal Teknik Komputer, IV(2), 125–134. https://doi.org/10.31294/jtk.v4i2.3662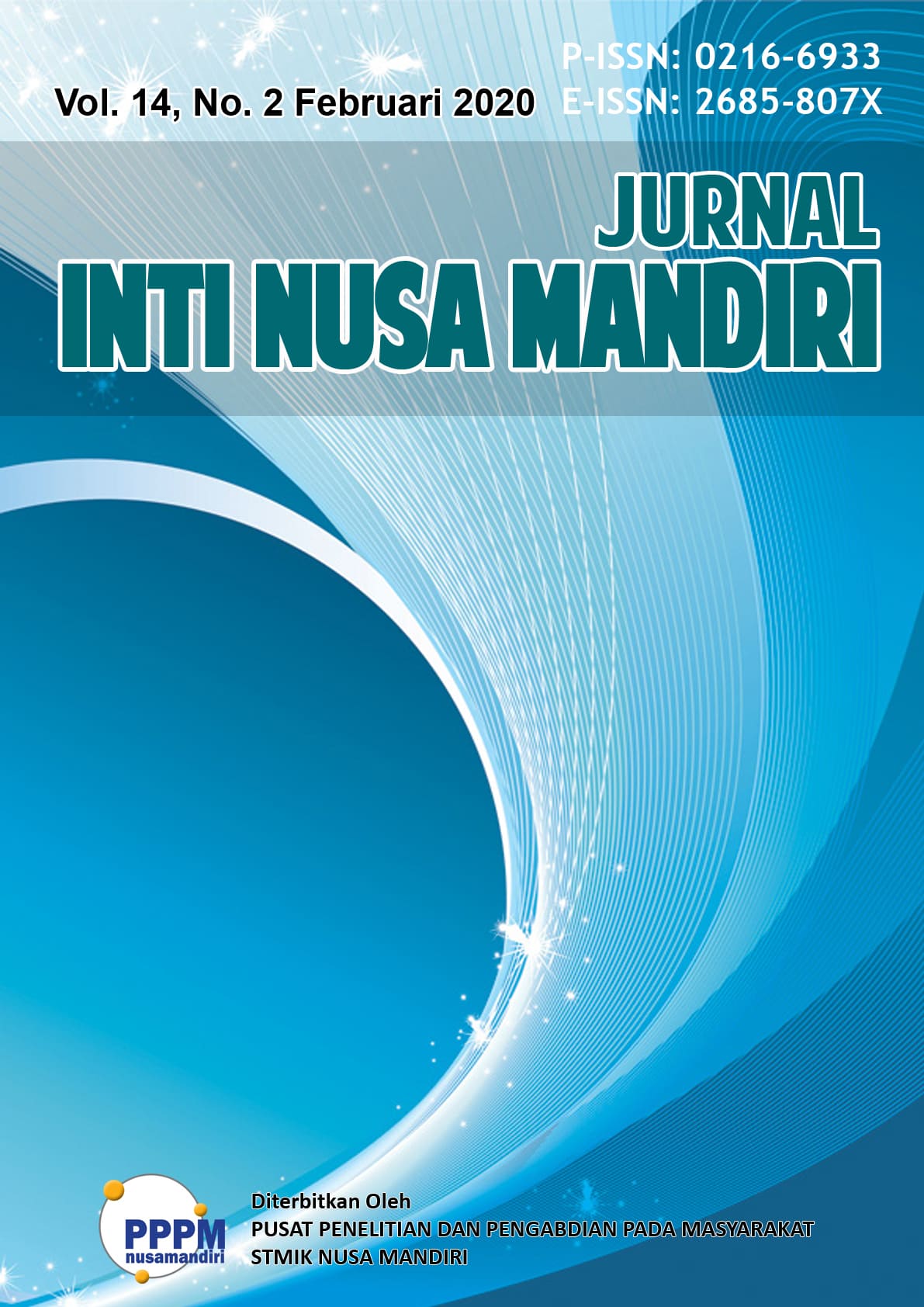 How to Cite
Ramadhan, R., & Wijonarko, B. (2020). IMPLEMENTASI VIRTUAL LOCAL AREA NETWORK DENGAN SWITCH PORT PADA PT. MAXINDO MITRA SOLUSI JAKARTA. INTI Nusa Mandiri, 14(2), 203-210. https://doi.org/10.33480/inti.v14i2.1225
Article Metrics

Abstract viewed = 302 times

PDF downloaded = 238 times
Penulis yang menerbitkan jurnal ini menyetujui ketentuan berikut:
1. Penulis memegang hak cipta dan memberikan hak jurnal mengenai publikasi pertama dengan karya yang dilisensikan secara bersamaan di bawah Creative Commons Attribution 4.0 International License. yang memungkinkan orang lain untuk berbagi karya dengan pengakuan atas karya penulis dan publikasi awal pada jurnal.
2. Penulis dapat memasukkan pengaturan kontrak tambahan yang terpisah untuk distribusi non-eksklusif dari versi jurnal yang diterbitkan (misalnya, mengirimkannya ke repositori institusional atau menerbitkannya dalam sebuah buku), dengan pengakuan atas publikasi awalnya pada Jurnal.
3. Penulis diizinkan dan didorong untuk memposting karya mereka secara online (misalnya, dalam penyimpanan institusional atau di situs web mereka) sebelum dan selama proses pengiriman, karena hal itu dapat menghasilkan pertukaran yang produktif, serta kutipan dari karya yang diterbitkan sebelumnya.