ANALISA DAN IMPLEMENTASI JARINGAN WIRELESS MAC ADDRESS MENGGUNAKAN FILTERING PADA PT. FAYA KUNTURA AGUNG KONSULTINDO
Dipo Era Ginanti (1*)

Universitas Nusa Mandiri

Ade Christian (2)

Universitas Nusa Mandiri

Taopik Hidayat (3)

Universitas Nusa Mandiri


(*) Corresponding Author

Keywords:
Hotspot Log In, MAC Address Filtering, Mikrotik, Security
Abstract
The evolution of this era is become advancing as well for Technology Information and Telecommunications. This evolution has been explored in Wireless Technology, even in all devices such as smartphones, tablets and laptops can use it. The Internet has tremendously impacted culture and it become a daily necessity by people in the world, as the internet can support the process of communicating, learning, and data transfer. Places that use wireless networks have started a lot such as schools, universities, and companies. Yet, wireless networks still have security that is quite vulnerable because it can be misused by other parties. To minimize this problem we can use MAC Address Filtering. MAC Address Filtering is a technique for prevents access to a network if the MAC Address of the devices attempting to connect does not match any addresses marked as allowed. MAC Address Filtering has 2 tasks of verification so before it does filtering, the user must log in first using the MAC Address that has been registered and then enter the username and password if it matches the MAC Address then the login will be successful, otherwise, it will be rejected. This wireless MAC Address Filtering security can avoid hackers who can enter the wireless network which makes a slow network.
Downloads
Download data is not yet available.
References
Ferdiansyah, D. (2017). Perancangan Jaringan Vlan ( Virtual Local Area Network ) Kementerian Komunikasi Dan Informatika RI Jakarta. Simnasiptek 2017, 1, 1–6
Firmansyah, F., Purnama, R. A., & Astuti, R. D. (2021). Optimalisasi Keamanan Wireless Menggunakan Filtering Mac Address. Jurnal Teknologi Informasi: Jurnal Keilmuan Dan Aplikasi Bidang Teknik Informatika, 15(1), 25–33. https://doi.org/10.47111/jti.v15i1.1910
Gani, A. G. (2014). Konfigurasi Sistem Keamanan Jaringan. Jurnal Sistem Informasi Universitas Suryadarma, 6(1), 134–149. https://doi.org/10.35968/jsi.v6i1.280
Gunawan, T., Kurniawan, D. F., Studi, P., Informatika, M., Dian, A., & Cendikia, C. (2020). Rancang Bangun Jaringan Wireless Local Area Network ( WLAN ) Menggunakan Metode Routing Statik Pada SMPN 7 Pesawaran. Jurnal Informatika Software Dan Network, 1(1), 41–47.
Hidayat, A. S., Nuha, U., Nuryamin, Y., & Suleman, S. (2021). Quality Of Service Filtering Dengan Metode Filtering Mac Address Jaringan Wireless. Jurnal Teknologi Informatika Dan Komputer, 7(1), 52–59. https://doi.org/10.37012/jtik.v7i1.502
Ontoseno, R. D. H., Haqqi, M. N., & Hatta, M. (2017). Limitasi Pengguna Akses Internet Berdasarkan Kuota Waktu Dan Data Menggunakan Pc Router Os Mikrotik. Teknika: Engineering and Sains Journal, 1(2), 125. https://doi.org/10.51804/tesj.v1i2.134.125-130
Purnama, R. A. (2019). Optimalisasi Keamanan Jaringan Wireless Menggunakan Firewall Filtering MAC Address. Indonesian Journal On Networking and Security, 8(4), 43–47.
Purnama, R. A. (2019). Optimalisasi Keamanan Jaringan Wireless Menggunakan Firewall Filtering MAC Address. Indonesian Journal On Networking and Security, 8(4), 43–47.
Rachmadi, T. (2020). Jaringan Komputer. TIGA Ebook.
Santoso, J. D. (2019). Keamanan Jaringan Nirkabel Menggunakan Wireless Intrusion Detection System. Infos, 1(3), 44–50.
Siddik, M. (2019). Implementasi Mikrotik Router Board 750 Sebagai Firewall Blok Situs Pada Jaringan Lan. JURTEKSI (Jurnal Teknologi Dan Sistem Informasi), 3(2), 70–75. https://doi.org/10.33330/jurteksi.v3i2.304
Syafrizal, M. ( U. A. Y. (2020). Pengantar Jaringan Komputer. C.V. ANDI OFFSET (Penerbit ANDI).
Syaiful, & Novia, C. (2018). Perancangan Jaringan Internet Dengan Hotspot Mikrotikdan Mac Address Filtering. 12(02), 13–24.
Wulandari, R. (2016). Analisis Qos (Quality Of Service) Pada Jaringan Internet (Studi Kasus: Upt Loka Uji Teknik Penambangan Jampang Kulon -LIPI). Jurnal Teknik Informatika Dan Sistem Informasi, 2(2), 162–172. https://doi.org/10.28932/jutisi.v2i2.454
Yuliandoko, H. (2018). Jaringan Komputer Wire dan Wireless Beserta Penerapannya. CV BUDI UTAMA.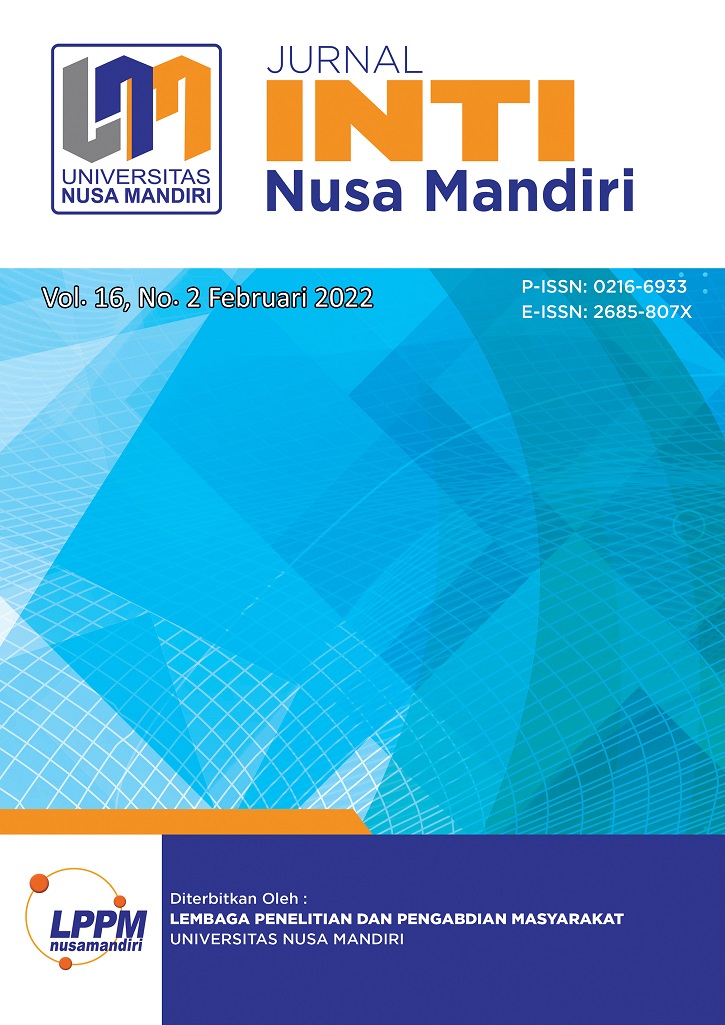 How to Cite
Ginanti, D. E., Christian, A., & Hidayat, T. (2022). ANALISA DAN IMPLEMENTASI JARINGAN WIRELESS MAC ADDRESS MENGGUNAKAN FILTERING PADA PT. FAYA KUNTURA AGUNG KONSULTINDO. INTI Nusa Mandiri, 16(2), 79-84. https://doi.org/10.33480/inti.v16i2.2781
Article Metrics

Abstract viewed = 697 times

PDF downloaded = 432 times
Copyright (c) 2022 Dipo Era Ginanti, Ade Chistian, Taopik Hidayat
This work is licensed under a Creative Commons Attribution-NonCommercial 4.0 International License.
Penulis yang menerbitkan jurnal ini menyetujui ketentuan berikut:
1. Penulis memegang hak cipta dan memberikan hak jurnal mengenai publikasi pertama dengan karya yang dilisensikan secara bersamaan di bawah Creative Commons Attribution 4.0 International License. yang memungkinkan orang lain untuk berbagi karya dengan pengakuan atas karya penulis dan publikasi awal pada jurnal.
2. Penulis dapat memasukkan pengaturan kontrak tambahan yang terpisah untuk distribusi non-eksklusif dari versi jurnal yang diterbitkan (misalnya, mengirimkannya ke repositori institusional atau menerbitkannya dalam sebuah buku), dengan pengakuan atas publikasi awalnya pada Jurnal.
3. Penulis diizinkan dan didorong untuk memposting karya mereka secara online (misalnya, dalam penyimpanan institusional atau di situs web mereka) sebelum dan selama proses pengiriman, karena hal itu dapat menghasilkan pertukaran yang produktif, serta kutipan dari karya yang diterbitkan sebelumnya.