THE DEPLOYMENT OF REVENUE CYCLE ACCOUNTING INFORMATION SYSTEM IN THE SERVICE BUSINESSES OWNED BY THE REGIONAL GOVERNMENT OF WEST NUSA TENGGARA PROVINCE
Rafa Karimah, Karimah (1)

Universitas Gunadarma

Izzari Amperaningrum (2)

Universitas Gunadarma

Ninuk Wiliani (3*)

Institut Teknologi dan Bisnis BRI


(*) Corresponding Author

Keywords:
income cycles, service business, room reservation, local government, accounting information system
Abstract
Based on Law Number 25/2009 on Public Services, the West Nusa Tenggara Government established Wisma NTB. However, the lack of interest from the government to stay at Wisma NTB while they are in Jakarta is the main cause of the inability of the NTB Liaison Agency to reach its local revenue target. In connection with the reason and the latest technological development, information systems are urgently needed by the agency to assist its operational and decision-making activities. This study aims to determine the current income cycle provided at Wisma NTB, to evaluate the effectiveness and efficiency of the ongoing cycle, and to determine whether or not to develop the available system. The research methods used for data compilation consisted of field observations, interviews, and literature studies. The system development method used is Extreme Programming (XP), software development procedures launched through practical principles and techniques. Meanwhile, the internal control evaluation applies COSO. The results reveal the prevailing control system has been proper and in line with prevailing environmental control and monitoring standards. However, weaknesses can be found in control, risk assessment, information, and communication activities. The elements are related to technology because the current income cycle worked less than optimal. Thus, it is necessary to develop the system. The developments include the provision of a room reservation system, a payment gateway system, and a system for recording online transactions so such transactions can be accessed anytime, anywhere.
Downloads
Download data is not yet available.
References
R. DEPKES, "Peraturan Presiden Republik Indonesia Nomor 81 Tahun 2010," Peratur. Pemerintah Republik Indones. Nomor 26 Tahun 1985 Tentang Jalan, vol. 1999, no. 1, pp. 1–5, 2004.
S. R. Chambers, Undang Undang Republik Indonesia Nomor 25 Tahun 2009 Tentang Pelayanan Publik, no. April. 2009.
B. Dan, L. Teknis, P. Nusa, and T. Barat, "Peraturan Gubernur Nusa Tenggara Barat Nomor 6 Tahun 2014," 2008.
P. Daerah, P. Nusa, and T. Barat, "Peraturan Gubernur Nusa Tenggara Barat Nomor 29 Tahun 2018," pp. 1–13, 2012.
J. A. Hall, "Transaction Cycles and Business Processes," Account. Inf. Syst., pp. 154–192, 2011.
R. S. Wazlawick, Object-Oriented Analysis, and Design for Information System. Elsevier Inc., 2013.
P. S. Foote, Accounting Information Systems, Fifth Edition, vol. 22. 2007.
I. Aleksander, "Analysis and Design of Information Systems," J. Inf. Technol., vol. 1, no. 4, pp. 61–61, 1986, DOI: 10.1057/jit.1986.38.
T. Pratiwi, "Perancangan dan Implementasi Sistem Informasi Akuntansi Penerimaan Kas Mahasiswa di Poiteknik TEDC Bandung (Dengan Menggunakan PHP Dan MySQL).pdf," TEDC, vol. 13, no. 2 Mei, pp. 195–200, 2019.
G. Kusumaningdiyah, D. Saptantinah, and M. R. Sunarko, "Evaluasi Penerapan Sistem Informasi Akuntansi Siklus Pendapatan Dengan Program Iris Menggunakan Pendekatan Metode System Development Life Cycle," J. Akunt. dan Sist. Teknol. Inf., vol. 12, pp. 186–192, 2016, [Online]. Available: http://ejurnal.unisri.ac.id/index.php/Akuntansi/article/view/1231.
A. Mujahidah, Faridah, and Thanwain, "Analisis Sistem Informasi Akuntansi Penjualan Pada PT Hadji Kalla (Toyota) Cabang Pinrang," J. Ris. Ed. V Unibos Makasar, vol. 4, no. 007, pp. 88–100, 2016.
N. S. Meme Susilowati, "Desain Sistem Informasi Akuntansi Terintegrasi Lima Siklus Pada Usaha Jasa Laundry," J. Teknol. Inf. dan Ind., vol. I, no. 2, pp. 65–72, 2018.
F. O. Voets, J. J. SOndakh, and A. Wangkar, "Analisis SIstem Informasi Akuntansi Siklus Penjualan dan Penerimaan Kas Untuk Meningkatkan Pengendalian Intern," J. Berk. Ilm. Efisiensi, vol. 16, no. 4, pp. 191–202, 2016.
D. N. Anggreni, T. Lestari, and U. B. Surabaya, "Analisis Sistem Informasi Akuntandi Atas Siklus Pendapatan Untuk Meningkatkan Pengendalian Intern Pada AJB Bumiputera 1912 Kantor Pemasaran Asuransi Jiwa Korporasi Cabang Darmo Surabaya," Equity, vol. 4, no. 2, pp. 23–33, 2018.
A. Tundung, T. K. Priyambodo, and A. Armawi, "Tingkat Ketahanan Sistem Informasi Administrasi Kependudukan (Studi pada Dinas Kependudukan dan Pencatatan Sipil Kota Yogyakarta)," J. Ketahanan Nas., vol. 23, no. 2, p. 21, Aug. 2017, doi: 10.22146/jkn.26345.
A. Sani and N. Wiliani, "Faktor Kesiapan Dan Adopsi Teknologi Informasi Dalam Konteks Teknologi Serta Lingkungan Pada Umkm Di Jakarta," JITK (Jurnal Ilmu Pengetah. dan Teknol. Komputer), vol. 5, no. 1, pp. 49–56, 2019, doi: 10.33480/jitk.v5i1.616.
N. Wiliani and S. Zambi, "Rancang Bangun Aplikasi Kasir Tiket Dengan Visual Basic 2010 dan MySql," J. Rekayasa Inf., vol. 6, no. 2, p. 77, 2017, doi: 10.1017/CBO9781107415324.004.
R. Valero-Fernandez, D. J. Collins, K. P. Lam, C. Rigby, and J. Bailey, "Towards Accurate Predictions of Customer Purchasing Patterns," in IEEE CIT 2017 - 17th IEEE International Conference on Computer and Information Technology, 2017, DOI: 10.1109/CIT.2017.58.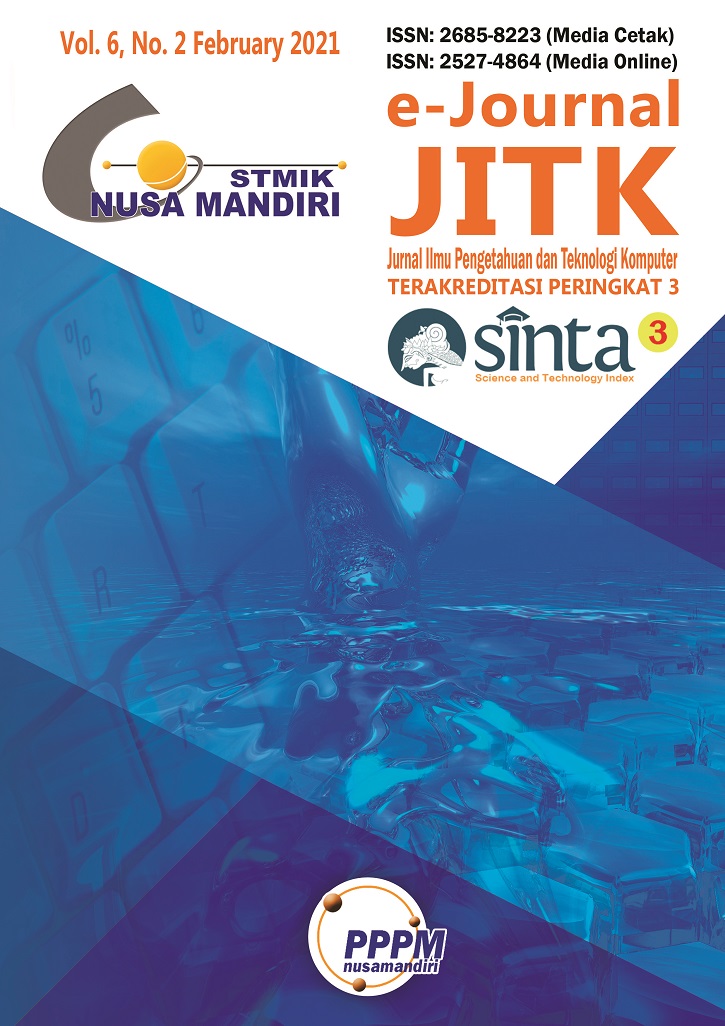 How to Cite
[1]
R. Karimah, I. Amperaningrum, and N. Wiliani, "THE DEPLOYMENT OF REVENUE CYCLE ACCOUNTING INFORMATION SYSTEM IN THE SERVICE BUSINESSES OWNED BY THE REGIONAL GOVERNMENT OF WEST NUSA TENGGARA PROVINCE", jitk, vol. 6, no. 2, pp. 217-226, Feb. 2021.
Article Metrics

Abstract viewed = 180 times

PDF downloaded = 129 times
Copyright (c) 2021 Rafa Karimah, Karimah, Izzari Amperaningrum, Ninuk Wiliani
This work is licensed under a Creative Commons Attribution-NonCommercial 4.0 International License.