PENGEMBANGAN MODEL ADOPSI TEKNOLOGI INFORMASI TERHADAP MODEL PENERIMAAN TEKNOLOGI DIANTARA UMKM
DEVELOPMENT OF INFORMATION TECHNOLOGY ADOPTION MODEL FOR TECHNOLOGY ACCEPTANCE MODEL AMONG UMKM
Asrul Sani (1)

Teknik Informatika, STMIK Widuri

Ninuk Wiliani (2*)

Institut Teknologi dan Bisnis BRI

Agus Budiyantara (3)

Teknik Informatika, STMIK Widuri

Nur Nawaningtyas (4)

Teknik Informatika, STMIK Widuri


(*) Corresponding Author

Keywords:
IT Adoption, TAM, Model Development
Abstract
This study is preliminary in the development of a new model whereby combining and integrating an existing model, the adoption model of information technology with the technology acceptance model. The development of this model is done by using the logic of the IPO (input-process-output) and the causal model by combining, adopting, and adapting the previous model. The effect of the formed path consists of 16 links and produces 11 variables. The existing variables will be formed into 55 indicators, where one variable creates five indicators. The process of developing this model will assist researchers in testing the information technology adoption model and the technology acceptance model so that it will get the effect that occurs in both models. This research will also contribute to further research, especially in the study of information systems, which will provide a theoretical basis for modeling. Besides, the transparency of the development and proposed models, especially in the instruments used, will be taken into consideration in conducting further research .
Downloads
Download data is not yet available.
References
Abdullah, M. A., Manan, A., & Khadijah, S. (2011). Small and Medium Enterprises and Their Financing Patterns: Evidence from Malaysia. Journal of Economic Cooperation & Development, 32(2).
Anfara Jr, V. A., & Mertz, N. T. (2014). Theoretical frameworks in qualitative research: Sage publications.
Chairoel, L., Widyarto, S., & Pujani, V. (2015). ICT adoption in affecting organizational performance among Indonesian SMEs. The International Technology Management Review, 5(2), 82-93.
Chatzoglou, P., & Chatzoudes, D. (2016). Factors affecting e-business adoption in SMEs: an empirical research. Journal of Enterprise Information Management, 29(3), 327-358.
Davis, F. D. (1989). Perceived usefulness, perceived ease of use, and user acceptance of information technology. MIS quarterly, 319-340.
Davis, W. S., & Yen, D. C. (1998). The Information System Consultant's Handbook: Systems Analysis and Design: CRC press.
DeLone, W. H., & McLean, E. R. (2003). The DeLone and McLean model of information systems success: a ten-year update. Journal of management information systems, 19(4), 9-30.
Eddy, D. M., Hollingworth, W., Caro, J. J., Tsevat, J., McDonald, K. M., & Wong, J. B. (2012). Model transparency and validation a report of the ISPOR-SMDM Modeling Good Research Practices Task Force–7. Medical Decision Making, 32(5), 733-743.
Eggers, F., Kraus, S., Hughes, M., Laraway, S., & Snycerski, S. (2013). Implications of customer and entrepreneurial orientations for SME growth. Management Decision, 51(3), 524-546.
Filser, M., & Eggers, F. (2014). Entrepreneurial orientation and firm performance: A comparative study of Austria, Liechtenstein and Switzerland. South African Journal of Business Management, 45(1), 55-65.
Jugdev, K., & Müller, R. (2005). A retrospective look at our evolving understanding of project success. Project Management Journal, 36(4), 19-31.
Kellogg, W. (2004). Logic model development guide. Michigan: WK Kellogg Foundation.
Koperasi, K. (2018). http://www.depkop.go.id/uploads/tx_rtgfiles/SANDINGAN_DATA_UMKM_2012-2017_.pdf.
Lantu, D. C., Triady, M. S., Utami, A. F., & Ghazali, A. (2016). Pengembangan model peningkatan daya saing UMKM di Indonesia: Validasi kuantitatif model. The Asian Journal of Technology Management, 15(1), 77.
Nugroho, M. A. (2015). Impact of government support and competitor pressure on the readiness of SMEs in Indonesia in adopting the information technology. Procedia Computer Science, 72, 102-111.
Petter, S., DeLone, W., & McLean, E. (2008). Measuring information systems success: models, dimensions, measures, and interrelationships. European Journal of Information Systems, 17(3), 236-263.
Sani, A., Rahman, T. K. A., Subiyakto, A. a., & Wiliani, N. (2019). Combining Statistical and Interpretative Analyses for Testing Readiness and IT Adoption Questionnaire. Paper presented at the SEWORD FRESSH #1.
Sani, A., Subiyakto, A., & Rahman, T. K. A. (2018). Integration of the Technology Readiness and Adoption Models for Assessing IT Use among SMEs in Indonesia.
Sani, A., & Wiliani, N. (2019). FAKTOR KESIAPAN DAN ADOPSI TEKNOLOGI INFORMASI DALAM KONTEKS TEKNOLOGI SERTA LINGKUNGAN PADA UMKM DI JAKARTA. JITK (Jurnal Ilmu Pengetahuan Dan Teknologi Komputer), 5(1), 49-56.
Sani, A., & Wiliani, N. (2019). Laporan Akhir Penelitian Mandiri. Jakarta.
Subiyakto, A., & Ahlan, A. R. (2014). Implementation of Input-Process-Output Model for Measuring Information System Project Success. TELKOMNIKA Indonesian Journal of Electrical Engineering, 12(7), 5603-5612. doi:http://doi.org/10.11591/ijeecs.v12.i7.pp5603-5612
Zhu, K., Kraemer, K., & Xu, S. (2003). Electronic business adoption by European firms: a cross-country assessment of the facilitators and inhibitors. European Journal of Information Systems, 12(4), 251-268.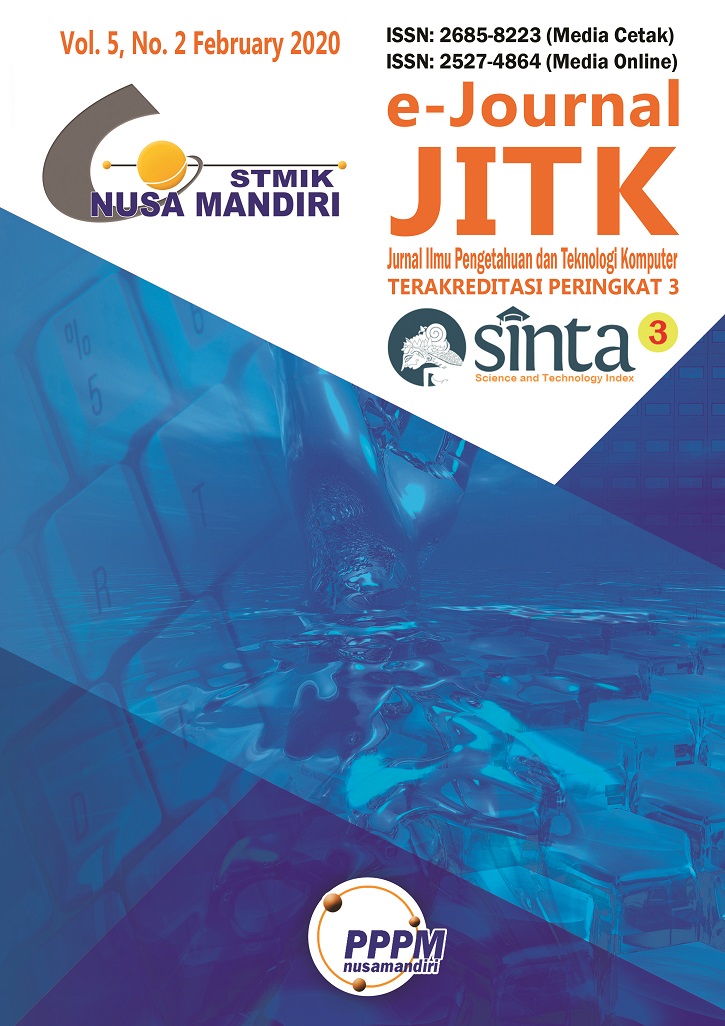 How to Cite
[1]
A. Sani, N. Wiliani, A. Budiyantara, and N. Nawaningtyas, "PENGEMBANGAN MODEL ADOPSI TEKNOLOGI INFORMASI TERHADAP MODEL PENERIMAAN TEKNOLOGI DIANTARA UMKM", jitk, vol. 5, no. 2, pp. 151-158, Feb. 2020.
Article Metrics

Abstract viewed = 2551 times

PDF downloaded = 2208 times