SISTEM PENUNJANG KEPUTUSAN KENAIKAN JABATAN PADA PT. MITRA INFOSARANA MENGGUNAKAN METODE PROFILE MATCHING
Rahmat Hidayat (1*)

Sistem Informasi STMIK Nusa Mandiri

Nita Merlina (2)

Sistem Informasi STMIK Nusa Mandiri


(*) Corresponding Author

Keywords:
Profile matching method, Decision Support System, process of promotion positions
Abstract
Accordance with the rules set by PT. Infosarana partners in the process of promotion positions, it would require the criteria to determine who will be elected to fulfill the vacant position. In the process of determining the position required a decision support system. One method that can be used for the Decision Support System is using the Profile Matching. This research will be appointed a case of finding the best solution base on the competence of employees at PT. Infosarana Partner Profile matching method. This method was chosen because it is able to select the best candidates from a number of existing employees, in this case, meant that candidates eligible employees whose positions are available based on the criteria specified. Research carried out by finding the weights for each attribute, such examples are the intellectual capacity aspects, aspects of work attitudes, and behavioral aspects, then carried ranking process that will determine the optimal alternative, the best employees 
Downloads
Download data is not yet available.
References
Fathansyah, Ir.2002.Basis Data. Bandung: Informatika

Henry, S. 2004. Manajemen Sumber Daya Manusia, Edisi III. Yogyakarta:Unit Penerbitan dan Percetakan Akademi Manajemen Perusahaan YKPN

Jogianto, H.M. 2005. Analisa dan Desain Sistem Informasi, Edisi Kedua.Yogyakarta: Andi

Kusrini. 2007. Konsep dan Aplikasi Sistem Pendukung Keputusan.Yogyakarta: Andi

Kusrini dan Awaludin , Sistem Pendukung Keputusan Evaluasi Kinerja Karyawan Untuk Promosi Jabatan. Yogyakarta

Nugroho, Adi. 2010. Rekayasa Perangkat Lunak.Yogyakarta: Andi

Rusmawan, Uus. 2007. Konsep Dan Implementasi Visual Basic. Jakarta: PT. Elex Media Komputindo.

Trigiyanti, Endang. 2010. Pembuatan Program Aplikasi Untuk Mengidentifikasi Hama dan Pemyakit Padi. Semarang : Universitas Diponogoro

Turban, E. 2003. Decision Support Systems and Intelegent Syatems (Sistem Pendukung Keputusan dan Sistem Cerdas) Jilid I. Yogyakarta: Andi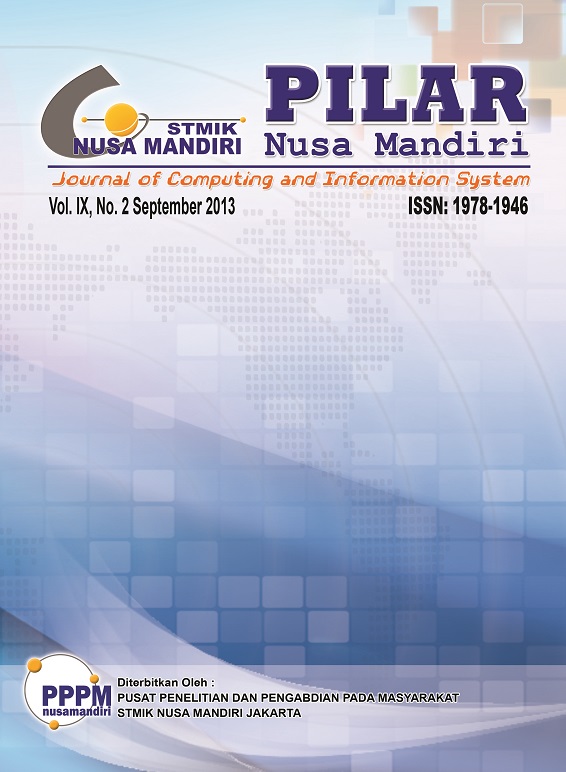 How to Cite
Hidayat, R., & Merlina, N. (2013). SISTEM PENUNJANG KEPUTUSAN KENAIKAN JABATAN PADA PT. MITRA INFOSARANA MENGGUNAKAN METODE PROFILE MATCHING. Jurnal Pilar Nusa Mandiri, 9(2), 131-140. https://doi.org/10.33480/pilar.v9i2.136
Article Metrics

Abstract viewed = 98 times

PDF downloaded = 72 times
The Authors submitting a manuscript do so on the understanding that if accepted for publication, copyright of the article shall be assigned to the PILAR Nusa Mandiri journal as the publisher of the journal, and the author also holds the copyright without restriction.
Copyright encompasses exclusive rights to reproduce and deliver the article in all form and media, including reprints, photographs, microfilms, and any other similar reproductions, as well as translations. The reproduction of any part of this journal, its storage in databases, and its transmission by any form or media, such as electronic, electrostatic and mechanical copies, photocopies, recordings, magnetic media, etc. , are allowed with written permission from the PILAR Nusa Mandiri journal.
PILAR Nusa Mandiri journal, the Editors and the Advisory International Editorial Board make every effort to ensure that no wrong or misleading data, opinions, or statements be published in the journal. In any way, the contents of the articles and advertisements published in the PILAR Nusa Mandiri journal are the sole and exclusive responsibility of their respective authors and advertisers.