PEMBANGUNAN MEDIA KONSULTASI PENYAKIT GIGI MENGGUNAKAN METODE DEMSPTER-SHAFER
Ernest Dwi Saptorini (1*)

Sistem Informasi STMIK Nusa Mandiri Jakarta

Nita Merlina (2)

Sistem Informasi STMIK Nusa Mandiri Jakarta


(*) Corresponding Author

Keywords:
Dempster-Shafer Method, The Dempster-Shafer inference engine, The expert system
Abstract
Media Consulting Dental  Disease Using Dempster-Shafer Method. The expert system could serve as a consultant which would advise the user as well ass the assistant for the expert. One way to prevent and help to detect persons' level of risk dental disease, by making the anexpert system as a consultant media in order that could minimize the risk of serious illness or death resulting. Diagnostic result of dental disease expert system is equal with The Dempster-Shafer inference engine. The conclusion is an expert system has been built could be applied for dental disease diagnostic.
Downloads
Download data is not yet available.
References
Amborowati, Armadyah. 2007. Pengantar Pemrograman Terstruktur. Yogyakarta: Andi Offset.

Arhami, Muhammad. 2005. Konsep Dasar Sistem Pakar. Yogyakarta: Andi Offset.

Artanti, F.R. 2004. Perancangan dan Pembuatan Sistem Pakar Hama dan Pengemdalian untuk Tanaman

Hortikultura. Skripsi. Diambil dari: http://aksara.pcr.ac.id/.../read.pdf.php?...id. (22 April 2014)

A.S Rosa dan Shalahuddin M. 2011. Modul Pembelajaran Rekayasa Perangkat Lunak (Tersktruktur & Berorientasi Objek). Bandung: Modula.

Dahria, Muhammad, dkk. 2013. Sistem Pakar Metode Dempster-Shafer untuk menentukan jenis gangguan perkembangan pada anak. ISSN: 1978-6603 Vol. 12, No.1. Diambil dari: http://lppm.trigunadharma.ac.id/publish/hplUjurnal 12-1-2013_1 Dahria new.pdf. (22 April 2014)

Desiani, Anita, dan Muhammad Arhami. 2006. Konsep Kecerdasan Buatan. Yogyakarta: Andi Offset.

Frieyadi. 2007. Belajar Sendiri Pemrograman Database Menggunakan FoxPro 9.0. Jakarta: Elex Media Komputindo.

Kurniawan, Budi. 2011. Skripsi Aplikasi Sistem Pakar Berbasis Web untuk Diagnosa penyakit Gigi dan Mulut. Diambil dari: www.uin.ac.id/skripsi/BUDIKURNIAWAN/gigi_dan_mulut.pdf. (09 Agustus 2011)

Kusrini. 2008. APLIKASI SISTEM PAKAR menentukan Faktor Pepastian Pengguna dengan Metode Kuantifikasi Pertanyaan. Yogyakarta: Andi Offset.

Ladjamudin. 2005. Analisis dan Desain Sistem Informasi. Yogyakarta: Graha Ilmu.

Machfoedz, ircham. 2008. Menjaga Kesehatan Gigi dan Mulut. Yogyakarta: Fitramaya.

Merlina, Nita dan Rahmat Hidayat. 2012. Perancangan Sistem Pakar. Studi Kasus: Sistem Pakar Kenaikan Jabatan. Bogor: Ghalia Indonesia.

Minartiningtyas, Brigida. 2013. Pengembangan Sistem Pakar. Diambil dari: http://informatika.web.id/pengembangan-sistem-pakar.htm. (22 April 2014)

Nurlaela, Fetty. 2013. Sistem Pakar untuk mendeteksi penyakit gigi pada manusia. ISSN: 1979-9330 Vol.10 No.4. Diambil dari: www.scribd.com/mobile/doc/18659 8957. (22 April 2014)

Nurzaman, Dini Destiani, Dhami Johar Dhamiri. 2012. Pembangunan Aplikasi Sistem Pakar untuk Diagnosis Penyakit Gigi dan Mulut Pada Manusia. ISSN: 2302-7339 Vol. 09 No. 12. Diambil dari: http://jurnal.sttgarut.ac.id/index.php/ algoritma/article/view/13. (22 April 2014)

Sugiono. (2010). Metode Penelitian Bisnis (Pendekatan Kuantitatif, Kualitatif, dan R&D). Bandung: Alfabeta.

Sulistyohati, Aprilia dan Taufiq Hidayat. 2008. Aplikasi Sistem Pakar Diagnosa Penyakit Ginjal dengan Metode Dempster-Shafer. ISSN: 1907-5022. Diambil dari: http://journal.uii.ac.id/index.php/sna ti/article/view/720/675. (22 April 2014)

Turban, Efraim, Jay Aronson dan Ting Peng Liang. 2005. Decision Support Systems and Intelligent Systems. Yogyakarta: Andi Offset.

Wahyuni, Elyza gustri dan Widodo Prijodiprojo. 2013. Prototype Sistem Pakar untuk Mendeteksi Tingkat Resiko Penyakit Jantung Koroner dengan Metode Dempster-Shafer (Studi Kasus: RS.PKU Muhammadiyah Yogyakarta). IJCCS, Vol.7, No.2, pp. 133~144. Diambil dari:
http://jurnal.ugm.ac.id/index.php/ijccs/article/view/. (22 April 2014).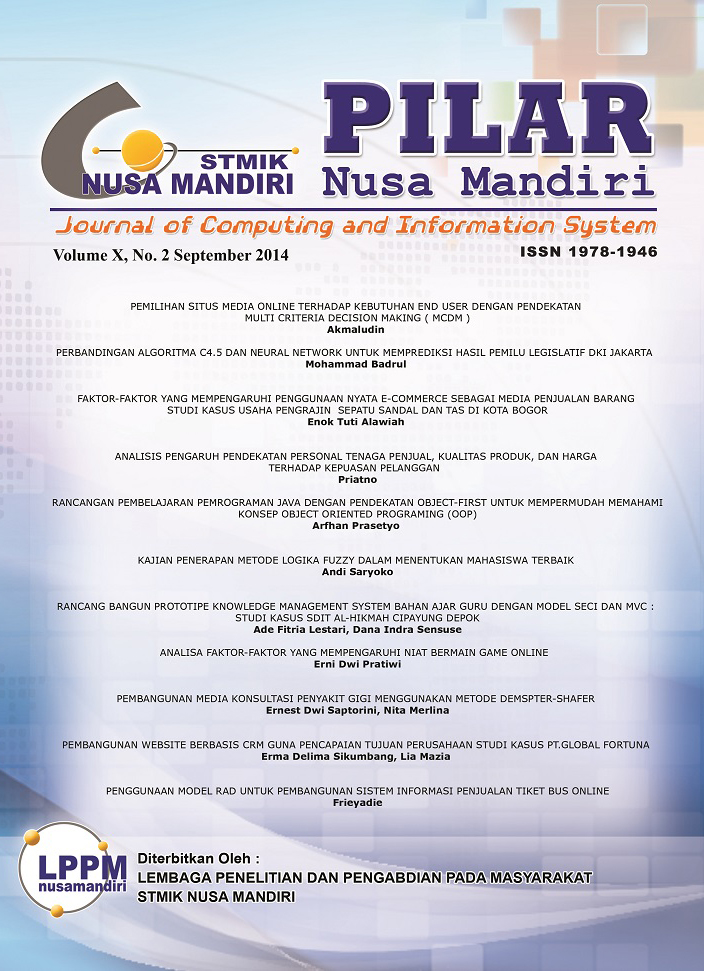 How to Cite
Saptorini, E., & Merlina, N. (2014). PEMBANGUNAN MEDIA KONSULTASI PENYAKIT GIGI MENGGUNAKAN METODE DEMSPTER-SHAFER. Jurnal Pilar Nusa Mandiri, 10(2), 197-206. https://doi.org/10.33480/pilar.v10i2.477
Article Metrics

Abstract viewed = 41 times

PDF downloaded = 43 times
The Authors submitting a manuscript do so on the understanding that if accepted for publication, copyright of the article shall be assigned to the PILAR Nusa Mandiri journal as the publisher of the journal, and the author also holds the copyright without restriction.
Copyright encompasses exclusive rights to reproduce and deliver the article in all form and media, including reprints, photographs, microfilms, and any other similar reproductions, as well as translations. The reproduction of any part of this journal, its storage in databases, and its transmission by any form or media, such as electronic, electrostatic and mechanical copies, photocopies, recordings, magnetic media, etc. , are allowed with written permission from the PILAR Nusa Mandiri journal.
PILAR Nusa Mandiri journal, the Editors and the Advisory International Editorial Board make every effort to ensure that no wrong or misleading data, opinions, or statements be published in the journal. In any way, the contents of the articles and advertisements published in the PILAR Nusa Mandiri journal are the sole and exclusive responsibility of their respective authors and advertisers.