SISTEM INFORMASI E-COMMERCE BAJU RAJUT MENGGUNAKAN METODE B2C
Linda Marlinda (1*)

Manajemen Informatika AMIK BSI Jakarta

Harsih Rianto (2)

Manajemen Informatika AMIK BSI Jakarta


(*) Corresponding Author

Keywords:
Marketing Results Crafts Knitting Materials, E-Commerce, Baju Rajut, B2C
Abstract
The technology of integrated information stored information in the form of documents with information that can be viewed on the monitor screen that consists of words, numbers, diagrams, videos, sounds, and images. Information technology can be utilized for marketing the much-loved crafts community. Particular crafts of knitting materials such as bags, shirts, bags HP, tablecloths and various other products requiring precise marketing tools and accurate that can be published and marketed throughout Indonesia. By working on competent parties especially in the world of IT (Information Technology) can provide to contribute to helping women artisans craft of knitting materials. So that is exactly what factors ultimately marketing information systems is made. 
Downloads
Download data is not yet available.
References
Andam, Ruth, Zorayda. 2003. E-Commerce and EBusiness.[http://www.apdip.net/publications/iespprimers/eprimer-ecom.pdf].

Jogiyanto, H.M. (2005). Analisis dan desain. Sistem Informasi. Pendekatan Tersturktur

Teori dan Praktek Aplikasi Bisnis. Yogyakarta :Andi Offset.

Kadir, Abdul, dkk. 2003. Pengenalan Teknologi Informasi. Yogyakarta : Andi Offset.

Kasiyan, dkk. (2009). Pembinaan Muatan Lokal Kerajinan Batik Warna Alami Bagi Guru-guru SLTP di Kabupatan Sleman Yogyakarta.[http://eprints.uny.ac.id/1260/artikel.doc].

Miarso, Yusufhadi. (2007). Teknologi yang Berwajah Humanis.[http://jurnal.pdii.lipi.go.id/admin/jurnal/69075058.pdf].

Weingand, Darlene E. (1999). Marketing/Planning Library and Information Service. USA: Libraries Unlimeted, inc.

Widodo, Suryarini. 2004. E-commerce. [http://wiwied.staff.gunadarma.ac.id/Downloads/files/9036/slide_E-Commerce.pdf].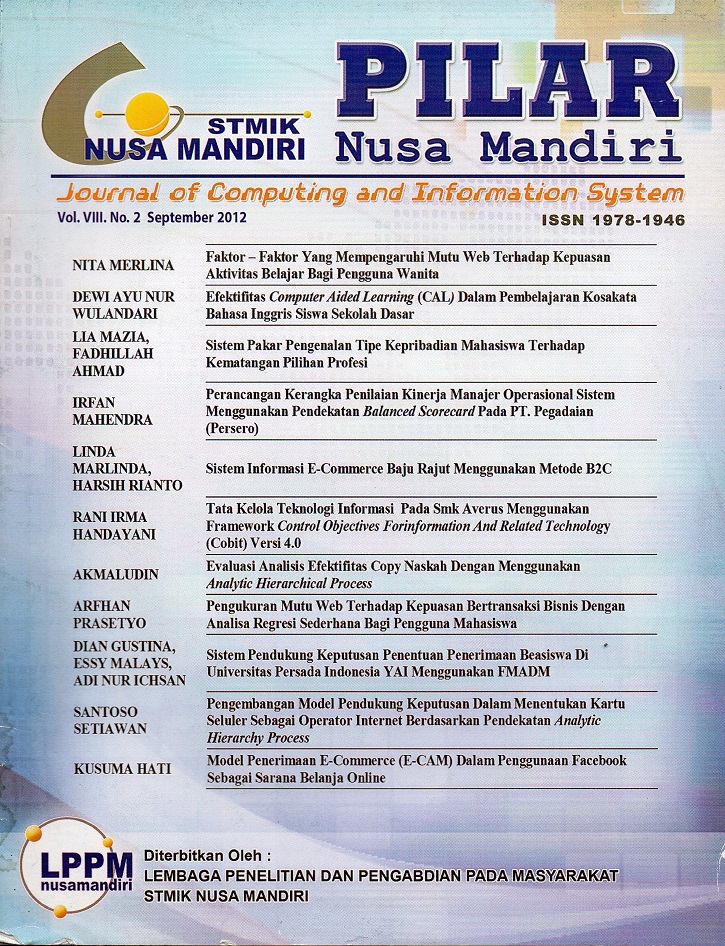 How to Cite
Marlinda, L., & Rianto, H. (2012). SISTEM INFORMASI E-COMMERCE BAJU RAJUT MENGGUNAKAN METODE B2C. Jurnal Pilar Nusa Mandiri, 8(2), 135-141. https://doi.org/10.33480/pilar.v8i2.484
Article Metrics

Abstract viewed = 321 times

PDF downloaded = 325 times
The Authors submitting a manuscript do so on the understanding that if accepted for publication, copyright of the article shall be assigned to the PILAR Nusa Mandiri journal as the publisher of the journal, and the author also holds the copyright without restriction.
Copyright encompasses exclusive rights to reproduce and deliver the article in all form and media, including reprints, photographs, microfilms, and any other similar reproductions, as well as translations. The reproduction of any part of this journal, its storage in databases, and its transmission by any form or media, such as electronic, electrostatic and mechanical copies, photocopies, recordings, magnetic media, etc. , are allowed with written permission from the PILAR Nusa Mandiri journal.
PILAR Nusa Mandiri journal, the Editors and the Advisory International Editorial Board make every effort to ensure that no wrong or misleading data, opinions, or statements be published in the journal. In any way, the contents of the articles and advertisements published in the PILAR Nusa Mandiri journal are the sole and exclusive responsibility of their respective authors and advertisers.