PENERAPAN KNOWLEDGE MANAGEMENT SYSTEM BERBASIS INFORMASI DESA UNTUK MENINGKATKAN LAYANAN PUBLIK DESA DUKUH KARYA
Purwantoro Purwantoro (1*)

Teknik Informatika, Fakultas Ilmu Komputer Universitas Singaperbangsa Karawang (UNSIKA)

Yuyun Umaidah (2)

Teknik Informatika, Fakultas Ilmu Komputer Universitas Singaperbangsa Karawang (UNSIKA)

Ultach Enri (3)

Teknik Informatika, Fakultas Ilmu Komputer Universitas Singaperbangsa Karawang (UNSIKA)


(*) Corresponding Author

Keywords:
Knowledge Management System, KMS, Dukuh Karya village, INFORMASI DESA
Abstract
The rank of EGDI level (E-Government Development Index) in Indonesia has decreased and it reflects the development conditions of EGovernment in Indonesia are not maximally covering: the level of public services, there is a disparity in public services in the village, the support of information technology devices is still limited, the absence of village archive management, the absence of a system that can manage knowledge, there is no synergy between village apparatus. Dukuh Karya is a village that belongs to Karawang Regency, Rengasdengklok District. Dukuh Karya village has a population of around 6000 and mostly the residents has income from agricultural products. The need for knowledge managers in the village is to manage properly and implement a Knowledge Management System (KMS) based on village information systems can improve public services in the Dukuh Karya village. By applying the concept of KMS to be able to collect and manage all available knowledge. Building Knowledge, collect, store and use it so that the village government can be more transparent and accountable to improve public services. The implementation of KMS is a way for village apparatus to identify, create, represent, distribute, and enable the adaptation of insights and experiences consisting of knowledge, both owned by individuals and knowledge that is inherent in the process or standard of service procedures that have the main objective to maintain and effectively transfer knowledge that is important to improve the quality of service of village government apparatus to its citizens.
References
Fahrur, R., & Listiawan, T. (2017). Pengembangan website dan sistem informasi desa di kabupaten tulungagung. JIPI (Jurnal Ilmiah Penelitian Dan Pembelajaran Informatika), 02(02), 107–112. https://doi.org/http://dx.doi.org/10.29100/jipi.v2i2.366

Heryana, N. (2017). Penerapan Knowledge Management System Berbasis Content Management Di Smkn 1 Pakisjaya. Incomtech, 6(1).

Indrianasari, N. T. (2017). Peran Perangkat Desa Dalam Akuntanbilitas Pengelolaan Keuangan Desa. ASSETS : Jurnal Ilmiah Ilmu Akuntansi, Keuangan Dan Pajak, 1(2), 29–46. Retrieved from http://ejournal.stiewidyagamalumajang.ac.id/index.php/asset/article/view/28

Kosasih, N., & Budiani, S. (2007). Pengaruh Knowledge Management Terhadap Kinerja Karyawan: Studi Kasus Departemen Front Office Surabaya Plaza Hotel. Jurnal Manajemen Perhotelan, 3(Proposal TA 2013), 1–9. https://doi.org/10.9744/jmp.3.2.80-88

Maita, I. (2011). PENERAPAN WEB BASED of KNOWLEGDE MANAGEMENT SYSTEM (KMS) PADA ORGANISASI (STUDI KASUS : FAKULTAS SAINS DAN TEKNOLOGI UIN SUSKA RIAU). Jurnal Sains, 9(1), 38–45.

Ningsih, E. R. (2013). Knowledge Management System (Kms) Dalam Meningkatkan Inovasi Lppm Perguruan Tinggi. EVOLUSI - Jurnal Sains Dan Manajemen AMIK BSI Purwokerto, 1(1).

Purwantoro, P., Umaidah, Y., & Enri, U. (2018). Laporan Akhir Penelitian Mandiri: Penerapan Knowledge Management System Berbasis Informasi Desa Untuk Meningkatkan Layanan Publik Desa Dukuh Karya. Karawang.

Suharso, W. (2016). Knowledge Management Layanan E-Government Berbasis Short Message Service. Justindo, 1(1), 9–16.

Sulandra, I. M., & Mudarya, I. N. (2018). Kemampuan Aparat Desa dalam Pelaksanaan Tugas Administrasi Pemerintahan Desa. Locus, 9(1). Retrieved from https://ejournal.unipas.ac.id/index.php/LOCUS/article/view/77

Syaroni, A. (2013). Undang-undang Desa: Reposisi Peran Desa dalam Pembangunan - The Indonesian Institute. Retrieved November 18, 2018, from https://www.theindonesianinstitute.com/undang-undang-desa-reposisi-peran-desa-dalam-pembangunan/

Wulandari, F., & Novita, R. (2017). Rancang Bangun Aplikasi Pemetaan Kebudayaan Islam Dengan Menerapkan Knowledge Management Dan Sistem Informasi Geografis. Jurnal Ilmiah Rekayasa Dan Manajemen Sistem Informasi, 3(1), 45–50. https://doi.org/10.1210/jc.2006-2287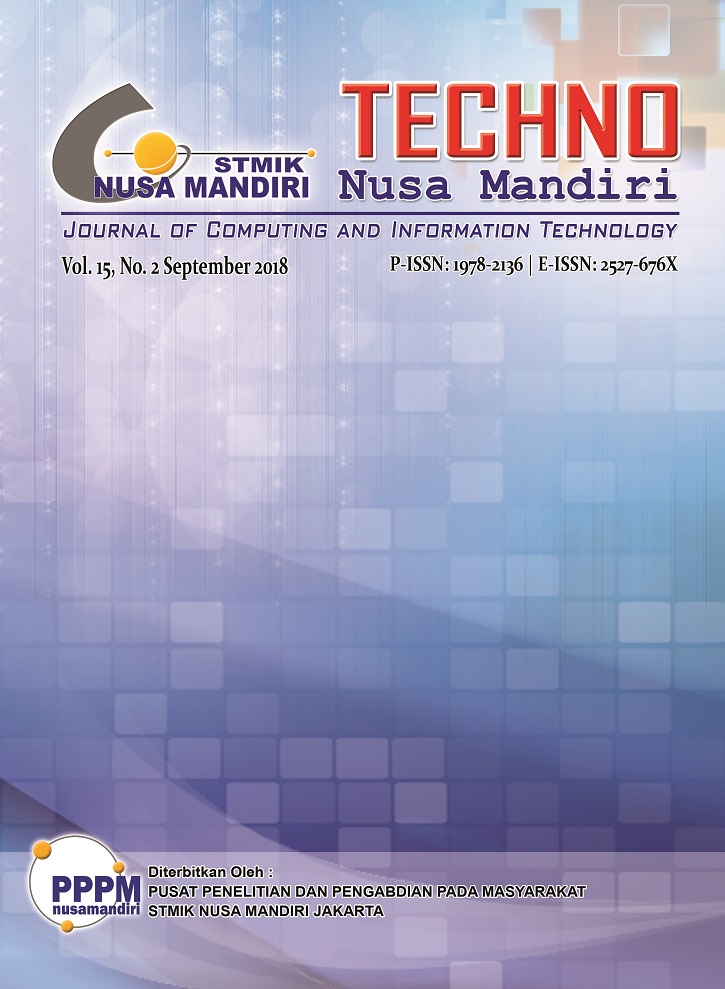 How to Cite
Purwantoro, P., Umaidah, Y., & Enri, U. (2018). PENERAPAN KNOWLEDGE MANAGEMENT SYSTEM BERBASIS INFORMASI DESA UNTUK MENINGKATKAN LAYANAN PUBLIK DESA DUKUH KARYA. Techno Nusa Mandiri, 15(2), 121-128. https://doi.org/10.33480/techno.v15i2.21
Article Metrics

Abstract viewed = 551 times

PDF downloaded = 1471 times
The copyright of any article in the TECHNO Nusa Mandiri Journal is fully held by the author under the Creative Commons CC BY-NC license.
The copyright in each article belongs to the author.
Authors retain all their rights to published works, not limited to the rights set out on this page.
The author acknowledges that Techno Nusa Mandiri: Journal of Computing and Information Technology (TECHNO Nusa Mandiri) is the first to publish with a Creative Commons Attribution 4.0 International license (CC BY-NC).
Authors can enter articles separately, manage non-exclusive distribution, from manuscripts that have been published in this journal into another version (for example: sent to author affiliation respository, publication into books, etc.), by acknowledging that the manuscript was published for the first time in Techno Nusa Mandiri: Journal of Computing and Information Technology (TECHNO Nusa Mandiri);
The author guarantees that the original article, written by the stated author, has never been published before, does not contain any statements that violate the law, does not violate the rights of others, is subject to the copyright which is exclusively held by the author.
If an article was prepared jointly by more than one author, each author submitting the manuscript warrants that he has been authorized by all co-authors to agree to copyright and license notices (agreements) on their behalf, and agrees to notify the co-authors of the terms of this policy. Techno Nusa Mandiri: Journal of Computing and Information Technology (TECHNO Nusa Mandiri) will not be held responsible for anything that may have occurred due to the author's internal disputes.