ANALISIS TINGKAT KEBERHASILAN CRYOTERAPY MENGGUNAKAN NEURAL NETWORK
Sri Rahayu (1*)

STMIK Nusa Mandiri

Fitra Septia Nugraha (2)

Ilmu Komputer STMIK Nusa Mandiri

Muhammad Ja'far Shidiq (3)

Ilmu Komputer STMIK Nusa Mandiri


(*) Corresponding Author

Keywords:
Cryotherapy, Machine Learning, Neural Network
Abstract
Human health is very important to always pay attention especially after someone has been declared suffering from an illness that can inhibit positive activities. One of the most feared diseases of the 20th century is cancer. This disease requires treatment that is quite expensive. Alternative treatments are cryotherapy or ice therapy. But cryotherapy also has side effects, it is necessary to do research on its success by taking into account certain conditions of the parameters. So the purpose of this study is to analyze the success of cryotherapy so that the dataset can be used as one of the benchmarks for the success of the cryotherapy tratment method. The method used in this study is the machine learning method of Neural Network with 500 training cycles, learning rate of 0,003 and momentum 0,9 which results in a good classification of obtaining quite high accuracy of 87,78% and AUC value of 0,955.
Downloads
Download data is not yet available.
References
Adil, R., Elektronika, P., & Surabaya, N. (2005). Pembuatan alat bantu pemantau kondisi tubuh dan keberadaan seseorang saat beraktifitas dengan tampilan web. 1–9.
Andini, W. C. (2018). Cryotherapy , Inovasi Baru untuk Menurunkan Berat Badan. Cryotherapy , Inovasi Baru Untuk Menurunkan Berat Badan, 1–7.
Aulia Adam. (2017). Cryotherapy , Senjata Alternatif Cry Melawan Kanker.
Badrul, M. (2013). PREDIKSI HASIL PEMILU LEGISLATIF DKI JAKARTA DENGAN METODE NEURAL NETWORK BERBASIS PARTICLE SWARM OPTIMIZATION Pendahuluan. PREDIKSI HASIL PEMILU LEGISLATIF DKI JAKARTA DENGAN METODE NEURAL NETWORK BERBASIS PARTICLE SWARM OPTIMIZATION, IX(1), 37–47.
Basarslan, M. S., & Kayaalp, F. (2018). A Hybrid Classification Example in the Diagnosis of Skin Disease with Cryotherapy and Immunotherapy Treatment. 2018 2nd International Symposium on Multidisciplinary Studies and Innovative Technologies (ISMSIT), 1–5.
Cüvitoğlu, A., & Işik, Z. (2018). Evaluation Machine-Learning Approaches for Classification of Cryotherapy and Immunotherapy Datasets. 8(4). https://doi.org/10.18178/ijmlc.2018.8.4.707
Eko Susanto, W., & Riana, D. (2016). Komparasi Algoritma. 8(3), 18–27.
Hastuti, K. (2012). Analisis komparasi algoritma klasifikasi data mining untuk prediksi mahasiswa non aktif. 2012(Semantik), 241–249.
Indriani, A., & Nbc, D. (2014). Klasifikasi Data Forum dengan menggunakan Metode Naïve Bayes Classifier. 5–10.
Khozeimeh, F., Alizadehsani, R., Roshanzamir, M., Khosravi, A., Layegh, P., & Nahavandi, S. (2017). An expert system for selecting wart treatment method. Computers in Biology and Medicine, 81(January), 167–175. https://doi.org/10.1016/j.compbiomed.2017.01.001
Rahayu, S., Nugraha, F. S., & Shidiq, M. J. (2019). Analisa tingkat keberhasilan cryoterapy menggunakan neural network. 14(2), 1–7.
Sucipto, A. (2012). CREDIT PREDICTION WITH NEURAL NETWORK ALGORITHM Ir . Adi Sucipto , M . Kom . Sains and Technology Faculty Universitas Islam Nahdlatul Ulama Jepara. (15), 978–979.
Widowati, L., & Mudahar, H. (2009). Ujiaktivitas ekstrak etanol 50% umbi keladi tikus (typhoniumflagelliforme (lood) bi) terhadap sel kanker payudara mcf-7 in vitro. XIX, 3–8.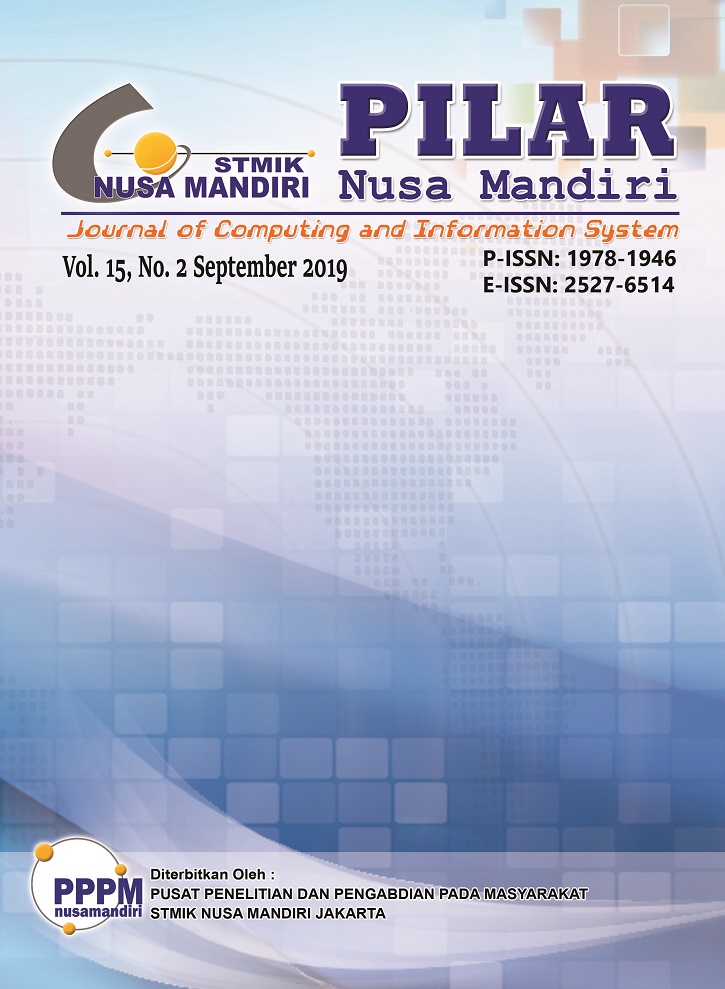 How to Cite
Rahayu, S., Nugraha, F., & Shidiq, M. (2019). ANALISIS TINGKAT KEBERHASILAN CRYOTERAPY MENGGUNAKAN NEURAL NETWORK. Jurnal Pilar Nusa Mandiri, 15(2), 141-148. https://doi.org/10.33480/pilar.v15i2.599
Article Metrics

Abstract viewed = 276 times

PDF downloaded = 364 times
Copyright (c) 2019 Sri Rahayu, Fitra Septia Nugraha, Muhammad Ja'far Shidiq
This work is licensed under a Creative Commons Attribution-NonCommercial 4.0 International License.
The Authors submitting a manuscript do so on the understanding that if accepted for publication, copyright of the article shall be assigned to the PILAR Nusa Mandiri journal as the publisher of the journal, and the author also holds the copyright without restriction.
Copyright encompasses exclusive rights to reproduce and deliver the article in all form and media, including reprints, photographs, microfilms, and any other similar reproductions, as well as translations. The reproduction of any part of this journal, its storage in databases, and its transmission by any form or media, such as electronic, electrostatic and mechanical copies, photocopies, recordings, magnetic media, etc. , are allowed with written permission from the PILAR Nusa Mandiri journal.
PILAR Nusa Mandiri journal, the Editors and the Advisory International Editorial Board make every effort to ensure that no wrong or misleading data, opinions, or statements be published in the journal. In any way, the contents of the articles and advertisements published in the PILAR Nusa Mandiri journal are the sole and exclusive responsibility of their respective authors and advertisers.