ANALYSIS OF INTER-RELIGIOUS TOLERANCE SENTIMENTS IN INDONESIA ON CONVERSATIONS ON SOCIAL MEDIA TWITTER
Yogie Pribadi (1*)

Sekolah Tinggi Manajemen Informatika dan Komputer Nusa Mandiri

Noor Hafidz (2)

Sekolah Tinggi Manajemen Informatika dan Komputer Nusa Mandiri

Yamin Nuryamin (3)

Sekolah Tinggi Manajemen Informatika dan Komputer Nusa Mandiri

Windu Gata (4)

Sekolah Tinggi Manajemen Informatika dan Komputer Nusa Mandiri


(*) Corresponding Author

Keywords:
Twitter, Tolerance, Inter-Religious, Tolerance Sentiments
Abstract
Conversations on social media Twitter related to tolerance among religious communities in Indonesia are fascinating. However, it is a sensitive issue. In reality, there is often a war of comments about the implementation of tolerance between religious people in carrying out their own beliefs. The community is not careful in issuing opinions that can result in social insecurity, insecurity, and national instability. This condition will significantly affect the state of the country's economy. In some cases, political problems can be a trigger for intolerance between religious communities. The purpose of this study is to compare the performance of classification accuracy on positive or negative sentiments from conversations that intersect with the problem of tolerance among religious communities during the past year. In this study, we compared the performance of the accuracy of the modeling of sentiment analysis classification on public conversations on social media Twitter related to tolerance between religious communities in Indonesia. Because the text that will be carried out modeling comes from the Indonesian language, to facilitate labeling, translation is carried out into English, then a performance comparison of the sentiment analysis classification modeling with SVM algorithm, Naïve Bayes, Decision Tree, and k-NN. Based on the experiments, it was concluded that the SVM algorithm has the highest performance for the classification of sentiment analysis categories up to 65.03% compared to the Naïve Bayes algorithm, which reached 59.92%, Decision Tree, which reached 63.52% and k-NN which reached 57 66%.
Downloads
Download data is not yet available.
References
Adnan, M., Sarno, R., & Sungkono, K. R. (2019). Sentiment Analysis of Restaurant Review with Classification Approach in the Decision Tree-J48 Algorithm. Proceedings - 2019 International Seminar on Application for Technology of Information and Communication: Industry 4.0: Retrospect, Prospect, and Challenges, ISemantic 2019. https://doi.org/10.1109/ISEMANTIC.2019.8884282
Ahmad, M., Aftab, S., & Ali, I. (2017). Sentiment Analysis of Tweets using SVM. International Journal of Computer Applications. https://doi.org/10.5120/ijca2017915758
Buani, D. C. P. (2016). Optimasi Algoritma Naive Bayes Dengan Menggunakan Algoritma Genetika Untuk Prediksi Kesuburan (Fertility). Jurnal Evolusi, 4(1), 55–64. https://doi.org/10.31294/evolusi.v4i1.3397
Budiman, A. (2017). Berita Bohong (Hoax) Di Media Sosial Dan Pembentukan Opini Publik. Pusat Penelitian Badan Keahlian DPR RI.
Dey, L., Chakraborty, S., Biswas, A., Bose, B., & Tiwari, S. (2016). Sentiment Analysis of Review Datasets Using Naïve Bayes' and K-NN Classifier. International Journal of Information Engineering and Electronic Business, 8(4), 54–62. https://doi.org/10.5815/ijieeb.2016.04.07
Fauzi, A., Akbar, M. F., & Asmawan, Y. F. A. (2019). Sentimen Analisis Berinternet Pada Media Sosial dengan Menggunakan Algoritma Bayes. Jurnal Informatika. https://doi.org/10.31311/ji.v6i1.5437
Hayuningtyas, R. Y., & Sari, R. (2019). ANALISIS SENTIMEN OPINI PUBLIK BAHASA INDONESIA TERHADAP WISATA TMII MENGGUNAKAN NAÏVE BAYES DAN PSO. Jurnal Techno Nusa Mandiri. https://doi.org/10.33480/techno.v16i1.115
Ipmawati, J., Kusrini, & Taufiq Luthfi, E. (2017). Komparasi Teknik Klasifikasi Teks Mining Pada Analisis Sentimen. Indonesian Journal on Networking and Security, 6(1), 28–36. http://www.ijns.org/journal/index.php/ijns/article/view/1444
Irham, M. A. (2017). PENGAMANAN PILAR BANGSA DAN MASA DEPAN NEGARA KESATUAN REPUBLIK INDONESIA. KALAM. https://doi.org/10.24042/klm.v6i1.398
Jain, M., Vaish, S., Patil, M., & Anant, G. M. (2019). Data extraction and sentimental analysis from "twitter" using web scrapping. International Journal of Engineering and Advanced Technology. https://doi.org/10.35940/ijeat.A2226.109119
Muthia, D. A. (2018). Komparasi Algoritma Klasifikasi Text Mining Untuk Analisis Sentimen Pada Review Restoran. Jurnal PILAR Nusa Mandiri. https://doi.org/10.31294/jtk.v4i2.3461
Olofinlua, T. (2019). Twitter: social communication in the twitter age. Information, Communication & Society. https://doi.org/10.1080/1369118x.2019.1620824
Pakpahan, R. (2017). Analisis Fenomena Hoax Diberbagai Media Sosial dan cara Menanggulangi Hoax. Konferensi Nasional Ilmu Sosial & Teknologi (KNiST).
Pribadi, Y., Hafidz, N., Nuryamin, Y., & Gata, W. (2020). Laporan Akhir Penelitian Mandiri: Analisis Sentimen Toleransi Antar Umat Beragama Di Indonesia Pada Percakapan Di Media Sosial Twitter.
Sarlan, A., Nadam, C., & Basri, S. (2015). Twitter sentiment analysis. Conference Proceedings - 6th International Conference on Information Technology and Multimedia at UNITEN: Cultivating Creativity and Enabling Technology Through the Internet of Things, ICIMU 2014. https://doi.org/10.1109/ICIMU.2014.7066632
Septian, G., Susanto, A., & Shidik, G. F. (2017). Indonesian news classification based on NaBaNA. Proceedings - 2017 International Seminar on Application for Technology of Information and Communication: Empowering Technology for a Better Human Life, ISemantic 2017. https://doi.org/10.1109/ISEMANTIC.2017.8251865
Sirisuriya, D. (2015). A Comparative Study on Web Scraping. 8th International Research Conference KDU (2015), 135–140. http://ir.kdu.ac.lk/handle/345/1051
Song, J., Kim, K. T., Lee, B., Kim, S., & Youn, H. Y. (2017). A novel classification approach based on Naïve Bayes for Twitter sentiment analysis. KSII Transactions on Internet and Information Systems. https://doi.org/10.3837/tiis.2017.06.011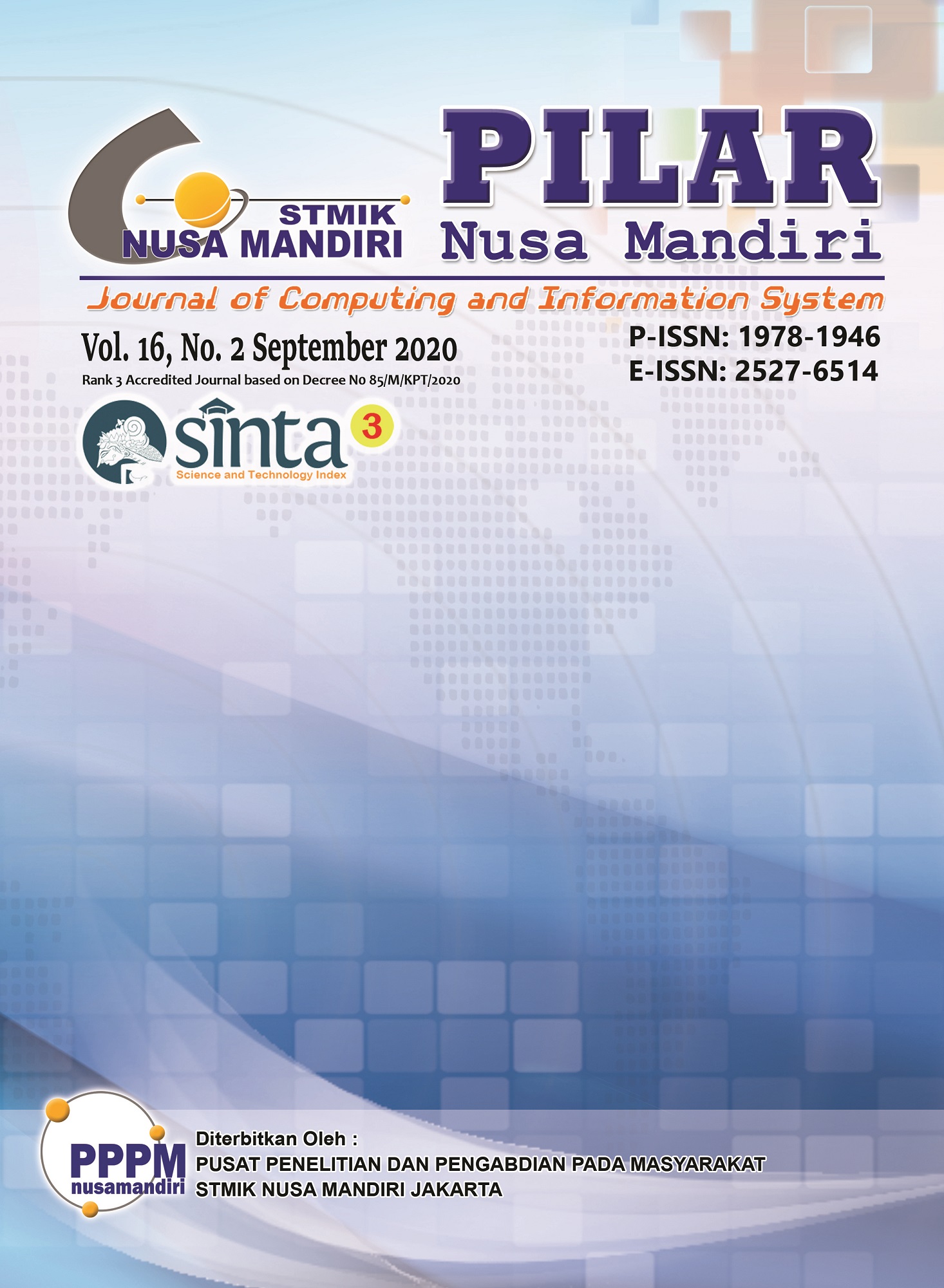 How to Cite
Pribadi, Y., Hafidz, N., Nuryamin, Y., & Gata, W. (2020). ANALYSIS OF INTER-RELIGIOUS TOLERANCE SENTIMENTS IN INDONESIA ON CONVERSATIONS ON SOCIAL MEDIA TWITTER. Jurnal Pilar Nusa Mandiri, 16(2), 161-168. https://doi.org/10.33480/pilar.v16i2.1520
Article Metrics

Abstract viewed = 103 times

PDF downloaded = 97 times
Copyright (c) 2020 Yogie Pribadi, Noor Hafidz, Yamin Nuryamin, Windu Gata
This work is licensed under a Creative Commons Attribution-NonCommercial 4.0 International License.
The Authors submitting a manuscript do so on the understanding that if accepted for publication, copyright of the article shall be assigned to the PILAR Nusa Mandiri journal as the publisher of the journal, and the author also holds the copyright without restriction.
Copyright encompasses exclusive rights to reproduce and deliver the article in all form and media, including reprints, photographs, microfilms, and any other similar reproductions, as well as translations. The reproduction of any part of this journal, its storage in databases, and its transmission by any form or media, such as electronic, electrostatic and mechanical copies, photocopies, recordings, magnetic media, etc. , are allowed with written permission from the PILAR Nusa Mandiri journal.
PILAR Nusa Mandiri journal, the Editors and the Advisory International Editorial Board make every effort to ensure that no wrong or misleading data, opinions, or statements be published in the journal. In any way, the contents of the articles and advertisements published in the PILAR Nusa Mandiri journal are the sole and exclusive responsibility of their respective authors and advertisers.