DECISION SUPPORT OF CONTRACT EMPLOYEE PERFORMANCE ASSESSMENT USING SAW METHOD AT PT. AEROFOOD ACS
Fathur Rahman (1)

Sekolah Tinggi Manajemen Informatika dan Komputer Nusa Mandiri

Naf'a Syarifa (2*)

STMIK Nusa Mandiri

Hendri Hendri (3)

Sekolah Tinggi Manajemen Informatika dan Komputer Nusa Mandiri

Hafifah Bella Novitasari (4)

STMIK Bani Saleh

Windu Gata (5)

Sekolah Tinggi Manajemen Informatika dan Komputer Nusa Mandiri


(*) Corresponding Author

Keywords:
Decision Support System, SAW, employee performance assessment
Abstract
Pengelolaan SDM dari suatu perusahaan sangat mempengaruhi banyak aspek penentu keberhasilan kinerja perusahaan tersebut. Jika SDM dapat di organisir dengan baik, maka diharapkan perusahaan dapat menjalankan semua proses bisnisnya dengan baik. Oleh karena hal tersebut, PT. Aerofood ACS yang memiliki banyak karyawan kontrak, perlu adanya penilaian kinerja karyawan dalam menentukan perpanjangan kontrak. Peran sistem pendukung keputusan sangat dibutuhkan guna meningkatkan efisiensi pengambilan keputusan. Dalam hal ini membantu pihak manajemen dalam mencapai tujuan dari penilaian kinerja karyawan kontrak melalui parameter-parameter yang sudah ditentukan oleh pihak perusahaan tersebut, diantaranya Discipline, Integrity, Achievement Orientation, Continnous Learning, Continunous Improvement, Quality Orientation, Customer Service Orientation, dan Teamwork. Untuk mencari solusi dalam menyelesaikan masalah tersebut, metode dalam Sistem Pengambilan Keputusan yang digunakan yaitu dengan metode Simple Additive Weighting (SAW). Semua parameter yang dinyatakan mempunyai pengaruh penting dalam penetapan alternatif keputusan terbaik dalam menentukan perpanjangan kontrak karyawan.
Downloads
Download data is not yet available.
References
Abadi, Satria & Latifah, Febriani. 2016. Decision Support System Penilaian Kinerja Karyawan Pada Perusahaan Menggunakan Metode Simple Additive Weighting. Jurnal TAM, Vol : 6, pp. 37-43
Ades, et al. 2015. Sistem Pendukung Keputusan Penilaian Kinerja Menggunakan Metode SAW di Universitas Muhammadiyah Purwokerto. JUITA, Vol : III No.4. pp. 193-200
Agustin, YH & Kurniawan, Hendra. 2015. Sistem Pendukung Keputusan Penilaian Kinerja Dosen Menggunakan Metode Weighted Product (Studi Kasus : STMIK Pontianak). Seminar Nasional Informatik
Aisyah, Siti & Purba, Windania. 2019. Aplikasi Sistem Pendukung Keputuasan Penilaian Kinerja Karyawan Menggunakan Metode Profile Matching. Jurnal Mahajana Informasi. Vol : 4 No. 2
Christin, H. De Djamain & Informatika, J.T. 2015. Sistem Pendukung Keputusan Penerimaan Pegawai Baru PT. PLN (Persero) Kantor Pusat dengan Menggunanakn Metode Simple Additive Weighting (SAW). Jurnal Teknologi dan Informasi, 5(1), 39-47.
Hertyana, H. (2018). Sistem pendukung keputusan penentuan karyawan terbaik menggunakan metode topsis. Jurnal Ilmu Pengetahuan dan Teknologi Komputer 4(1).
Mallu, Satriawaty. 2015. Sistem Pendukung Keputusan Penentuan Karyawan Kontrak Menjadi Karyawan Tetap Menggunakan Metode TOPSIS. Jurnal Informasi Terapan. Vol : 1 No. 2
Nofriansyah, Dicky. 2015. Konsep Data Mining VS Sistem Pendukung Keputusan. Yogyakarta: Deepublish Publisher.
Nofriansyah, Dicky & Defit, Sarjon. 2017. Multi Criteria Decision Making (MCDM) pada Sistem Pendukung Keputusan. Yogyakarta : Deepublish Publisher.
Surajiyo et al. (2020). Penelitian Sumber Daya Manusia. Yogyakarta: Deepublish Publisher.
Thamrin HM. 2019. Perencanaan Sumber Daya Manusia. Yogyakarta: Deepublish Publisher.
Wati, Y. A., & Sadikin. 2019. Keputusan Prioritas Perbaikan MOLD Menggunakan Metode SAW (Simple Additive Weighting). Jurnal Ilmu Teknik dan Komputer, 3(1), 1-10.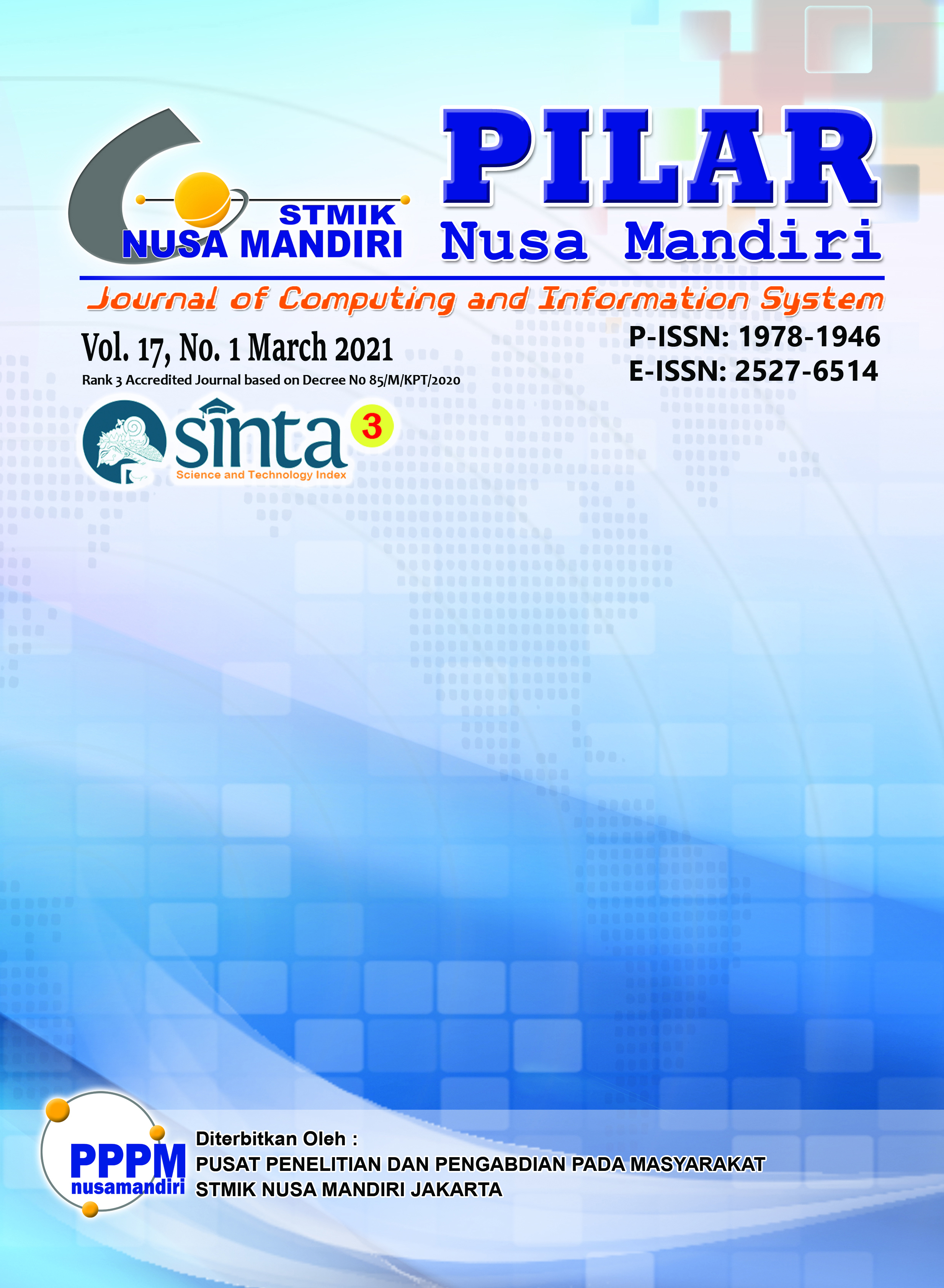 How to Cite
Rahman, F., Syarifa, N., Hendri, H., Novitasari, H., & Gata, W. (2021). DECISION SUPPORT OF CONTRACT EMPLOYEE PERFORMANCE ASSESSMENT USING SAW METHOD AT PT. AEROFOOD ACS. Jurnal Pilar Nusa Mandiri, 17(1), 79-84. https://doi.org/10.33480/pilar.v17i1.2034
Article Metrics

Abstract viewed = 27 times

PDF downloaded = 13 times
Copyright (c) 2021 Fathur Rahman, Naf'a Syarifa, Hendri Hendri, Hafifah Bella Novitasari, Windu Gata
This work is licensed under a Creative Commons Attribution-NonCommercial 4.0 International License.
The Authors submitting a manuscript do so on the understanding that if accepted for publication, copyright of the article shall be assigned to the PILAR Nusa Mandiri journal as the publisher of the journal, and the author also holds the copyright without restriction.
Copyright encompasses exclusive rights to reproduce and deliver the article in all form and media, including reprints, photographs, microfilms, and any other similar reproductions, as well as translations. The reproduction of any part of this journal, its storage in databases, and its transmission by any form or media, such as electronic, electrostatic and mechanical copies, photocopies, recordings, magnetic media, etc. , are allowed with written permission from the PILAR Nusa Mandiri journal.
PILAR Nusa Mandiri journal, the Editors and the Advisory International Editorial Board make every effort to ensure that no wrong or misleading data, opinions, or statements be published in the journal. In any way, the contents of the articles and advertisements published in the PILAR Nusa Mandiri journal are the sole and exclusive responsibility of their respective authors and advertisers.