SUCCESS ANALYSIS OF KITABISA MOBILE APPLICATION INFORMATION SYSTEM BY USING DELONE AND MCLEAN MODELS
Analisa Kesuksesaan Sistem Informasi Aplikasi Mobile KitaBisa Menggunakan Model DeLone dan McLean
Hafiz Noval Hasany Aditya (1*)

STMIK Nusa Mandiri

Nurmalasari Nurmalasari (2)

Sistem Informasi STMIK Nusa Mandiri

Hendri Hendri (3)

STMIK Nusa Mandiri, Jakarta, Indonesia


(*) Corresponding Author

Keywords:
DeLone and McLean, Information System, Success Analysis
Abstract
KitaBisa, the public can raise funds for a variety of things they do or donate for things they want to help. Starting from the desire to create a social movement, in 2013 Alfatih Timur (Timmy) made KitaBisa a forum for anyone who wanted to realize his social project. Measuring the success of the KitaC mobile application can use the DeLone and McLean model, it is known that variables that have a significant relationship include Service Quality against User Satisfaction with a t-statistic value of 2.893, System Quality for Users (Use) with a t-statistic value of 10,204, and User Satisfaction of the Net Benefit with a t-statistic value of 3,680. In accordance with the hypothesis testing that user satisfaction with the KitaBisa mobile application as a forum to donate online has been proven by influencing User Satisfaction with the Net Benefit as a whole or it means the user has felt the benefits of the KitaBisa mobile application.
Downloads
Download data is not yet available.
References
Aditya, H. N. H., Nurmalasari, N., & Hendri, H. (2019). Laporan Akhir Penelitian Mandiri: Analisa Kesuksesaan Sistem Informasi Aplikasi Mobile Kitabisa Dengan Model Delone & Mclean.
Amalina, N., & Helni Mutiarsih Jumhur, S. H. (2018). The Influence of User Experience towards User Satisfaction of E-Government Service: a Case Study of GAMPIL Application. International Journal of Scientific and Research Publications (IJSRP), 8(3), 254–259. https://doi.org/10.29322/ijsrp.8.3.2018.p7538
Arifin, J. F., & Pratolo, S. (2012). Pengaruh kualitas sistem informasi keuangan daerah terhadap kepuasan aparatur pemerintah daerah menggunakan model delone dan mclean. Jurnal Akuntansi Dan Investasi, 13(1), 28–34.
Aziati, Y. (2020). Analisis Pengaruh User Experience Terhadap Kepuasan Pengguna Mobile Application E-Commerce Shopee Menggunakan Model Delone & Mclean (Issue Januari 2020).
I.Chailis, I. A. A. N. (2019). Faktor-Faktor Yang Mempengaruhi Masyarakat Menyalurkan Donasi Melalui Platform Crowdfunding Berbasis Online. Jurnal Syarikah, 5(1), 94–108.
kitabisa.com. (2018). About Us. Kitabisa. https://kitabisa.com/about-us
Nugroho, A. Y., & Rachmaniyah, F. (2019). Fenomena Perkembangan Crowdfunding Di Indonesia. Jurnal Ekonomi Universitas Kadiri, 4(1), 34. https://doi.org/10.30737/ekonika.v4i1.254
Saputro, P. H., Budiyanto, D., & Santoso, J. (2016). Model Delone and Mclean Untuk Mengukur Kesuksesan E-Government Kota Pekalongan. Scientific Journal of Informatics, 2(1), 1–8. https://doi.org/10.15294/sji.v2i1.4523
Sitanggang, M. H. A. (2018). Memahami Mekanisme Crowdfunding dan Motivasi Berpartisipasi dalam Platform Kitabisa.com. E Journal UNDIP, 23(3), 1–11.
Wisudiawan, G. A. A. (2015). Analisis faktor kesuksesan sistem informasi menggunakan model delone and mclean. Jurnal Ilmiah Teknologi Informasi Terapan, 2(1), 55–59.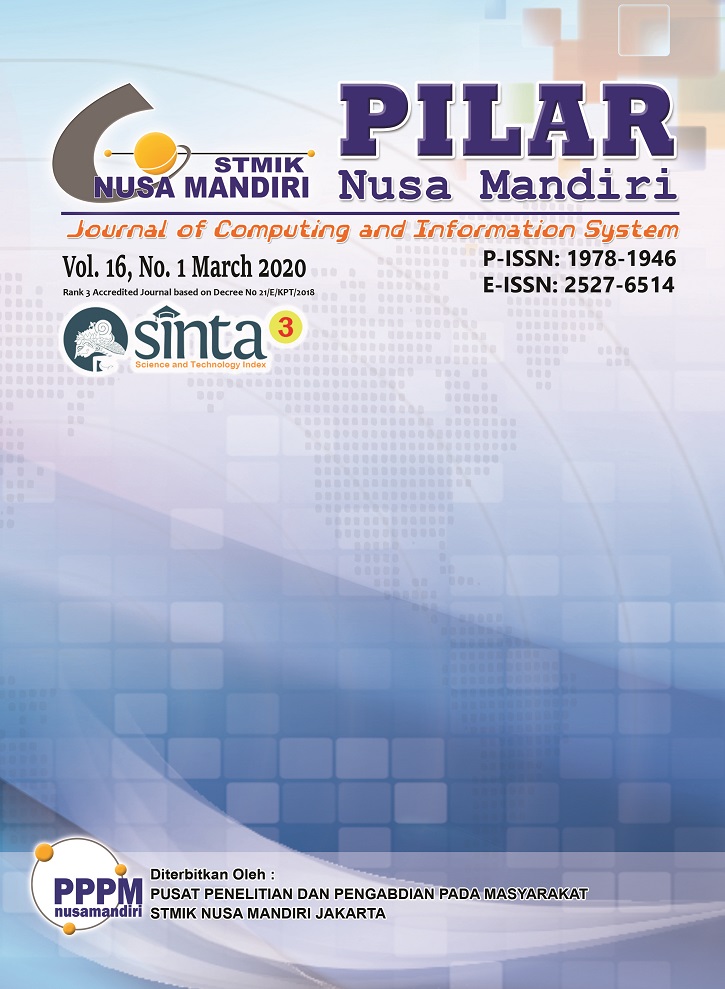 How to Cite
Aditya, H., Nurmalasari, N., & Hendri, H. (2020). SUCCESS ANALYSIS OF KITABISA MOBILE APPLICATION INFORMATION SYSTEM BY USING DELONE AND MCLEAN MODELS. Jurnal Pilar Nusa Mandiri, 16(1), 81-88. https://doi.org/10.33480/pilar.v16i1.918
Article Metrics

Abstract viewed = 271 times

PDF downloaded = 177 times
Copyright (c) 2020 Hafiz Noval Hasany Aditya, Nurmalasari Nurmalasari, Hendri Hendri
This work is licensed under a Creative Commons Attribution-NonCommercial 4.0 International License.
The Authors submitting a manuscript do so on the understanding that if accepted for publication, copyright of the article shall be assigned to the PILAR Nusa Mandiri journal as the publisher of the journal, and the author also holds the copyright without restriction.
Copyright encompasses exclusive rights to reproduce and deliver the article in all form and media, including reprints, photographs, microfilms, and any other similar reproductions, as well as translations. The reproduction of any part of this journal, its storage in databases, and its transmission by any form or media, such as electronic, electrostatic and mechanical copies, photocopies, recordings, magnetic media, etc. , are allowed with written permission from the PILAR Nusa Mandiri journal.
PILAR Nusa Mandiri journal, the Editors and the Advisory International Editorial Board make every effort to ensure that no wrong or misleading data, opinions, or statements be published in the journal. In any way, the contents of the articles and advertisements published in the PILAR Nusa Mandiri journal are the sole and exclusive responsibility of their respective authors and advertisers.