DECISION SUPPORT SYSTEM OF REWARDING ON LECTURER PERFORMANCE USING FUZZY TSUKAMOTO METHOD CASE STUDY AT MATARAM UNIVERSITY OF TECHNOLOGY
Ahmad Yani (1*)

Universitas Teknologi Mataram

Z Zenuddin (2)

Universitas Teknologi Mataram

H Hambali (3)

Universitas Teknologi Mataram

Rudi Muslim (4)

Universitas Teknologi Mataram

Bahtiar Imran (5)

Universitas Teknologi Mataram


(*) Corresponding Author

Keywords:
Decision Support System, Fuzzy, Tsukamoto, Monitoring, Reward
Abstract
To prepare quality and character human resources, Mataram Technological University strives to provide the best in carrying out the tridharma activities of higher education, one of which is by giving rewards in the hope that morale and loyalty can continue to be improved. However, the gift-giving system that the Mataram Technological University has implemented has not been able to bring about change because the gift-giving system is incorrect. This is because the applied reward-giving assessment system only refers to the assessment without paying attention to other criteria in the tridharma of higher education. Such as the implementation of learning, Research, and community service. Therefore, to overcome this problem, a decision support information system for awarding lecturer performance is needed, which is built using the fuzzy Tsukamoto method by considering several criteria such as Presence, Research Results, and Community Service Results. Lecturer Performance Index in carrying out the learning process. With this decision support system, the implementation of the Tridharma carried out by lecturers can continue to monitor the system and improve the quality and accreditation of study programs and universities.
Downloads
Download data is not yet available.
References
Erlangga, E., & Dharmawan, Y. Y. (2018). Penentuan Penerima Kinerja Dosen Award melalui Metode Tsukamoto dengan Konsep Logika Fuzzy. Explore: Jurnal Sistem Informasi Dan Telematika (Telekomunikasi, Multimedia Dan Informatika), 9(2), 152–161. Retrieved from http://jurnal.ubl.ac.id/index.php/explore/article/view/1082/
Finding-tutor, A., Dia, S., Mustika, P., Ginardi, R. V. H., & Fatichah, C. (2017). Penentuan Harga dengan Menggunakan Sistem Inferensi Fuzzy Tsukamoto Pada Rancang Bangun. 6(2).
Maulida, N. H. (2022). Studi Literatur Penerapan Metode Prototaype Dan Waterfall Dalam Pembuatan Sebuah Aplikasi Atau Website (pp. 1–18). pp. 1–18. Researchgate.
Mutaqin, Z., & Wulandari, L. (2022). Sistem Pendukung Keputusan Pemilihan Perguruan Tinggi Swasta Program Studi Teknologi Informasi ( Komputer ) Di Provinsi DKI Jakarta Menggunakan Metode Fuzzy Inference System ( FIS ) Tsukamoto. Explore, 12(1).
Nababan, D., & Rahim, R. (2018). Sistem Pendukung Keputusan Reward Bonus Karyawan Dengan Metode Topsis. Nababan, Darsono Rahim , Robbi, 3(1), 2528–5114.
Ragestu, F. D., & Sibarani, A. J. P. (2020). Penerapan Metode Fuzzy Tsukamoto Dalam Pemilihan Siswa Teladan di Sekolah. Teknika, 9(1), 9–15. https://doi.org/10.34148/teknika.v9i1.251
Rahman, A., Nurjanah, S. A., & Mukhlis, M. (2020). Mempermudah Penentuan Reward Karyawan Ojek Online Dengan Penerapan Teori Fuzzy. ARITMATIKA: Jurnal Riset Pendidikan Matematika, 1(1), 46–57. Retrieved from https://aritmatika.iain-jember.ac.id/index.php/arm/article/view/6
Saragih, T. N. (2019). Sistem Pendukung Keputusan Pemberian Reward Kepada Karyawan Menggunakan Metode Preference Selection Index. Seminar Nasional Teknologi Komputer & Sains (SAINTEKS), 615–622.
Sari, N. R., & Mahmudy, W. F. (2015). Fuzzy inference system Tsukamoto untuk menentukan kelayakan calon pegawai. Seminar Nasional Sistem Informasi Indonesia (SESINDO), (November), 245–252. Surabaya: Institut Teknologi Sepuluh Nopember.
Satria, F., & Sibarani, A. J. P. (2020). Penerapan Metode Fuzzy Tsukamoto untuk Pemilihan Karyawan Terbaik Berbasis Java Desktop. x(x), 130–143.
Setiawan, A., Yanto, B., & Yasdomi, K. (2018). Logika Fuzzy Dengan Matlab (Contoh Kasus Penelitian Penyakit Bayi dengan Fuzzy Tsukamoto). In Jayapangus Press Books. Denpasar.
Silaban, K. N. (2021). Penerapan Metode Tsukamoto (Logika Fuzzy) Dalam Sistem Pendukung Keputusan Untuk Menentukan Besarnya Gaji Karyawan Pada Hotel Grand Antares. Journal of Informatics, Electrical and Electronics …, 1(1), 20–26.
Simargolang, M. Y., & Tamba, H. S. (2019). Sistem Pendukung Keputusan Menggunakan Metode Fuzzy Sugeno Untuk Menentukan Calon Presiden Mahasiswa Di Universitas Asahan. Jurnal Teknologi Informasi, 2(2), 122. https://doi.org/10.36294/jurti.v2i2.426
Warnars, H. L. H. S., & Adyana, L. (2021). Sistem Pendukung Keputusan Penentu Penerima Reward Guru Dengan Metode Weighted Product (WP). Petir, 14(2), 122–129. https://doi.org/10.33322/petir.v14i2.899
Wiguna, R. Y., & Hanny, H. (2015). Sistem berbasis aturan menggunakan logika fuzzy tsukamoto untuk prediksi jumlah produksi roti pada cv. gendis bakery. Program Studi Teknik Informatika, Fakultas Ilmu Komputer, Universitas Dian Nuswantoro.
Yani, A., & Darmawan, L. (2015). Competence Making on Computer Engineering Program by Using Analytical Hierarchy Process (AHP). International Journal of Advanced Computer Science and Applications, 6(9), 298–303. https://doi.org/10.14569/ijacsa.2015.060940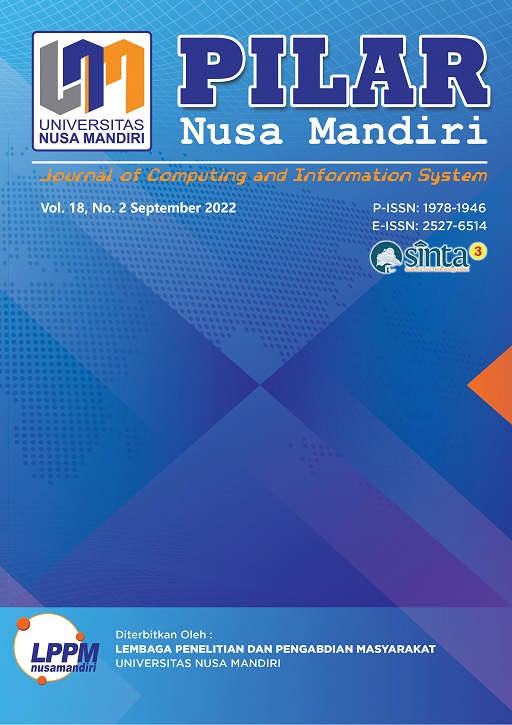 How to Cite
Yani, A., Zenuddin, Z., Hambali, H., Muslim, R., & Imran, B. (2022). DECISION SUPPORT SYSTEM OF REWARDING ON LECTURER PERFORMANCE USING FUZZY TSUKAMOTO METHOD CASE STUDY AT MATARAM UNIVERSITY OF TECHNOLOGY. Jurnal Pilar Nusa Mandiri, 18(2), 131-138. https://doi.org/10.33480/pilar.v18i2.3548
Article Metrics

Abstract viewed = 93 times

PDF downloaded = 62 times
Copyright (c) 2022 Ahmad Yani, Z Zenuddin, H Hambali, Rudi Muslim, Bahtiar Imran
This work is licensed under a Creative Commons Attribution-NonCommercial 4.0 International License.
An author who publishes in the Pilar Nusa Mandiri: Journal of Computing and Information System agrees to the following terms:
Author retains the copyright and grants the journal the right of first publication of the work simultaneously licensed under the Creative Commons Attribution-NonCommercial 4.0 License that allows others to share the work with an acknowledgement of the work's authorship and initial publication in this journal
Author is able to enter into separate, additional contractual arrangements for the non-exclusive distribution of the journal's published version of the work (e.g., post it to an institutional repository or publish it in a book) with the acknowledgement of its initial publication in this journal.
Author is permitted and encouraged to post his/her work online (e.g., in institutional repositories or on their website) prior to and during the submission process, as it can lead to productive exchanges, as well as earlier and greater citation of the published work (See The Effect of Open Access).
Read more about the Creative Commons Attribution-NonCommercial 4.0 Licence here: https://creativecommons.org/licenses/by-nc/4.0/.